Baijayant 'Jay' Panda, 41, is one of the younger, forward-looking politicians in the Rajya Sabha. A graduate of the Michigan Technological University in the US, he is the leader of the Biju Janata Dal in the Upper House of Parliament.
The Kalinga Nagar incident in his native Orissa has brought Jay Panda's party under fire.
In this, the second of a series of interviews to understand what went wrong at Kalinga Nagar where over 11 tribals died in police firing (one policeman lost his life as well), the articulate MP spoke at length about the tragedy, his views on how best to deal with human displacement and the legacy of the past that has resulted in people's mistrust of all resettlement projects.
Just back from Delhi the previous day, he spoke to to Assistant Managing Editor Archana Masih in his large, tastefully done up home in Bhubaneswar. Nursing a sore throat, he also explained the increase in opportunities for youth in his state and on Orissa's greatest potential.
After the Kalinga Nagar tragedy, Chief Minister Navin Patnaik, who heads your party, has not visited the site of the incident yet. What do you have to say about the Kalinga Nagar incident?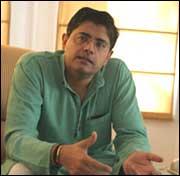 I have a few things to say. First of all, it's a serious tragedy and I wish it had been avoided. Since there's a judicial inquiry going on it will be improper for me to draw any conclusion.
Our government reacted immediately within one day in asking for a sitting high court judge to conduct an inquiry. You can rest assured that we will respond to it in a very transparent fashion and we will be guided by the conclusions of that inquiry.
If there were any shortcomings at any level of the administration it will not be tolerated. We are very conscious this is a blot on the image of Orissa as a peaceful state.
Why has the chief minister not gone to Kalinga Nagar yet?
The chief minister wanted to rush there immediately but there was a security concern. He was very keen to bring about a development package and go with answers to the questions that people have there.
Unfortunately, the government is restricted by certain rules and laws and within that we have to evolve a package which is humane and flexible.
'You cannot silence people for all time'
Perhaps more could have been done earlier but having said that whatever that is feasible to be done will be done.
At a very basic human level people look at a chief minister for reassurance after a tragedy, and Navin Patnaik hasn't gone there yet -- isn't there a disconnect between him and his people?
First of all, I would like to say that besides the tragedy that's happened there's another tragedy that's playing out which is not often noticed.
The second tragedy is there are people from outside Orissa who have been involved in this. There have been infiltration of Naxalite groups and the unfortunate thing is that there are people playing politics with the human tragedy.
A large part of the problems before and definitely after the incident is people playing politics. Tulasi Munda is one of the most respected tribal activists and if you speak to her or any other activists, you will find that this government unlike the image that you think, this government has been very responsive to tribals.
In the five years that this government has been in power if you look at the acts it has taken to empower tribals, it has done more in the last five years than the last 45 years. For example removing all minor acts of police charges against tribals, freeing up the tendu leaf collection -– lots of actions have been taken.
This government is very tribal friendly which is all the more tragic that in this kind of a government we had this kind of an incident. If there are any shortcomings in the administration, action will be taken.
Regarding disconnect, I don't think there is a disconnect because the chief minister is very keen to go there at the earliest but with answers and solutions. When you have politicians trying to locally stir up the problem, going to just visit people, come away and live in comfort and not attend to their problems is not the answer.
The answer is to go there with real solutions to real problems. There is an inter- ministerial committee that has been set up and very expeditiously they are to give us a formula for what can be done over and beyond the rules.
There are rules which bind down every government as it does this government, so we are waiting for a formula which can give flexibility to the government and give a more humane package. You can rest assured it will happen very, very shortly.
What would this package include?
I am not a minister and am not in the ministerial committee so I can't. All I can say is that we're keen to find out of the box solutions. Somehow it has been misportrayed that this government wants to shortchange the tribals. That's not the fact.
One of the facts that never gets highlighted in any of the stories about Kalinga Nagar is that it was not just compensation for land, the compensation scheme of the government is much more developed than that. For example, the government insists that every ousted family must be given a job in any project that comes up, this you won't see in any of the papers.
We want to formalise these things and one of the lessons we must learn from this is that a lot of the things have to be front ended. For example, the resettlement package involves first compensating them for land, shifting them to another place and building model villages, infrastructure later.
One of the things I would personally hope for is that we can come up with a formula where these are front-ended. For example, that apart from giving appropriate market-related compensation at the beginning, the model villages that are built for them on alternate land should be first done. Schools and training centres (should be built) so that one member from each family can be qualified to hold a job, otherwise they will be only given unskilled jobs. We don't want that. We want them to have training for skilled jobs.
My personal wish is that this package can be worked out where these aspects can be front-ended rather back-ended.
In the absence of an effective policy there is a backlog of such problems that have mounted as far as displaced people are concerned?
You talk about backlog, the reality is that despite not many projects coming up in Orissa in the last 50 years -– freight equalisation and other policies was a disincentive to put up projects here -– the few projects that did come up mostly were in the central government sector -- the Rourkela Steel Plant, NALCO, the Hirakund Dam etc.
You're right about backlog because the genesis of this problem goes back 50 years. The Rourkela Steel Plant was built in the mid-1950s by a central government scheme and till today many of the oustees have not got compensation.
So there is a legacy and people have mistrust of resettlement projects. They don't distinguish that that was done by the central government and this by the state government.
If in the past resettlement had been done genuinely and properly, this mistrust wouldn't have been there and we would have started on a clean slate. So we have the double whammy today of lots of projects suddenly coming on stream. There are more projects in the last five years than you've ever had in the last 50 years.
You have this track record particularly of the central government but now both central and state will suffer because of that. We have to overcome that negative track record.
But there is also some good news. My understanding is that in Kalinga Nagar and elsewhere in Orissa, minority of the people who are being resettled have a problem -- 80 per cent of the people have no problem in accepting the resettlement. They are willing to buy into the stage-by-stage rehabilitation process. Which means first the compensation for the land, followed by building of model villages, schools etc.
I don't want to stick to that because I think that time is past. We need to front end, make those investments first so that people have no room for doubt. Unfortunately, we have a legacy problem which we have to overcome.
Part II: 'How we acquit ourselves will decide the fate of all projects coming up'
Photograph: Jewella C Miranda