President A P J Abdul Kalam presented film maker Adoor Gopalakrishnan with the prestigeous Dada Saheb Phalke award for the year 2004 at a colourful function in Vigyan Bhavan in New Delhi on Friday.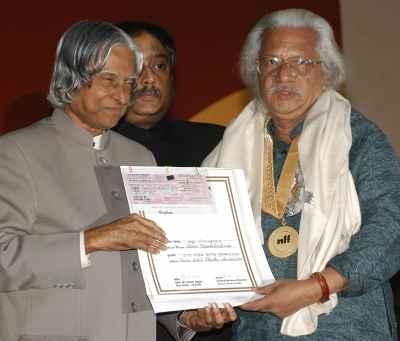 The audience gave Adoor a standing ovation as he stepped up to receive the award from President.
"I am delighted to stand in the gallery of distinguished film makers like Raj Kapoor and others after winning this prestigeous award," Adoor told rediff.com soon after he received the award.
Also read:
Adoor's oeuvre
'Serious cinema is not dead'
'I don't make films on ordinary problems'
'I am the creator and the critic'
Adoor flays Jha over Devgan award
Adoor Gopalakrishnan's best Indian films
'Hollywood films dubbed in Hindi are a threat'

Text: Onkar Singh

Film maker Adoor Gopalakrishnan receiving the award from President A P J Abdul Kalam
Photograph: STR/AFP/Getty Images