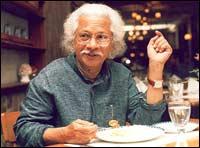 A
door Gopalakrishnan
's latest film,
Kalamandalam Ramankutty Nair,
produced by the Sangeet Natak Academy, premiered in Chennai on June 8.
Over lunch, Adoor Gopalakrishnan spoke to Shobha Warrier about making documentaries, feature films and even the new wave movement of the 1970s.
Adoor's list of India's Best films
I remember you speaking about your childhood being enriched by watching ancient art forms of Kerala, especially Kathakali. This is your second documentary on a Kathakali artiste. Is this a tribute to an art form that influenced you as a child?
Yes, these documentaries on Kathakali artistes are my tribute to the art form also. If Kathakali has influenced me, it is not in a direct way. It mustn't be direct. It should become a part of your culture, your being, and you draw upon it in your work.
| | |
| --- | --- |
| | More on rediff.com ! |
| | |
You cannot immediately find the connection; they are very indirect even when they are there. My influences are many -- 'influences' mean what affected my outlook, my view of things, the kind of life I live, the education I had, the people I move with -- all these influence what you do.

But Kathakali is not the art form that has influenced me. For the last 25 years, I have been making documentaries on performing arts. I have stopped making documentaries on other subjects.

Why do you make documentaries on performing arts alone? Is it because you feel they don't get adequate attention?

No, I make films on Kathakali, Yakshagana, etc because I love them. This is one opportunity for me to learn about them in depth and also get inspired by them. It is a great, refreshing experience. I get really charged for the next project, that is my feature film. In a very strange, indirect way, it invigorates me.

While making films on these ancient art forms, do you feel in awe of their richness, colour and form?

I have never looked down upon any of these art forms. I look at them only in awe. It is very important to have that kind of humility in order to make films on them. If you want to learn, you have to be humble. If you are not humble, you will not learn.

So are these artistic documentaries a search for your roots?

No. You have been born into a very rich culture. Normally, people are not even aware of these things, and they don't care. I think they do not know what they are losing in that process. That's why I said I get greatly enriched. It expands your understanding of your culture, your living and ultimately yourself. It all adds to your understanding of life.

Filmmaking is not just about story telling. That's a minor excuse, a simple but significant excuse to keep an audience engaged in a cinema theatre. More than that, I am making them experience and also look for many things within and without themselves, and around themselves. I am talking about my kind of cinema. This, I think is the function of the art, any art for that matter -- to make you aware, to make you think and disturb you positively and creatively, to make you excited about it, to make you responsive to things.

How different is it making a feature film and a documentary? Are documentaries less creative?

There is no difference. Both are creative in different ways; one is fiction and the other is real. When you come to think of it, unless documentaries have the feel and structure to keep the audience engaged, if they become very factual and prosaic, it may become very boring. That's why many people feel documentaries are not for them to see. It is very important to keep documentaries interesting, taking into account even the initiated. That is why I am very particular about subtitling my documentaries. Then you will enjoy it better. Without background knowledge, you will not be able to understand and appreciate a documentary fully.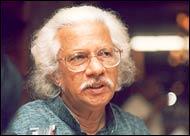 Are you permitted to add some colour to the documentaries or fictionalise a little?
You should not twist facts. In documentaries, you are dealing with facts, and you are not even dealing with facts on the surface, you have to get to the core of the facts, core of the truth. That should be your attempt.
What will be your next film, a feature?
No. Another documentary, on Mohiniyattam. A friend of mine, a French lady who studied Mohiniyattam at Kalamandalam, wants to do a documentary. So, it's basically a French production and I will only be writing the script and directing it.
Have you started thinking about your next film?
I should! (Laughs) Actually, there is no point in thinking about it. It should come, and it will come only when you want it. I have several subjects in mind but I don't jump at any idea. I let the idea lie low so that it will resurface at the appropriate time.
Special: What makes Adoor unforgettable
Let me just go back a little. When you started making films in the 1970s, there was this strong new wave movement, which was much talked about. The 1980s saw the parallel cinema movement, but all those filmmakers who were quite prolific in the 1970s and 1980s are not making films now. Other than commercial films, we don't get to see many serious films these days. How do you react to this situation?
One, times are changing. Even in the 1970s and 1980s, those films did not get a chance to be shown to an audience. Only in Kerala, people took the care to release such films in the theatres. Even today, you see at least two new filmmakers making offbeat films in Kerala. They may not be classics, but they are offbeat. So, you cannot say the serious cinema movement is dead. It goes on.
You see many filmmakers who made serious films in Hindi in the 1970s compromising on quality these days, but you continue to make the kind of films you believed in even after more than three decades.
It depends on your commitment. There were many who came to make offbeat films in those days. It was a fashion then, and they were written about.
You need patience, perseverance and a lot of confidence in yourself.
Why were there such long gaps between your films?
Yes, I had long gaps, not because of lack of money but because I was not ready with a project. I look at cinema as a creative medium. If I am not ready, just because somebody offers me money, I don't jump at the idea of making a film.
Commercial filmmakers justify what they do by saying those who go to the theatres want a particular kind of song and dance cinema. Do you agree with this argument?
The run of the mill cinema has all the promotion from everywhere. If you have singing and dancing, your film will be sold. You are sure to make your money from television channels if your film has singing and dancing. If you don't have either, where will you sell it? Even Doordarshan wants only Hindi commercials, and nothing else.
But all those films don't make money. Only very few films with all the compromise, with all the stars, with all the vulgarity, make money. A lot of them lose money heavily. How will you explain that?
But I must say I have not lost any money on any of my films. Some films have made profits also. My experience is that if you make a good film, it has viewers everywhere. Not the whole world will see it but some people will see it.
Photographs: Sreeram Selvaraj