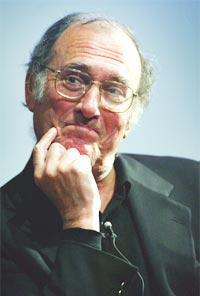 We have a rarity -- a Nobel Laureate we can relate to! For those in the dark, a few answers....
Who is Harold Pinter?
He is a playwright, commentator, director, actor, cricket enthusiast, and winner of the 2005 Nobel Prize in Literature. Born in 1930, Pinter has, in a career spanning over five decades, managed to become one of the most famous dramatists of the English speaking world. He is also behind the creation of the term 'Pinteresque' in theatre, signifying an underlying sense of menace in everyday situations.
Why does he deserve a Nobel?
In the words of the Nobel Committee, 'Pinter restored theatre to its basic elements: an enclosed space and unpredictable dialogue, where people are at the mercy of each other and pretence crumbles. With a minimum of plot, drama emerges from the power struggle and hide-and-seek of interlocution.' The citation also praises the continuity in Pinter's work, as well as his political themes.
In Pinter's case, it is not just the contribution to literature that counts. Like most writers who understand the role they play as conscience of a generation, Pinter has been a tireless advocate of human rights since 1973, taking up stands that have often seemed controversial. In 2001, he joined The International Committee to Defend Slobodan Milosevic, who was arrested by the United Nations war crimes tribunal on charges of crimes against humanity. Interestingly, he also supported a motion to impeach British Prime Minister Tony Blair, soon after the war in Iraq began.
And the cricket connection?
Pinter has been chairman of the Gaieties Cricket Club since 1972. A side that usually plays in England's Home Counties, it was founded in 1937 by a music hall artist called Lupino Lane, and continues to thrive. Though the club was initially founded for cricketers who worked in the theatre, it now comprises everybody from academics to writers and filmmakers. Incidentally, it also toured India in December 1996, captained at the time by Ian Smith.
And how crazy is he about cricket? 
Really crazy, considering he once said, 'I tend to think that cricket is the greatest thing God ever created on earth -- certainly greater than sex, although sex isn't too bad either.'
What are his plays like?
A complicated question, considering his enormous body of work. In a nutshell though, Pinter's plays are noted for their use of silence, a great deal of understatement, and the amount of small talk that seems absurd but subtly hints at danger. Some critics have categorised them by period, with his initial work described as psychological realism, followed by a lyrical phase and culminating with the political.
Pinter's major plays are usually set in a single room, with characters threatened by people with questionable intentions. There is no justification for much of the action, with the play used as a whole to reflect the bizarre that exists in everyday life. Then again, that seems rather one-dimensional. After all, the man himself once said: 'We don't need critics to tell the audiences what to think.'
How did it all start?
The story of Harold Pinter begins in London's working-class East End, where he was born to a Jewish tailor and his wife. After studying at a local grammar school, he won a scholarship to the Royal Academy of Dramatic Arts, but dropped out in 1950 to write poetry under the name Harold Pinta. He then worked as an actor on a BBC Radio programme before beginning to write for the stage. His first full-length play, The Birthday Party, was produced in London's West End in 1958. It was written off by critics, but was revived a few years later when its creator gained a reputation. With 1960's The Dumb Waiter and The Caretaker, Pinter's acclaimed 'comedy of menace' was born.
A great many plays -- most of them now classics -- arrived in quick succession. In 1965, he wrote The Homecoming, which won him a Tony Award and the New York Drama Critics' Circle Award. Earlier this year, he announced his decision to abandon his career as a playwright and concentrate on politics instead. 'I've written 29 plays,' he said in an interview. 'Isn't that enough?'
Is this his first major award?
The Nobel is a huge honour, of course, but it's far from Pinter's first major accolade. He has been awarded a great many over his career, including the Commonwealth Award (1981), Palme d'Or (1971), Laurence Olivier Award for lifetime achievement in theatre, Sunday Times Award for Literary Excellence (1997), and the Critics' Circle Award for Distinguished Service to the Arts (2000), in addition to honorary degrees from a number of universities including Reading, Birmingham, Glasgow, Florence, Italy and Dublin. He also famously turned down a British knighthood. In 2002, he was made a Companion of Honour for his services to literature.
Much of Pinter's success also comes from a long association with cinema, in a number of capacities. He has written radio plays, screenplays for film like The French Lieutenant's Woman and a large number of television movies. He has also directed movies, and even acted in a few, most famously as Uncle Benny in 2001's The Tailor of Panama.
What about his personal life?
Pinter was married from 1956 to the actress Vivien Merchant. In 1977, he caused a scandal by leaving her for the biographer Lady Antonia Fraser, eldest daughter of the seventh Lord Longford. He married Fraser after his divorce in 1980, but was subsequently separated from his son Daniel. His first wife died two years later.
In 2002, Pinter underwent radiation treatment for cancer of the oesophagus. He continues to be active in politics. It's been a life well lived; one in keeping with his belief: 'Good writing excites me, and makes life worth living.'
Also Read:
Harold Pinter wins Literature Nobel
Photograph: Bruno Vincent/Getty Images