British playwright Harold Pinter, whose juxtaposition of the brutal and the banal dubbed an adjective that bears his name, won the 2005 Nobel Prize in literature Thursday.
The Swedish Academy said Pinter was an author 'who in his plays uncovers the precipice under everyday prattle and forces entry into oppression's closed rooms'.
In its citation, the academy said the 75-year-old playwright was one who restored the art form of writing plays. His works include The Room, The Birthday Party and The Dumb Waiter and his breakthrough work, The Caretaker.
"Pinter restored theatre to its basic elements: an enclosed space and unpredictable dialogue where people are at the mercy of each other and pretence crumbles," the academy said.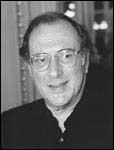 Pinter is the first Briton to win the literature award since VS Naipaul won it in 2001.
The son of a Jewish dressmaker, Pinter was born in London on October 10, 1930.
Pinter has said his encounters with anti-Semitism in his youth influenced him in becoming a dramatist.
The wartime bombing of London also affected him deeply, the academy said.
The academy's announcement came on Yom Kippur, Judaism's most important holiday.
Dubbed the most influential British playwright of his generation, in recent years he has turned his acerbic eye on the United States and the 2003 invasion of Iraq.
Most prolific between 1957 and 1965, Pinter relished the juxtaposition of brutality and the banal and turned the conversational pause into an emotional minefield.
Dark and peopled with unfortunates, Pinter's idiom was so distinctive that he got his own adjective: "Pinteresque."
His characters' internal fears and longings, their guilt and difficult sexual drives are set against the neat lives they have constructed in order to try to survive.
Usually enclosed in one room, they organise their lives as a sort of grim game and their actions often contradict their words. Gradually, the layers are peeled back to reveal the characters' nakedness.
In addition to plays, he has written for the cinema, penning such screenplays as The French Lieutenant's Woman, The Accident, The Servant and The Go-Between.
Academy Permanent Secretary Horace Engdahl said Pinter was overwhelmed when told he had won the prize.
"He did not say many words, in fact he was very happy," he said.
Last year's winner, Austrian feminist Elfriede Jelinek, drew such ire that a member of the academy publicly blasted his colleagues for picking her.
Knut Ahnlund, 82, who has not played an active role in the academy since 1996, resigned Tuesday after he wrote in a signed newspaper article that picking Jelinek had caused 'irreparable damage' to the award's reputation.
The academy, founded in 1786 by King Gustav III to advance the Swedish language and its literature, has handed out the literature prize since 1901.
To date 102 men and women have received the prize, including France's Jean-Paul Sartre, who declined the 1964 prize.