Underworld don and prime accused in the Mumbai blasts Abu Salem, who has been extradited from Portugal along with wife Monica Bedi, will be produced on Friday afternoon before the TADA court hearing the blasts case.
Briefing the media, Central Bureau of Investigation Director U S Misra said Salem was brought to Mumbai around 0715 IST.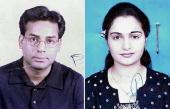 Apart from the Mumbai blasts, Abu Salem has been accused in two murders in Mumbai, three cases of extortion in Delhi and one case of passport forgery in Lucknow.
Misra said the extradition came after the Indian government assured Portugal that neither Salem nor Bedi will be sentenced to death.
"The final decision was taken by Portugal on October 19. A CBI team went to Portugal on October 29. After the legal formalities were completed, the two were handed over on November 10.
"We then flew them on a charted flight to Mumbai," Misra said.
Salem and Bedi had been arrested in Lisbon in 2002 after an Interpol Red Corner alert. The had been sentenced to prison terms there for travelling on false documents.
Salem served 39 months in a Lisbon prison.
The extradition comes soon after a constitutional court turned down his appeal against extradition.
The Supreme Court of Portugal had in January ratified an order allowing extradition of Abu Salem and Monica Bedi.
While seeking their extradition, the Indian government had given an executive assurance that Salem and Monica would not be awarded death sentences if found guilty.
The assurance was given since European law prohibits extradition of any accused to such a country where capital punishment is in vogue.
The high court of Portugal had in July 2004 allowed extradition of Salem to India to face charges like gun running, extortion and forging of passports.
The CBI had moved an appeal against the order in the Portuguese Supreme Court, which was also hearing a petition of Salem seeking quashing of his extradition orders of the high court.
The apex court of that country combined the two appeals and passed an order in July directing the Salem's extradition.
In December 2004, the Supreme Court had ordered extradition of Monica Bedi who has written to President A P J Abdul Kalam and Prime Minister Manmohan Singh seeking pardon and permission to stay in Norway with her parents.
The extradition of Salem is expected to help unravel certain aspects of the 1993 Mumbai bomb blasts and further strengthen cases against Dawood Ibrahim who has been declared a global terrorist by the United States.
Salem's interrogation was also expected to blow the lid off certain prominent personalities against whom the Mumbai police and the CBI had failed to gather any evidence regarding their links with the underworld.
Arrested along with Bedi in September 2002 in Lisbon, Salem was sentenced to four-and-a-half years imprisonment on three counts-- entering Portugal on forged documents, causing injury to a policeman who was performing his duty and perjury.
The Portuguese government had dropped one of the three charges against Salem--of marrying a local girl to get a resident permit.
"The CBI already has details of the cases in which Salem is wanted in Mumbai and we will be pursuing to get his custody as soon as possible," a senior Mumbai crime branch officer said.
Salem, a native of Saria Meer in Azamgarh district of Uttar Pradesh, began his career in New Delhi as a driver. Later, he came to Mumbai and took to petty crime.
He was running a telephone booth at Arsa Market in Andheri when he came in contact with Dawood Ibrahim's younger brother Anees.
Salem is charged with being involved in the Mumbai blasts of 1993. More than 250 people were killed and property worth crores was destroyed in the blasts.
However, it was the sensational killing of music baron Gulshan Kumar in 1997 that pushed him up the underworld hierarchy. Salem's men also attacked Bollywood producer Rajeev Rai at his office in Tardeo in 1997.
He was believed to have organised the killing of actress Manisha Koirala's secretary Ajit Deewani.
He broke away from Dawood Ibrahim after a fight with Chhota Shakeel, the D-Company's unofficial second-in-command, in 1998.
Last year he was arrested in Sharjah, but the Mumbai police could not get him extradited.
With PTI inputs