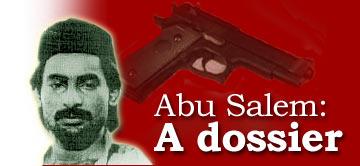 Who is Abu Salem?
He hails from Sarai Mir village in Azamgarh district of Uttar Pradesh.
He was a driver in Delhi before he came to Mumbai and got involved in criminal activity.
Since September 2002, he has been in the Lisbon police's custody for entering Portugal with the help of forged documents.
The cases against him
He is one of the main accused in the March 12, 1993 bomb blasts case in Mumbai.
Also read: A meeting with Abu Salem's brother
He is also wanted in connection with the killings of T-Series owner Gulshan Kumar, actress Manish Koirala's secretary Ajit Dewan, builder Omprakash Kukreja and more than 50 other cases.
His gangsters have also tried to attack leading film personalities Rajeev Rai, Rakesh Roshan and Manmohan Shetty.
Was he ever arrested in India?
Yes, once. A special team, formed under the leadership of then additional commissioner of police A A Khan, arrested him in the early nineties from his travel agency in Santacruz, northwest Mumbai.
He was handed over to the D N Nagar police station in Andheri, northwest Mumbai, where Salem's in-laws had registered a case against him (more about that later).
But after spending two days in jail, he was released.
How he was arrested in Lisbon?
Salem has had plastic surgery, but Indian sleuths knew his mobile phone number and were tracking him.
When they discovered he had shifted to the United States, they alerted the Federal Bureau of Investigation.
When the FBI found out that Salem was entering Lisbon with the help of fake papers, they alerted the Portuguese authorities.
Some people believe his companion, actress Monica Bedi -- who was held along with him -- played a role in his arrest.
How was he identified?
He had changed his looks, but the Indian authorities had taken his fingerprints when he was arrested in Mumbai. This led to his identification.
The Salem-Monica story
Monica had come to Mumbai from Delhi to try her luck in the film industry. She came into contact with Mukesh Duggal, a film producer, who took her to Dubai for a stage show.
It was there that he introduced Monica to Salem.
Salem helped Monica get work in Hindi movies. In turn, it is alleged, Monica passed on information about film personalities to Salem.
The initiation into crime
In the early nineties he used to stay with his cousin Akthar in Andheri.
Akthar was a small-time criminal working with gangster Sayyed Topi who was later killed in an encounter with the Mumbai police.
Salem used to extort money from shopkeepers by using Akthar and Topi's names.
Later he started settling land disputes on his cousin's behalf.
He is said to be an extremely conservative Muslim.
When the US launched Gulf War I, he led a protest march in Saddam Hussein's support. The police resorted to a lathi-charge to break the protest.
His men fired on three different occasions at a Muslim actor who was working in B R Chopra's television serial Mahabharat.
How he came in touch with Dawood Ibrahim
Salem had married a college girl against her parents' wishes.
His in-laws filed a case of abduction against him at the D N Nagar police station.
To avoid police questioning, Salem shifted to Santacruz, where he stared a travel agency.
In Santacruz he came in touch with a person called J K Ibrahim, who was working for Dawood. Through him Salem got in touch with Dawood.
How he rose
Salem was extremely flashy and had an impressive personality. He could scare a lot of people with the way he spoke. The gang needed someone just like him.
Dawood thought Salem was fit to make threatening calls to people.
In the meantime, Salem started organising stage shows in Dubai, where he invited all big actors to impress his boss.
The separation from Dawood
Salem was given a free hand to extort money from Bollywood.
He allegedly conspired to kill Gulshan Kumar on August 12, 1997.
Dawood was said to be unaware of the operation, and became angry with Salem.
Salem fled Dubai, suspecting that Dawood wanted to kill him.
How he established his gang
Salem always used his own men to carry out activities for Dawood's gang. Those men hailed from UP, and worked for a small fee.
He appointed these men on a contract basis, meaning that the men returned to their villages in UP after carrying out their criminal mission. Salem never helped any of them in case they were arrested.
His modus operandi
He used different people for different things -- one to deliver the weapon (usually, a woman), one to locate the target and one to finish the job.
All three were unaware of each other.
After the job was done, the weapon was returned to the woman courier.
The same weapon was used for many killings, so in case it was detected, the police thought the same person was behind all the attacks.
He also killed many criminals suspected to be police informants.
What about his wife and cousin?
No one knows where they are and what they are doing.
Headline Image: Rahil Shaikh