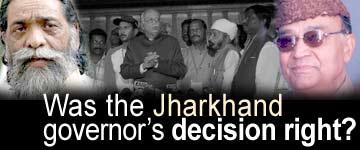 On February 27, the election result in Jharkhand threw up a hung assembly.
The National Democratic Alliance won 36 seats, while the Congress-Jharkhand Mukti Morcha combine had 26.
With no single party or pre-poll alliance securing a majority, the 11 'Other' members of the legislative assembly held the key to who would form the next government.
The NDA claimed the support of 5 'Other' MLAs, in effect taking its strength to 41 in the assembly, giving it a clear majority.
However, Governor Syed Sibtey Razi was not convinced. He said he would take a decision after talking to the 'Other' MLAs.
The five MLAs, whose backing the NDA had claimed, announced their support to the Alliance during their interaction with the governor.
And just when everyone thought all was set for the NDA's return to power in Ranchi came the announcement from Raj Bhavan that JMM chief Shibu Soren has been invited to form the government.
The NDA said the decision was a 'Constitutional outrage'.
Was it?
What do you think of the governor's action?
Was he right in inviting Soren despite the NDA parading the 41 MLAs before him?
Do you think he was acting on instructions from the Congress high command?
Let us know.