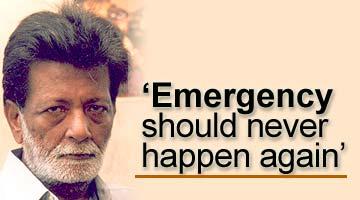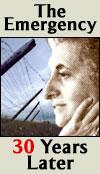 T S V Hari was a college student in Mumbai (then Bombay) when the Emergency was declared. He remembers the tension, the scared faces, the hushed whispers about arrests and torture. Hari, who now edits the religious magazine Kamakoti, recalls how the Emergency changed the lives of Indian youth forever.
'The darkest period of Indian democracy'
I was just finishing college in Mumbai when the Emergency was declared. People were scared, and one heard about the arrests and people being torured. Muslims got the rough end of the stick. I would say people in Mumbai were very scared about the Emergency.
In 1976, when my father started a business in Chennai (it was called Madras in those days), I moved there.
The atmosphere in Chennai was very different from what I had seen and experienced in Mumbai. In more ways than one, people found the Emergency quite a satisfying experience.
Everything was under control. People used to say that if they wanted anything to be done in government offices, they were getting it done without any problem.
Next to my house in Mylapore was a secret Rashtriya Swayamsevak Sangh camp. One of the people who organised the camp invited me to a meeting. When I went there, I came to know that people like George Fernandes, who did not subscribe to the RSS ideology, were hidden safely in Chennai by the RSS. A common front against the Emergency was emerging in Chennai, but all that happened very quietly.
Despite press censorship, I came to know that people like Murasoli Maran and M K Stalin were arrested. Stalin was in fact beaten up by the police in front of his father, M Karunanidhi.
Karunanidhi had to undergo intense trauma. Maran was also put in prison after being beaten up badly; and he developed a back problem after that.
Arcot Veersamy, who is now the treasurer of the DMK, also suffered a lot. He almost went deaf in one ear because of the blows he received.
All this disturbed me and I toyed with the idea of becoming a journalist. I felt it was not correct to harass those who had an opinion that differed from that of the central government.
Whenever we friends met, I talked about this openly and fearlessly. After eating dinner from the small roadside shops, we had discussions on the evils of the Emergency at nights, and right on the road.
We were a group of about 15 to 20 people. We used to have animated discussions. We had often seen policemen doing their rounds during that time and they could have definitely overheard us. But they never troubled us.
At the time, the Dravida Munnetra Kazhagam government had been dismissed and Tamil Nadu was under President's Rule. When the government was dismissed, everybody expected a lot of trouble in the state. But no untoward incident happened.
The reason was that people in Tamil Nadu were not too bothered by the Emergency. By then Karunanidhi's ways had become local lore.
So people in general were not much bothered when his government was dismissed and he was arrested. Coming from Mumbai, I was surprised to see all this to some extent.
But there were people who were dissatisfied. A friend of mine who worked at that time at All India Radio used to tell me that his colleagues and he worked under duress.
He also informed me that they got circulars from Sanjay Gandhi stating that if anyone came late to office or indulged in anti-national activities, stringent action would be taken. People like my friend were very worried. And mind you, we used to talk loudly about this on the roads, and nobody was bothered.
I can say there was no fear psychosis in Tamil Nadu. It might have been because people experienced so much lawlessness during DMK rule.
Compared to that, there was a relative quietude during the Emergency. So, people thought the Emergency was a good thing. News from other states did not reach here. People went about their work, occasionally commenting about the Emergency. Nobody felt stifled. In fact, most people were happy that things were actually working.
Pensioners got their papers, which had been pending for years, water supply improved, the frequent power cuts had been done away with, roads were re-laid properly.
I used to go through almost all newspapers. I remember a change in the language of The Hindu from reported speech to quotes; and all the quotes were from people in the Congress and the Anna DMK. ADMK was supporting the Emergency.
I still remember how MGR changed the name of his party to All India Anna DMK when Indira Gandhi threatened to ban all regional parties.
There was an undercurrent of fear among politicians that did not percolate down to the people.
The only paper that spoke courageously against the Emergency was Cho's Tughlaq. In those days, there was a censor sitting in Shastri Bhavan and Cho had his office on Mount Road. He used to take his paper to Shastri Bhavan for censoring. Cho used to jocularly call the censor the editor of Tughlaq!
Later, the censors started filtering even the ads in Tughlaq. Cho had a photograph of Morarji Desai with a message Happy Birthday, which the censor found objectionable. They felt the clever Cho might have had a hidden message in it.
So, they asked him to remove the message Happy Birthday. After that, he was asked to remove Morarji Desai's photo too. Finally, he brought out the paper with a blank page. Tughlaq used to carry blank pages quite regularly.
Tughlaq was the only paper that criticised the Emergency openly.
The DMK was very scared after Stalin was beaten up in front of Karunanidhi. While the DMK's protest was muted, the only person who was open, blunt and brave was Cho Ramaswamy.
Nothing spectacular happened when the news of the Emergency being lifted spread. Cho wrote a very stinging editorial. There were several public meetings and people like Vajpayee came down to Chennai and spoke. I also went to listen to them. There were huge crowds to listen to the leaders. Cho also spoke at one such meeting. It was only then that the people of Chennai came to know what had happened in other states during the Emergency.
In the election that followed, the Congress-AIADMK combine won, I think, 39 out of the 40 seats in the Lok Sabha from Tamil Nadu. After Indira Gandhi lost the election, MGR dumped the Congress and went alone in the assembly election and became the chief minister.
I became a full-fledged journalist only in 1979. It was then that I heard the DMK was coming close to the Congress again. They formed an alliance in 1980 forgetting all that had happened a few years ago. I developed a kind of cynicism against politicians since that time.
It was funny listening to the DMK supporting the Emergency and the AIADMK criticising it!
The Emergency should never again happen in this country.
As told to Shobha Warrier
Photograph: Sreeram Selvaraj
Image and logo: Rahil Shaikh