T P Sreenivasan
, one of India's most distinguished diplomats, continues his column based on his encounters with some of the world's most famous people.
Earlier in the series: Narasimha Rao could stick to his guns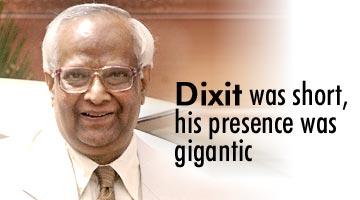 National Security Adviser J N 'Mani' Dixit was on my list of important personalities I had encountered during my foreign service career. But I had planned to write on him later, after the full impact of his contribution to Indian foreign policy came to be known late into his new position. I had fully believed that we had not heard the last of him even after 36 years of foreign service and ten years of writing. He was considered to be in his prime at 68 years of age when he passed away, leaving a void in our foreign policy and security establishment.
You will be missed, Mani Dixit
One story that Dixit liked to narrate was about President Zia-ul Haq of Pakistan, who visited Sri Lanka when Dixit was the high commissioner there. Zia had met Ambassador S K Singh in Islamabad and High Commissioner I S Chadha in Dacca before meeting Dixit in Colombo, all of whom were just five feet something tall. When Zia mentioned it, Dixit said this was a deliberate policy as India did not want to project a big brother image in its neighbourhood.
Dixit was short, but his presence was gigantic in any group, certainly among his peers in the bureaucracy. The constant and swift movement of his eyeballs was the mirror of his sharp intellect and ability for fast thinking and action. His speed of reflection was such that it often appeared that he was hasty, but on most occasions, his judgement was right and his action brought him and the country rich dividends.
He had no false modesty either about India or about himself and he had nothing to be modest about. He fearlessly followed his lights, except when he was compelled by the political leadership to change course. More often than not, however, it was he who laid the course for his political masters. Even in his personal life, he acted in accordance with his conviction, without hypocrisy or fear. K P Nayar of The Telegraph has recorded that he confirmed as true a rumour about his personal life when then prime minister Indira Gandhi asked him about it.
Dixit's early years in the South Block as official spokesman coincided with mine as special assistant to Foreign Secretary Jagat Mehta and I enjoyed our continuous interaction because of his liveliness and unorthodox style. Even after he left on his assignments to Kabul, Colombo and Islamabad, it was a joy whenever I ran into him in the corridors or spoke to him. As his joint secretary (UN) when he was foreign secretary, I witnessed the nuances he introduced into foreign policy, particularly at the multilateral level.
He was proud of his stint in Vienna and later in the South Block as an officer in the UN division, a dimension that had faded when he became an acknowledged expert on the neighbourhood. He was irritated when someone wrote that he had no multilateral expertise like his immediate predecessors. At the same time, he was sceptical about the value of multilateral work. He was determined to prove that he and others, who had not spent years in New York, Geneva or Vienna, could also do justice to multilateral work. He brought his neighbourhood orientation into the UN when he agreed to concede a South Asian seat in the UN Security Council to Sri Lanka. It was another matter that Sri Lanka made a deal with South Korea and withdrew at the last minute, when it was too late for us to step in.
Dixit posted me to New York, where the permanent mission to the United Nations had the responsibility to reflect the changes in our position on various issues on the agenda of the United Nations. He insisted that this should be done in a gradual and "calibrated" (one of his favourite words) manner. He had a taste of the hassles of high level multilateral diplomacy at the meeting of the Security Council at the summit level in January 1991, where a new paradigm in international relations was sought to be established.
The Narasimha Rao-Dixit-Chinmaya Gharekhan triumvirate had a hard time trying to resist the idea of bringing non-proliferation into the agenda of the Security Council. Even though they succeeded in diluting the text, India made a reservation on "a couple of points" in the final declaration, much to the chagrin of the big powers. Dixit seemed to have had greater regard for our multilateral diplomats after that experience. But he still chose a permanent representative with little multilateral experience to replace Gharekhan.
Pakistan made a desperate bid to highlight Kashmir in every forum of the UN during my time as deputy permanent representative in New York. Since the permanent representative wanted to remain above bilateral disputes, I was designated to counter Pakistani arguments in every committee. The exchanges were most caustic in the third (human rights) committee. Dixit and Permanent Representative Hamid Ansari sat in the visitors' gallery as I clashed with Pakistan's Munir Akram. Dixit noticed that several of my colleagues walked into the room and exchanged banter with Pakistani delegates even as the bitter exchange was raging. Dixit sent me a little slip asking me to get all other Indian diplomats to get out of the committee. He told me later that the way they greeted their Pakistani colleagues and their body language would have made others feel that the exchange in the committee was unreal. So meticulous was he about dealing with Pakistan.
'J N Dixt was the best expert on Indo-Pak ties'
I had occasions to disagree with Dixit on some issues, but he always gave a patient hearing before he gave his final orders. He was very strict when it came to bureaucratic hierarchy and resented it when it appeared that he was not fully in the picture on any issue. He told me once that it was not enough that I anticipated his thinking and did what he would have wished; I should also respect his right to be consulted.
On the other hand, he was lenient in dealing with personal failings of colleagues. He was in New York, when I was told by the UN protocol that a lady had complained that an Indian diplomat had misbehaved with her. The diplomat in question happened to be an officer from another ministry, who had come for a conference. Dixit did not accept my suggestion that the officer's departure from New York should be expedited. He laughed it off as a misadventure. But these differences did not come in the way of our professional and personal relations.
Dixit was moved when I went to receive him at Nairobi airport when he came on a private visit with his family long after his retirement. He said very few younger colleagues extended such courtesies to retired officers. I put them up at a friend's guesthouse near our home in Nairobi as our house was full. When I went the very next morning to see them, I discovered that someone had tried to break into the house in the middle of the night and the guard was hurt in the scuffle. He did not call me when it happened as he did not want to bother the high commissioner with such minor matters!
I received him and his children in Vienna in extremely tragic circumstances after word came that his youngest son Dhruv had died there. I kept him company through his whole ordeal of identifying the body and cremating it. He was a broken man, not the usual self confident and cheerful self, but he bravely went through the whole experience. Even as the priest was performing the last rites and Dixit could hardly stand up, overwhelmed by grief, he could not resist a side comment to me that the priest's Sanskrit pronunciation was atrocious.
Dixit was proud that he belonged to the new generation of Indian diplomats, who came from ordinary homes through ordinary schools and colleges. He often spoke to me in Malayalam, but we never discussed our Kerala origins even though his mother was my mother's teacher back in Kerala. But I had secured the Malyalam works of his father, Munshi Paramu Pillai, at the behest of his wife Vijaya. She had wanted me to translate them into English, but the project did not take off.
J N Dixit: An astute diplomat and strategist
I met him last in the national security adviser's office in South Block at the end of October. I took along a paper I wrote on Indo-U.S relations to leave it with him. He read through it in my presence and encouraged me to publish it, now that I had retired. When I said that I would have to get official clearance, he said he never asked for clearance for the books and articles he wrote during his ten years out of office as he could rely on his own judgement as to what should be published. "I was not going to submit my writings to colleagues ten years junior to me. They could sue me if I violated any law." he said in his characteristic manner.
He was surprised to learn that we had decided to live in Kerala and said I would probably adjust to the pace of life in Kerala, but Lekha, my wife, might find it difficult since she was so active at our posts abroad. He said he was doing well for "a seventy-year-old" man, but could not work as hard as he would have wished. I urged him to take it easy, but I did not realise that he would not last beyond a few months more. He had already done India proud.
Earlier in the series: Narasimha Rao could stick to his guns
T P Sreenivasan was India's former ambassador to the United Nations, Vienna, and former governor for India, International Atomic Energy Agency, Vienna