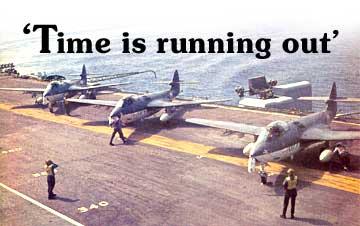 In the second of a four-part interview, the Chief of the Navl Staff, Admiral Arun Prakash, tells Bharat Verma that bugetary and bureaucratic constraints have led to bottlenecks which make Force Planning difficult. He also stresses the need to enhance the Navy's 'blue water' capability to balance the 'brown-water' units or smaller ships of limited capability.
Part I 'A long way to go'

Are you satisfied with existing capabilities, in particular of command and control and surveillance/reconnaissance, both from aircraft and from satellites?
I am happy that you have brought up this issue, because networking of our capabilities, afloat and ashore, is one of my priority areas. The current Indian Navy capability encompasses weapons, sensors and platforms of formidable range and capability. This capability will be further bolstered with the forthcoming induction of platforms such as the aircraft carrier Admiral Gorshkov with its integral MiG 29K fighters, and long range weapons like the BrahMos missile.
Admiral J G Nadkarni on the navy's white elephant
What we now need to do is to encompass these weapons and sensors into a long range, cohesive network. Navy-wide Network Centric Operations, once achieved, would enable the Indian Navy to increase the battle-space awareness of our units, shorten the 'sensor-shooter loop' and thus dictate the tempo of battle to the adversary. There is ample world-class IT expertise available indigenously to develop the systems required by us, and I see this as a good opportunity to harness private industry for a mutually beneficial relationship. Towards this end, the Navy would need to rely on the space segment to provide the backbone and bandwidth for connectivity.
Letters of intent for building an Air Defence Ship at the Kochi Shipyard and Type 75 submarine at Mazagon Dock Ltd were issued in 1997. But seven years later, neither project is ready to start construction. What will be the impact of this delay on our capabilities?
As far as the ADS is concerned, it is the most ambitious shipbuilding project undertaken in India so far, and projects of such complexity do take time to take-off and fructify. The design, the size, and the overall configuration of the ADS has gone through several iterations, because the Navy wanted to be sure that it would take care of our foreseeable requirements over the next 25 to 30 years (or make it 'future proof' as the British term it).
One issue that emerged at a late stage was the requirement for the ADS to be compatible with the LCA (Navy). Thus we have made many changes, and the final design has evolved ever the years. I must clearly state that the design freezing exercise has been the major cause for delay, so far.
INS Talwar to add punch to Navy
I am happy to state that all that is behind us, and the revised sanction was accorded by the Cabinet Committee on Security in January 2003. The carrier, with a deep displacement of 37,500 tonnes is being planned to operate the MiG-29K, and LCA (N) fixed wing aircraft, as well as the ALH and Ka-31 helicopters. For an interim period, it may also operate the Sea Harriers and the Sea Kings. The basic design and hydrodynamic tests for the ship's hull have been completed, and the design work for internal systems being undertaken in-house is at an advanced stage.
Much of the infrastructural augmentation at Cochin Shipyard has also been completed, and construction is expected to commence in early 2005 with an estimated build period of 7 years. But it is a challenging undertaking, and we will keep our fingers crossed. With the coming acquisition of the Admiral Gorshkov, and follow-on ships of the ADS class, the Indian Navy will be able to maintain, and in fact enhance, its carrier capability in the coming years. As far as Project-75 is concerned, submarine construction is the one remaining lacuna in our considerable shipbuilding capability. We need to re-start the production lines at MDL, which have been lying idle for over a decade.
Navy orders 20  ships back to harbour
Moreover, delays in decision making inevitably lead to cost escalations. Happily, the new government is seized of the urgency and we hope to see headway in this aspect quite soon. However, time is running out and the effects on the force levels of our submarines will be felt for many years down the line.
What broadly should be the force level that the Navy could realistically plan for up to 2020, after taking into account budgetary constraints and decision-making delays?
Putting an exact number to our force level is not a very good way to plan. A better way is to survey the emerging maritime capabilities in the region, and to ensure that we have the entire range of forces/capabilities that we need for ensuring the security of our interests. We have done this exercise, and have come up with a force structure for the future.
While we currently have government approval to maintain certain force levels, they will steadily keep reducing till 2012, because the ships being de-commissioned will outnumber new entrants. This has resulted because of very few new orders placed with our shipyards in the period, 1985 to 1995. We also have a force imbalance, because a large proportion of the force level comprises 'brown-water' units or smaller ships of limited capability. This imbalance needs to be rectified with the addition of more 'blue water' capability.
The good news is that indigenous ship production has now picked up momentum, and 19 ships are in various stages of construction at our shipyards. This includes two new lines of frigates -- the Project 17 (stealth frigates of the Shivalik class) and 15A (follow-on ships of the Delhi class), and the Air Defence Ship. A new line of ASW corvettes is also going to be built. We trust that our shipyards will be able to keep pace with the orders placed on them.
As far as budgetary support is concerned, last year the naval budget crossed 17 per cent for the first time and this year it is above 16 per cent. I am confident that this trend will continue in the coming years too as economists, the Parliamentary Committee and even the 10th Finance Commission have emphasised the need for adequate funding to sustain naval growth in view of the long gestation period of naval platforms.
Indian Navy ship at Fleet Week
However, the dilemma that we face in the area of Force Planning can be summed up in two brief points.
Firstly, no one is willing to give us a long-term assurance of funds; not even a bottom line 'not exceeding' figure for 3 to 5 years worth of planning.
Secondly, our budgetary grants have a life of approximately 8 to 9 months (from June to end-March), whereas the decision making process never takes less than 18-24 months, and more often runs into years. Under such a system it is difficult to visualise our ever spending the annual budget.
Next: 'There is no future in importing weapons'
Courtesy: Indian Defence Review