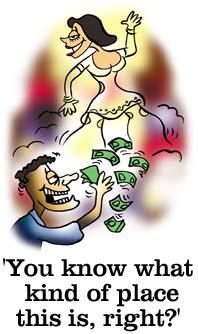 Yesterday: In Chandni's bar
I began to pay more attention to the song and realised it was a remixed version one of the numbers I loved. But listening to it this time was different. Very different. Chandni brought the song to life. My eyes followed her every movement as she danced to Sajna hai mujhe, sajna ke liye...
I came out of my trance when the song ended, but continued to look at Chandni. She responded to my attention.
After some time, she rejoined us. I couldn't stop gushing about what a wonderful dancer she was. Ravi kindly asked me if I wanted to sit next to her. Before he could think of changing his mind, I was in his seat.
We made small talk. Within minutes, she asked me if I would take her to a hotel. I was not sure how to respond to this; I kept quiet.
She asked me again, "You know what kind of place this is, right?" I nodded mutely. "So, will you take me?" she asked again.
I asked her if she wanted an honest answer. Yes, she said. No, I replied.
That cooled her ardour somewhat, but she maintained her composure. Seeing that we were getting rather cosy, Ravi demanded we exchange places again.
I was so taken up with Chandni that she even managed to get me onto the dance floor. I tried to do a decent job but was simply not able to keep up with her. She seemed to have a routine and would not change her steps to accommodate a novice. That left me with the impossible task of trying to salvage my dignity even as I made a fool of myself.
The best way to do this, I thought, would be to examine the dance floor minutely as I kept up the pretence of dancing. I refused to look at the tables.

Chandni's words of encouragement -- "Aap accha dance kar lete ho [You dance well]" -- only made matters worse. To me, it sounded more like -- relax; everyone who comes here makes a fool of himself at some point.
I managed to escape the dance floor after a while. Later, I saw other men gamely exhibit their non-existent dancing skills. They were encouraged by their friends, who were watching from their tables. A lot of liquor and a few girls can make men do things they never would have imagined themselves capable of.
Some of the customers were nursing their drinks with a glum look and staring intently at the dance floor in the hope that something exciting would happen. Nothing did. The place continued reflected the mood of the people there.
What could the mere presence of a few girls do? They could not possibly make a graveyard appear like a hip and happening joint.

Not many tried to talk to the girls, some of who passed by our table several times hoping to catch our eye; we seemed to be the only ones with a cheerful disposition. Ravi did smile at a couple and introductions followed.
All this while, Chandni persisted, impressing Ravi with her wit and small talk. She smiled sweetly at me and even blew me a few kisses.
Even if I were to hold a loaded gun to a girl's head and threaten to shoot her if she did not smile at me, the best I might get is a look of utter contempt or, much worse, a resounding slap.

Chandni was definitely good for my ego. As long as she was around, I did not want anything. I was happy to bask in her attention.
The waiter dutifully refilled our glasses at regular intervals. We were getting generous with our tips.
I discovered two ways to tip the ladies (there may be more).
You hand over the money to the waiter who exchanges it for crisp new 10 rupee notes and rains it on the favoured one. There are some whose generosity cannot be accommodated in 10 rupee notes; their tips require bundles of 100 rupee notes.
Not all of this money goes to the girl; she has to share it with the owner of the restaurant. Is it any wonder that ladies bars thrive!
Those who dislike this arrangement hand over tips surreptitiously, often at the bidding of the girls who can be very persuasive.
The waiters have their own act. There was terrific competition for customers. One of them actually stood at our table hoping to catch our eye. How much more blatant can you get? The man was no doubt thinking of our next visit. It was very irritating, but Ravi finally did say hello.
Chandni seemed to be one of the best dancers there. She was told to take the dance floor a couple of times more before it was time for the restaurant to shut down. She bid us goodbye and insisted we return the next day. Some of the other girls made it a point to say bye as well.
I guess that's how it works. Come again and again...
Reluctantly, after everyone had left and before we were kicked out, we voluntarily stepped out into the real world. When I hit the sack, Chandni's pleasant memories swirled around me.
The next day, I miraculously managed to make it to work on time.
I tried to restrict my memories of the previous night's adventure to Chandni, but another thought kept fighting to make its annoying presence felt. I tried to push it to the back of my mind, but finally lost the battle and began examining the damage to my meagre bank balance.
It was extensive. I was almost in tears when I realised the months it would take me to repair the damage.
ALSO SEE
The other side of the story: Chandni Bar
Mumbai nightclubs, dance bars raided
Vote at 18, but enter dance bars only at 21
'I think an ideal youth should observe limits'
Old enough to vote, not old enough to drink
Are you old enough to party?
Illustration: Uttam Ghosh