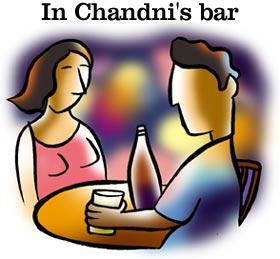 Having to get to work at 8 am was bad enough. What made it worse was the fact that I did not get much sleep the previous night, since I spent much of it in a ladies bar.
It was the recent raid on such bars in Mumbai that made me curious to see the insides of one. So, two nights after the raid -- with the fear of getting caught in another raid hanging over my head -- I found myself outside a bar in south Mumbai with a friend, Ravi (not his real name).
We paid a fee to enter the world beyond.
I had barely stepped inside when some people grabbed my right hand. I was shocked. I did not expect ladies to indulge in this kind of behaviour. It was only after my eyes adjusted to the dim light and my sense of shock eased that I heard the voices: "Sir, please come here." "Sir, please come here."
It was the waiters at the bar, and they were trying to seat us at one of the tables allocated to them. Ravi was amused, while I struggled to cope with the unwanted attention. All I wanted at that moment was to run out of the door and return to my familiar world.
After a few agonizing seconds (as far as I was concerned), Ravi had enough of the jostling and led the way to a table. I followed meekly, sank as deeply as I could into a chair and prayed no one would notice me.
If that was what I wanted, I was in the wrong place. Even before we had settled down, three ladies came and stood in front of our table. I wanted to tell them to get lost, but was afraid it would focus the attention on me again. To tell you the truth, I was lost, with no idea about what to do next. Ravi told me later, "You looked completely out of place."
He ordered a drink. "Same here," I mumbled.
I tried to look comfortable as I checked out the place. It was not, like I had originally thought, all that dark. We were sitting opposite a small stage, which was illuminated more brightly than the rest of the place. At one discreet corner, I noticed a door with 'Makeup Room' written on it. On the opposite end were two more doors -- one led to the kitchen; the other, I presumed, led to a washroom.
There were a few people sitting at the other tables. Some were alone; others had come in groups. The bar also had seats in a kind of a balcony located over our heads. The place had the look of a mini-theatre whose screen had been replaced by a stage and rows of seats by tables and chairs.
It also had a profusion of mirrors. They decorated the columns and even formed the backdrop to the stage.
Then there were the girls, some standing to one side, others scattered here and there, observing each customer closely. Some were discreet, others were less adept at hiding their scrutiny.
My immediate problem, though, was the three ladies standing in front of me. I managed to raise my eyes and look at one of them. She was smiling sweetly at Ravi. I dared not look at the others.
Finally, Ravi invited one of them to join him. He made the introductions and I got my first glimpse of Chandni (not her real name). I promptly returned to my drink and looked everywhere except at her. With one of the girls out of the way -- the others refused to give up -- I had a slightly better view of the place.
I had got used to the dim light and was beginning to get comfortable. This place was like any other bar except for the open areas where people could dance. And yes, the drinks were definitely more expensive. I wanted to know if they served food as well, but was afraid I would sound like a novice. It did not, however, seem like a place where you dropped in for a bite.
Hindi film music was playing loudly and one couple was already dancing. That came as a surprise. I knew that women would be there in a ladies bar, but the last person I expected to see there was a guy who was not a customer, cashier, waiter or bouncer; the male dancer, in his free time, hung around with the bar's staff.
The couple seemed to be doing a good job. They were dancing nicely without resorting to anything erotic or suggestive.
A few minutes later, a waiter came and told Chandni to take the floor. She excused herself and left. By this time, the two other girls had tired of waiting and left us to our own resources. Things seemed to be getting better.
It was when I turned to see how Chandni was faring on the dance floor that something clicked. I'm not sure whether it was her or the music or the drink, but she seemed beautiful. Her movements seemed graceful. I was hooked.
Part II: 'You know what kind of place this is, right?'
ALSO SEE
The other side of the story: Chandni Bar
Mumbai nightclubs, dance bars raided
Vote at 18, but enter dance bars only at 21
'I think an ideal youth should observe limits'
Old enough to vote, not old enough to drink
Are you old enough to party?
Illustration: Uttam Ghosh