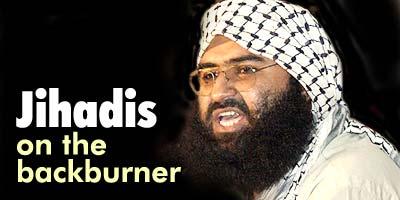 It is five years since India went through the trauma of the hijacking of IC-814.
Many of us probably no longer remember the harrowing experience except perhaps Rachna Katyal whose young husband Rupin had been killed by the hijackers.
For the rest, the week was a nightmare best forgotten. Other traumatic terrorist events the world that followed pushed this one into the background.
There was the mother of all terrorist attacks on the World Trade Center and the Pentagon, the attack on the Jammu and Kashmir assembly in Srinagar, the Indian Parliament, Kaluchak, then Bali, Casablanca, Madrid. The Americans pulverised unlucky Afghanistan and then blundered into Iraq, leaving the hijacking of IC-814 a distant memory.
Sept 11 strikes linked to IC-814 hijack 
The world moved on but some images still endure.
The images of that hoodlum Masood Azhar embracing his Taliban friends at Kandahar, of Rupin Katyal's body being handed over at Dubai, the three terrorists Azhar, Mushtaq Zargam and Omar Sheikh being escorted by the Indian foreign minister for personal delivery to their mentors; the Indian television news channels, fresh after Kargil having a field day showing live all the agonies of anxious families in Delhi.
There were repeat shots of the sit-in protests, of weeping relatives prostrate on the road outside the PM's house, of so-called human interest stories that made great copy. All this put pressure of a different kind, just when it was least needed on the government.
Five years on, where are the main players of that hijacking?
The hijackers, 'Chief', 'Burger', 'Doctor', 'Shakir', and 'Bhola', have all disappeared into some cavernous hole of the Pakistan establishment; may be they have been rewarded, or may be terminated with extreme prejudice.
Maulana Mahmood Azhar, Mushtaq Zargar and Omar Sheikh went back to a rousing welcome in Pakistan. Zargar is known to be floating between Muzaffarabad and Islamabad doing nothing in particular. Omar Sheikh, the murderer of the Wall Street Journal journalist Daniel Pearl, is said to be in jail but who knows.
Masood Azhar, a rabble rousing scholar from the Binori mosque in Karachi and a pupil of Mufti Shamsudin Shamzai, devoted to the rabidly anti-Shia cleric, Maulana Haq Nawaz Jhangvi, a dropout from the Afghan jihad training school (they found him too fat and unfit for the rigours of fighting), would exhort his listeners to jihad in Kashmir for their salvation.
But he fell out with his colleague Maulana Fazlur Rahman Khalil of the Harkat-ul Mujahideen, after his release in 1999 and formed his own Jaish-e- Mohammad.
It was Azhar who received the maximum coverage in Pakistan. Welcomed as a hero in his hometown, Bahawalpur, Azhar began to pour venom on India and Indian leaders, using his oratorical skills to great effect.
In perhaps his first speech he taunted India's home minister, saying 'Advani, I am back….'
He would taunt India's external intelligence agency, R&AW, 'O agents of RAW, you failed to get the five people' (hijackers).
Musharraf denies Pak involvement in hijacking   
He would urge his listeners to jihad and the audience would applaud. 'For Allah's sake garland me not with flowers, until the Babri Masjid is liberated… Shout not Zindabad for I shall become worthy of it only when Islam has become alive again, when Imaan (faith) is revived, when Deen (religion) is restored, when India will be destroyed, when Kashmir will become free, when the Babri Masjid shall shine in all its glory once again….when Kufr shall be vanquished…"
Restoration of Deen and destruction of India were being equated. The Pakistani establishment would look at this with scarcely concealed glee.
Jihadi fever was raging and acquiring epidemic proportions in Pakistan during 2000-2001, with the military establishment eager to wipe out the debacle of Kargil.
Jaish and the Lashkar-e-Tayiba had been let loose in Kashmir and in the rest of India. On Pakistan's western borders the Taliban and Al Qaeda were having unhindered access to Afghanistan. Truly it was the era of unenlightened extremism.
Azhar had been the Harkat's roving ambassador in his earlier incarnation and used to travel abroad collecting funds.
Arrested in Anantnag in 1994, Azhar told his interrogators how he had traveled to Nairobi and thrice to Somalia in 1993, and admitted to assisting the downing of a Blackhawk helicopter and the killing of 18 US soldiers, that eventually led to the withdrawal of US troops from Mogadishu.
Masood Azhar leaves for Afghanistan
Azhar was suspected of having close association with Osama bin Laden in Afghanistan and in Somalia.
Flush with money, there were reports that the diligent maulana had diversified his activities by investing some of the jihadi millions given by organisations like the Al Rashid Trust, in the export of garments and bought out some shops in commercial areas of Lahore, like Karim Block, Allama Iqbal Town, Durand Road and Urdu Bazaar.
Obviously his zeal for jihad was on the decline and this paradise on earth was becoming more inviting.
Jaish soon became a victim to insider intrigue with several members accusing the chief and his coterie of fiddling with the accounts. The money at stake was huge -- 20 million Pakistani rupees donated by the Al Rashid Trust.
As Jaish's popularity surged, experts estimated that the donations all over the country were as much as Rs 1 million a day. The fear was that with this kind of money even the ISI would not be able to control this Frankenstein's monster.
The jihadi maulana moved to an upmarket house in Bahawalpur, began moving around in SUVs with armed escort and his relatives and close associates supervised all the newly acquired assets in real estate and publishing houses.
Post 9/11, Musharraf had to make the famous U-turn. The era of unenlightened extremism had to end.
The policy of playing the field in Afghanistan with the Taliban and Al Qaeda and in India had to change.
Instead an era of enlightened extremism, to concentrate on India, had now dawned but the maulana had to be kept locked up (undoubtedly in considerable comfort and ease which enabled him to escape also) for some time as his wildly expressed beliefs and attacks on Christians were now an embarrassment.
Pakistan ban on Masood a sham BJP 
Jaish along with Lashkar were banned for their activities inside Pakistan and not for their activities in India. Jaish would reinvent itself as Tehrik ul Furqaan and Khudam ul Islam, primarily to evade attachment of worldly assets and following the split in the Jaish.
Masood Azhar's silence following the US attack on Afghanistan had annoyed his followers and when he appointed his own brother as the supreme commander the parting of ways was inevitable.
The old Jaish has further split into other smaller organisations and no one clearly knows the affiliation of the 10,000 fighters that were once with the Jaish.
It is feared that many Jaish fighters are uncompromising towards the US and India and sections of the Pakistani establishment that seeks to curb them. It is groups such as these who are underground, uncontrollable and unknown and want to avenge the downfall of the Taliban and the arrest of Al Qaeda operatives, who are the real threat.
We may be in an era of enlightened moderation, but this only means keeping these jihadis on the backburner.
Vikram Sood retired as chief, RAW last year
In this series:
IA hijack victims wait for justice
Photograph: SAEED KHAN/AFP/Getty Images