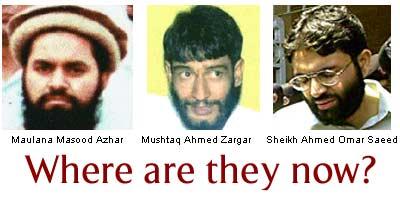 Christmas eve 1999.
None of the passengers and crew aboard IC-814 which lifted off from Kathmandu's  airport at 4.15 pm that fateful evening had an idea that the day would change their lives so dramatically.
Or that one of them, a young man returning from his honeymoon, would be stabbed and killed as his wife watched helplessly.
The hijacking ended December 31, when then foreign minister Jaswant Singh personally escorted the three terrorists sought by the hijackers to Kandahar, which was still under Taliban rule, and returned with the hostages.
Five years later, rediff.com brings you an exclusive series which looks at where the main protaganists of that fateful week -- the passengers, crew and the released terrorists -- are now, and the lessons learnt by the government.
Five years after Indian Airlines Flight IC-814 was hijacked in December 1999, the three men released by the Indian government to ensure the safety of the passengers continue to be sheltered in Pakistan despite repeated demands for their custody by Interpol, the American Federal Bureau of Investigation and the Indian Central Bureau of Investigation (CBI).
On December 24, 1999, five armed Pakistani nationals hijacked Indian Airlines Flight IC-814 from Katmandu to Kandahar, Afghanistan.
Led by Sunny Ahmed Qazi, alias Burger, the hijackers slashed the throat of one of the 178 passengers, a honeymooner, and forced pilots to open the cockpit door.
Burger demanded that the Indian government release three Pakistani terrorists from prison in exchange for the hostages aboard the aircraft.
After an eight-day stand-off, New Delhi agreed to free the three militants as demanded by the hijackers, ostensibly to ensure the safety of the passengers and members of the crew who were held captive at Kandahar for eight days between December 24 and December 31.
The hijackers had released 26 women and children during the ordeal and killed Rupin Katyal, a Delhi-resident, who was returning after his honeymoon in the Nepalese capital.
Among those released by India was Masood Azhar, a Pakistani national and secretary general of the Harkat-ul-Ansar, who was arrested on February 11, 1994 from Srinagar.
Masood Azhar was the ideologue of the Harkat-ul-Ansar, a militant group already placed on the US State Department's watch list of terrorist organisations.
The second released jihadi was an Indian national -- Mushtaq Ahmed Zargar, chief of the Al-Umar Mujahideen militant outfit.
The third was Sheikh Ahmed Omar Saeed, a British national of Pakistani origin who too belonged to Harkat-ul-Ansar and had masterminded the kidnapping of three Britons and an American during September-October 1994 in Jammu & Kashmir.
Masood Azhar, the most high profile of the trio, has flourished since his release by the Indian government.
While resuming his activities in Pakistan almost immediately after his release, he took time off to get married on January 17, 2000. And then, it was back to business as usual.
When Masood Azhar walked to freedom in Kandahar on December 31, 1999, few people in Pakistan had any clue of what he was up to or how events would begin to unfold upon his return to Pakistan.
In February 2000, he announced the formation of his own militant group, Jaish-e-Mohammad (Army of the Prophet) 'to fight against the Indian occupation forces in Kashmir.'
The organisation was widely supported by Pakistan's top Islamic scholar Mufti Nizamuddin Shamzai of the Binori Town mosque in Karachi.
The dramatic emergence of the new jihadi outfit was seen by many in Pakistan as an ISI ploy to keep the network of jihadi organisations divided so that they could be string-pulled to wage 'a controlled jihad.'
The formation of the Jaish eventually caused the first serious split within Harkat-ul-Mujahideen, formerly the Harkat-ul-Ansar, which was banned by the US in 1997 due to its association with Osama bin Laden.
Simply unable to comprehend Azhar's decision to launch his own group, the leadership of the Harkat (with which he had been affiliated as an office bearer till his arrest in India) unanimously decided to distance itself from their ex-secretary general.
Harkat-ul-Mujahideen ordered to shut offices in Pakistan  
However, hostility developed between the two groups when a large number of former Harkat activists managed to wrest control of over a dozen Harkat offices in Punjab.
The Harkat leadership reacted sharply and accused Azhar of being 'a greedy Indian agent who was out to damage the Kashmiri jihad.'
Varsha Bhosle: apna hi sikka khota  
On the other hand, Azhar got an unprecedented response from former Harkat cadres, primarily because of his oratorical skills, his recognition as an Islamic scholar and the four-year jail term in India.
His image was greatly enhanced by his spymasters in Punjab when he was allowed to travel to Lahore with scores of Kalashnikov-bearing guards.
After being launched, it was widely believed that Azhar's fledgling group enjoys the support of the cash-rich Deobandi school acolytes and of course, the Taliban regime of Afghanistan.
Actively helping him in his efforts was the much feared anti-Shia and pro-Sunni outfit Sipah-e-Sahaba, led by Maulana Azam Tariq. Working out of his homes in Karachi and Bahawalpur, Azhar used his network to flood India with hundreds of thousands of audiocassettes containing the fiery speeches that are his trademark.
On another front, the Jaish used to organise military training camps at Nikial and Kotli in Azad Kashmir and at Rashkor in Afghanistan.
The Jaish largely confined its operations within Jammu & Kashmir and the only recorded instance of its operations outside Kashmir had been the December 13, 2001 Parliament attack in New Delhi.
Earlier on October 10, 2001, a month after the terror attacks struck the US, Masood Azhar renamed Jaish as Tehrik-ul-Furqaan.
The move was also motivated by reports that the United States was contemplating to declare it a foreign terrorist outfit because of its involvement in the October 1, 2001 explosion outside the Jammu & Kashmir legislative assembly.
Despite being renamed, the State Department decided to designate the Jaish-e-Mohammad a foreign terrorist organisation in December 2001. General Musharraf too banned the outfit in January 2002.
However, within no time, Azhar got his outfit registered under the new name of Khudam-ul-Islam. But as things stand today, the outfit seems to be in a disarray, especially after a government swoop in which hundreds of his followers were arrested and the Khudam offices sealed across Pakistan, following the December 25, 2003 suicide attacks on General Musharraf in Rawalpindi.
Mohammad Jameel, one of the two suicide bombers who rammed their cars into the presidential motorcade on December 25, was later identified as a Jaish-e-Mohammad activist.
Jaish under scanner for Musharraf attack

Mohammad Jameel was a resident of Torarh, in Poonch district, Azad Kashmir whose identity was established after the detectives rummaging through the debris and human body parts recovered his torso and national identity card.
Jameel might have assumed that the evidence he was creating would disintegrate in the blast he had planned for Musharraf. If he did, he was wrong. Not only did he and a second car-bomber fail to kill Musharraf in their December 25 attempt, but the memory card of Jameel's cell phone, which investigators found intact amid the detritus of the blasts, had led authorities to dozens of suspected collaborators.
As the investigators established Mohammad's Jameel's identity, the blue-eyed cleric of the establishment, Masood Azhar, suddenly fell out of favour with his powerful spymasters.
Besides having uncovered the Jaish's involvement in the suicide attacks, the Musharraf-led establishment also become wary of Azhar in the wake of Washington's allegations that his group was linked to Al Qaeda, coupled with an Interpol request to Islamabad for his custody for the December 1999 hijacking of the Indian aircraft.
Before that, Azhar had been among the establishment's most trusted jihadi leaders, one of those who walked the credibility tightrope gingerly.
One season he would be mouthing impassioned anti-India rhetoric, sending his militants across the Line of Control; the next would see him lying low and smoldering.
In return, the Jaish chief used to receive patronage of the intelligence apparatus.
But all this seems to be changing -- and not entirely because of the diplomatic pressure New Delhi and Washington have mounted over the years.
Nothing illustrates the clout Azhar used to enjoy more vividly than the Musharraf administration's decision to decline a request by Interpol for taking Azhar into custody.
Interpol had been prompted to act at the behest of the US department of justice which wanted charges filed against him from Bahawalpur and Sheikh Ahmed Omar Saeed for their involvement in at least two crimes committed against American citizens -- the 2002 murder of journalist Daniel Pearl and the 1999 hijacking of Indian Airlines flight IC-814 (with a US citizen, Jeanne Moore, aboard).
The Americans claimed that under their law they have the right to investigate crimes against their citizens committed anywhere in the world.
But much had already been turned down by Islamabad before the Interpol request: the Musharraf regime had rejected in September 2002 the FBI's request to interrogate Azhar for his alleged links with Al Qaeda which was accused of plotting Daniel Pearl's gruesome murder in Karachi.
Islamabad had argued that Azhar did not have a role in the murder and the principal culprit, Sheikh Ahmed Omar Saeed, and three accomplices had already been tried and sentenced to life imprisonment by a Pakistani court.
Though the presence of US national Jeanne Moore aboard IC-814 could have created trouble for Azhar, the Pakistan government had rejected the Interpol request for his custody on the grounds that he was not a hijacker and his incarceration in India had been illegal.
The Pakistan government had maintained that those sought by India were not terrorists as none of them was ever charged, tried or convicted for any act of terrorism.
Islamabad pointed out that all the three had been arrested in 1994 and the Indian government had enough time to file charges against them, if it wanted to.
It was further argued that their long detention was in stark violation of international law, which prohibits arbitrary arrest, requires charges to be filed promptly, and a subsequent trial or release of the arrested accused within a reasonable time.
Otherwise, Islamabad had argued, they would have been tried and convicted by the Indian courts while they were behind bars. In other words, the released militants could not be accused of any crime.
Ordinarily, the reprieve should have emboldened Azhar to brazenly espouse the jihadi cause.
Instead, he soon found himself in hot waters when the government banned his jihadi outfit on November 15, 2003. Almost three weeks later, on December 23, 2003, the United States re-designated Jaish-e-Mohammad as a foreign terrorist organisation.
The Jaish was first designated a foreign terrorist organisation in 2001 and the initial designation was due to expire on December 26, 2003.
'By re-designating Jaish-e-Mohammad and Lashkar-i-Tayiba and publishing that decision in the Federal Register, we preserve the US government's ability to take action against them,' State Department spokesman Richard Boucher had stated at that time.
Masood Azhar has gone low profile since then and is leading a quiet life in his hometown, Bahawalpur. But analysts believe although he is down for the time being, it is too early to say that he is out forever.
Tomorrow: One on death row, the other at large