First things first, it's way better than you expect.
You'd be forgiven for not having great expectations walking into Pyaar Ke Side Effects -- it features Mallika Sherawat, whose last films induced tears without meaning to; Rahul Bose, who can frequently be insufferable when he tries to go Bollywood; and the most disgraceful rip-off in recent soundtrack history, of Frank Sinatra's My Way.
Yet, the verdict is a surprisingly pleasant one. While it's not a startlingly original film at any level, Pyaar Ke Side Effects manages to essentially pull off the loser-talks-to-camera movie, a concept done to death in American cinema but very rarely seen on our shores.
Sid is a short, middle-aged DJ who vainly tries to talk Trisha out of fleeing her wedding. They meet six months on, she drinks herself silly, they kiss and the rest is history.
Well, at least Sid is, anyway. Three years later, the lady bends knee and proffers flower (during crucial cricket match, mind you) and our commitment-phobe is forced to say yes.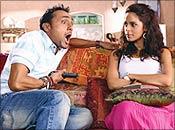 But while the film is constantly predictable and usually a trifle too obvious (much like Bose, although you don't mind him in this role), it manages to chug along just fine with its merrily random narrative. There are neat enough chapter titles, a cheeky spirit to the overall proceedings, a fine supporting cast and vital nifty little gimmicks -- a scene with an argument scoreboard (complete with applause sounds) as the couple bickers provides as much fun as it rings true.
The casting is great. While Rahul is suitably bewildered and adequately ill at ease, Mallika steals the show with her disarming candour. She's impressively natural and has us in splits as she critiques Sophie's cleavage-friendly dress with a 'I could never pull off something like that!' Right. Obvious self-referential joke, but it works.
And that's the tone for the whole film. Most of it leaves you amused, but not quite driven to guffaws, because there's a seen-that feeling. The lines echo old one-liners and emailed forwards, but the film clicks as it manages to stay true to its frivolous self. So, while it might be inspired from a variety of sources and there isn't a quotable line you haven't heard/read/seen before, it's all in fun. And mostly harmless.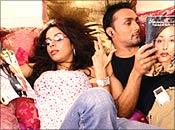 The supporting cast really makes things tick, even as two of the key players are borrowed from recent hits. Sharat Saxena plays Mallika's dad straight out of Meet The Parents, while Ranvir Sheorey does the obnoxious roommate from Notting Hill with even obvious superficial similarities. Yet, both actors are fabulous, and pull off their copied routines well. The rest of the cast is also well-chosen and the supporting characters are well fleshed-out.
The script isn't much to write home about. The drama is ho-hum, and the second half is quite a drag compared to the pre-intermission fun. But then, I suppose that is a directorial feat in itself: Saket Choudhary has done well to make a film that remains constantly predictable but, thanks to the moments, you don't mind sitting through it. Except for the songs, which seem self-indulgent. Snatches of each could have been nice, but these really hamper the narrative.
All in all, a watchable film. Infinitely forgettable, and you wouldn't rave about it, but one can definitely sit through this one.
Rediff Rating: