It won't take a degree in rocket science to digest Akshay Kumar floating in space in an astronaut's uniform engaged in a romantic embrace with a blonde she-astronaut. And it's not even a dream sequence.
Jaan-E-Mann: The Alternate Review

Rattle your eyeballs a bit further. Brace yourself for a blast from the past in the form of a glittering Filmfare awards function, in black and white, attended by the likes of Amitabh Bachchan, Rajesh Khanna, Dharmendra, Raj Kapoor, Hema Malini and Meena Kumari. And pray who shows up to collect the trophy? Salman Khan! I got to be kidding you, right? Right! You see, this one's a dream sequence.
While you get over what you just saw, you have already zoomed past a Broadway inspired musical flashback, a punks-infested college campus, a qawaali featuring Snow White's seven dwarfs to finally enter a swanky neighbourhood in New York City.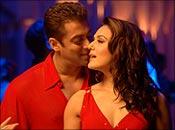 Thirty minutes into the movie and you have already downed three songs and a series of mind-boggling episodes.

Not bad, I say. This film is definitely not like its uninspired promos. For starters, it's goofy not gooey. It doesn't try to be clever or pretentious. Instead, Jaan-E-Mann is corny, deliberately over the top and unapologetic about it. And, for once, that's a good thing.

First time director Shirish Kunder's imagination runs at a breakneck speed as he goes all out with every single wild idea that pops in his head. This could have posed a problem (and sometimes it almost does) if the chaotic set-up got out of control. But just when you think a situation might be veering in that direction, Kunder surprises you with his ability to take a jab at his own idea.

It's not an exceptional story but the treatment rendered makes the whole ride an enjoyable one. Jaan-E-Mann primarily revolves around Suhaan Kapoor (Khan), a struggling actor with no real talent but truckloads of ambition. He is sweet but self-centred, charming but irresponsible, stylish but cocky. And even though it's not mentioned in the film, I am sure in his spare, jobless time, he watches a lot of mushy fare.
His inspiration, drawn from films like
Win a Date with Tad Hamilton
,
Hitch
and
Kal Ho Naa Ho
, is evident in his tips to tutor 'Champoo'/Agastya Rao (Akshay Kumar), a awkward NASA type, into a splitting image of himself to impress the elusive dream girl.
A flashback, ten years back in time, reveals Agastya and Suhaan share the same alma mater.
The former was a geek (by filmi definition) of the first order with thick glasses, curly bushy hair, braces and fondness for colourful, frilly shirts and suits. He pretty much resembles the high school version of Ross Gellar (from the hit television sitcom,
Friends
), sans the moustache, in his hideous avatar.
While Suhaan with his rock star appearance leading a heavy metal band enjoys the cool dude status. And as Kunder would have it, both have the hots for the same girl -– Piya (Preity Zinta).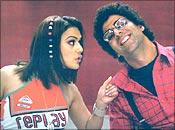 Whom does Piya love? Why is Suhaan helping out Agastya?
The twist in the past and the turn in the future are best left unrevealed to enjoy the film better.
Jaan-E-Mann
adheres to every Bollywood stereotype and yet deviates from convention by ridiculing the cliche's very identity. Something Kunder's better half Farah Khan achieved with amazing self-assurance in
Main Hoon Na
. But unlike
Main Hoon Na
, which was far sleeker,
Jaan-E-Mann
doesn't push the sentimentality button too much. Some of it is outright crazy. It never makes any sense. It doesn't want to. The 'I yam what I yam' philosophy of Popeye depicted in
Jaan-E-Mann
's attitude evokes unconstrained laughs and mirth.
Even so, gregarious use of colours is harsh on the eyes. Fashioned in the format of a stage musical, music is integral to the narrative. Anu Malik's tunes, however, range from ho-hum to nice. And the placing of the songs, which follow in quick succession, is also not too impressive.
There is no doubt that
Jaan-E-Mann
is an extravagant affair. Provision of technology and magnificence is ample but Kunder's inexperience shows as he doesn't fully realise the potential of his resources. Nevertheless, when it comes to extracting terrific performances from his actors, Kunder is bang on. He puts their star status to good use in a subject that demands charismatic faces that have considerable hold on the audience.
Despite fatigue wearing his face, arrogance and self-confidence sit well on Salman Khan. The part is tailor made for him. His changing accent has always been a subject of speculation. He plays on those lines here, putting his best yuppie twang forward, whether for doing an audition for Boo Boo diapers or begging an American filmmaker for a part on television.
Mujhse Shaadi Karogi
established an easygoing camaraderie between Salman and Akshay Kumar.
Jaan-E-Mann
bonds them further. Speaking of Akshay, he may dub
'Jaan-E-Mann
an out-an-out-Salman film
,' but the actor is simply a knockout.
A fashion icon and looker in reality, Akshay carries off as clumsy fool effectively. Even after a makeover, his personality maintains a certain 'duh'ness aided with mannerisms like a consistently comical laugh. Look out for him in the traffic signal scene with Preity, he's hilarious.

Preity plays the bone of contention with elegant conviction thanks to Surily Goel's chic dresses.

Post-Khosla Ka Ghosla, it's disappointing to see an actor of Anupam Kher's calibre wasted in a role that does nothing for him or the film, except wordplay on his bauna (dwarf) status.

Wisely enough, none of the actors take themselves or the film too seriously, and even if that is an effort, it works in Jaan-E-Mann's favour.
Jaan-E-Mann: The Alternate Review

Rediff Rating: