Music composer Anu Malik is ecstatic these days. He has scored music for two of the most-awaited movies this year -- Jaan-E-Mann and Umrao Jaan -- and the songs are climbing up the charts. Besides, there's a lot of compliments coming in.
"Everyone has his highs and lows," he says. "I wanted to prove a point and I have done it. I don't need to prove my versatility and talent anymore. I just want to do good work with filmmakers who know my worth and support me. In the past, people have gone elsewhere but I have no vindictiveness against anyone."
Anu Malik talks to Priyanka Jain about his forthcoming films.
How did you get Jaan-E-Mann? Why is it being called a musical?
I met (director) Shirish Kunder during the making of Farah Khan's Main Hoon Na. He was the film editor. After that, Farah and Shirish got married. Later, when Shirish started on his directorial debut, he gave me a brief outline of Jaan-E-Mann and told me to compose music for it.
Gulzar saab has written the lyrics.
The film is like a Broadway musical. In a Broadway musical, a scene sometimes breaks into a song and vice versa. Every song is sewed into the scene. The story is being told musically. I had never scored music for a musical before. It was quite intriguing.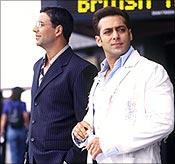 Tell us about the songs.
Sau Dard is a ballad about Salman's anguish and pain when he loses everything. I have added a wail in this song; a cry that comes at the end of mukhda. It was used in Humko Malum Hai also.
Ud Jana is a rock song, so we have used funky beats to give it a youthful appeal. In Ajnabee Shehar, I have used the guitar a lot.
Some music hits the charts as soon as it releases. Our music has done that to some extent. But it will pick up even more after the films releases.
Umrao Jaan is your fourth film with J P Dutta, after Refugee, LoC-Kargil and Border. How did you get the film?
JP called me to meet him. When I met him, he gave me a book on Umrao Jaan and said I am making this and you will be the composer. I went blank. It was going to be the biggest challenge in my 25 years career as a composer. There would be high expectations. Javed saab (Akhtar) was writing the lyrics and big stars like Aishwarya Rai and Abhishek Bachchan were going to act in it. I thought people would wonder what Anu Malik was doing in this film.
I had no clue as to how I am going to approach the music. But I saw faith in JP's eyes.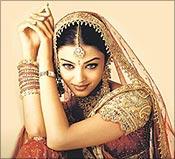 How did you attune yourself with Javed saab?
When I made the first tune for Umrao Jaan, Javed saab said it was good, but it would not work because he was going to write gazals. I would have to compose tunes that would fit his words.
In the end, when Javed saab heard the music, he gave a big, slurpy kiss on my cheek! He doesn't show his emotions easily, so it felt great. He said you will shut the mouth of the critics and detractors with this film.
Tell us about the songs.
Salaam is one of my most beautiful creations. I started with the word Salaam, keeping Ash in mind; how she would sound when she just said 'Salaam' to the audience.
Richa Sharma and my daughter Anmol have sung for Bitiya. It's a heart rendering song of a little girl, who is going through pain. For Tum Jo Paas Aa Gaye Ho, we used a mix of ragas.
Umrao sings Pooch Rahe Hain Pooch Ne Wale with a wounded soul. For that song, I let my mind wander in the bylanes of Lucknow of that era; its palaces, felt the pain coming out and used the ragas accordingly to set the mood for the song.
How did you prepare for that?
I would reach the studio at 6:30 am, and sing the song on a harmonium for two hours. Then I would bring the orchestra in, work upon the sarangi, tabla, sitar and the sound of ghungroos. As it is a period film, I did not want technology to creep in.
When I was working on the music of Jaan-E-Mann and Umrao Jaan, my father was hospitalised. I had to shuttle between hospital and studios. I lost him last year in January.