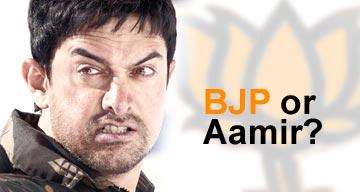 The Fanaa controversy is far from over.
The BJP had insisted that Aamir Khan apologise to the people of Gujarat for his comments on the Narmada dam.
Aamir flatly refused, saying he had said nothing wrong. All he had wanted was the rehabilitation of people who would be displaced by the construction of the dam.
The film fraternity took Aamir Khan's side on Monday, and said he had the Constitutional right to speak his mind about anything, including the Narmada issue.
Next, it was the turn of BJP Member of Parliament Hema Malini to come to the rescue of the Gujarat government. The actress declared she personally liked Aamir Khan but he was commenting on an issue that he was not aware of, that the Gujarat government had indeed rehabilitated people displaced by the Narmada dam.
Do you agree with BJP's political stance on the matter? Or must Aamir apologise?
Have your say!