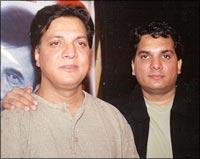 It was their second movie, Jo Jeeta Wohi Sikander, which catapulted them to Bollywood success. For 16 years, Jatin-Lalit composed music that wowed millions. The films they have composed music for reads like a Best of Bollywood compilation: Dilwale Dulhania Le Jayenge, Kuch Kuch Hota Hai, Kabhi Kushi Kabhie Gham, Khamoshi…
And now, Fanaa -- starring Aamir Khan and Kajol – will be their swansong. Patcy N catches up with the music composer duo of Jatin-Lalit to talk about Fanaa, and their painful parting of ways.
What is the USP of Fanaa's music?
Jatin: We have used instruments like the oud, the sitar, the sarod, and Indian percussions. This is not dance-oriented music but soothing to the ears. But that doesn't mean it is not modern in its approach.
| | |
| --- | --- |
| | More on rediff.com! |
| | |
Lalit: The songs are very romantic. We have used Kashmiri music too, in keeping with the storyline. We have used the santoor and the rubab, which are Kashmiri instruments. The music is very modern, yet melodious.

Which is your favourite song?

Jatin: I like all the five songs.

Lalit: All the songs are good but my favourites are Dekho na and Chand sifarish.

Why did you make Kajol and Aamir sing?

Jatin: The director wanted that they sing this song. They are both popular actors. Actually they are not singing, they are just saying dialogues throughout the song.

Lalit: This is not the first time that Aamir has sung for us -- he sang Aati kya Khandala in Ghulam and he was also nominated for best singer for that song. But here they are actually not singing, they are only reciting poetry.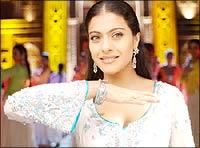 Fanaa's music is not exactly scorching the charts.
Jatin: I don't agree with that. People have been calling me up to say how great the music is. Actually this music is different. It grows on you, and then it will not leave you. Yash Raj Productions have not been publicising the soundtrack. These songs have potential, they will be hits. Songs don't become popular only if you listen to them day and night on all the channels.
Lalit: Fanaa is a Yash Raj production. They always go for controlled publicity. They are not even publicising the movie in a big way. People have just seen a few promos. But the music sales of Fanaa have equalled Veer-Zaara's and crossed Bunty Aur Babli's. It is a massive hit.
Are you looking forward to Fanaa?
Why didn't you ever think of recording an album of your own, considering that both of you sing?
Lalit: We were about to release an album with Universal. Majrooh Sultanpuri wrote the lyrics, and it had six tracks. They are melodious, slow and romantic songs that both of us have sung.
But the release got delayed. The people at Universal with whom we were working have changed. So we are not sure if the album will see the light of day. But now that we are parting ways they might release the album.
Which are you favourite compositions till date?
Jatin: My favourite composition is Pehla nasha from Jo Jeeta Wohi Sikander and Tujhe dekha toh yeh jaana sanam from Dilwale Dulhaniya Le Jayenge as well as the title track of Kuch Kuch Hota Hai.
Lalit: There are many favourites: Pehla nasha, Tujhe dekha toh yeh jaana sanam, Koi mil gaya from Kuch Kuch Hota Hai, Aaj main upar from Khamoshi and Chand sifarish from Fanaa.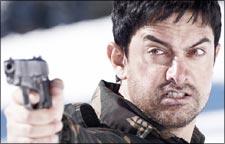 What made you part ways?
Jatin: I don't want to talk about it as it will hurt my brother. If I tell you why we separated then I will be talking against him. I don't want to do that. He is my younger brother and my blessings are with him.
Lalit: There are many things that are not in your hand. We thought we would work last on Fanaa and part ways. Life doesn't stop because we have separated. Yes, there were personal problems.
When was it decided?
Jatin: I don't want to say anything about it.
Lalit: We both sat together and decided it about nine months ago.
Will it affect you music? Will it affect your career?
Jatin: How can I predict what will happen in the future? The audience will decide whether my music is better, same or worse than before.
Lalit: Only time knows the answer. But a talented person will always survive. After a few days nobody will care about our parting ways.
Do you think you will get fewer offers now?
Jatin: Yes, now the work will be divided. But Lalit and I always went to the meetings together. So we have equal contacts and we both composed together, so we won't be incomplete without each other.
Lalit: Yes, now the work will be divided between both of us. But all our directors know us personally. We both are good in our own ways but now it all depends on who hits the bull's eye.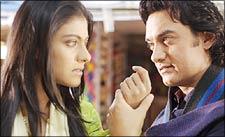 What will you miss about each other?
Jatin: He is my brother. I will miss him. I pray to god that whatever work he is going to give me should go to him. We are both good composers.
Lalit: He is my elder brother. I will miss him. But work will go on. He was good at harmonising. He is also good at arrangements and he writes well.
How do you look back at your long career together?
Jatin: I remember through a common friend we had gone to see Mansoor Khan for Jo Jeeta Wohi Sikander. We came out and Lalit told me that we should work as partners. I was so happy that day!
We had lots of hits together and got lots of appreciation and love from the public. But we never got any awards -- that's a regret.
One more incident that I will never forget was when my mother was seriously ill and we went to meet her. We sat there for long time. As we were about to leave, Lalit told me that I should touch my mother's feet and take her blessings. I did that. After that I only met her after she died. I will never forget what he did for me. He used to respect me a lot.
Lalit: We had a great journey together. Jatin is nine years older to me. He entered the industry before me. He struggled a lot.
We climbed the ladder of success together. The only regret is that we never won any awards. Many of our contemporaries have vanished -- like Shyam Sunder and Nadeem Shravan. We created great music like Kabhi Kushi Kabhie Gham and Kuch Kuch Hota Hai. Jatin is a very nice human being. There were good times and bad times.
What are your forthcoming films?
Jatin: I have been talking to many people but nothing concrete has materialised.
Lalit: I have Raja Mukerji's (Rani Mukerji's brother) Bengali movie, I am doing an album for Sa Re Ga Ma, and I am also doing Sachin Pilgaonkar's Marathi movie.
What are your expectations from Fanaa?
Jatin: I think it will be a big hit.
Lalit: Fanaa is very important for me, as this will be our last music together. I want people to remember us with the hit music.