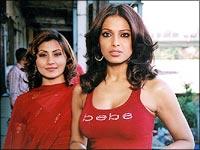 Bipasha Basu's wearing pink go-go boots.
She's in a matching frilly skirt and top, looking like an enthusiastic extra from a Barbie video. "Thank God," the actress laughs, "I'm not the only one."
This is true. Akshay Kumar and Suneil Shetty are in blue suits with frilly pink shirts and bow ties, standing in front of microphones on a suprisingly plain white set. They are flanked by Bips and Rimii Sen, dressed in similar attire.
| | |
| --- | --- |
| | More on rediff.com! |
| | |
Behind them is their 'band', a motley collection of comedians currently in vogue: Johnny Lever, Rajpal Yadav, Sunil Pal (of the Great Indian Laughter Challenge) and Suresh Menon. Each wields an instrument and is outlandishly outfitted in the pink motif, but the gang stands on, as mentioned, an unexpectedly white stage. It seems far too plain a backdrop for a song.

Especially -- I cringe as the soundtrack blares through -- for a Himesh Reshammiya item song. These days, the norm is to promote every film via a music video, and most of these are made by the bearded music director with a penchant for microphones and baseball caps.

But I'm assuming, when they sit in the studios editing this latest video to increase Phir Hera Pheri awareness, they'll spruce things up. Audiences are already excited about the new film, a sequel to the 2000 smash hit that made Akshay a superstar and took Paresh Rawal to the big league.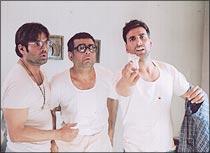 Speaking of Rawal, the film's leading man is sitting in a torn white vest and dhoti, and, after several Akki-Sunil shots, is called by choreographer Ahmad Khan. He takes his place next to the stage, ties a black polka-dotted bow tie onto his rundown ensemble, and runs onto stage, resulting in a bewildered Akshay-Sunil.
As in the original, Rawal plays Baburao, a bumbling garage owner easily led by two rogues, the conman Raju (Akshay) and the desperate Shyam (Sunil) into a chaotic comedy of errors. While Priyadarshan directed Hera Pheri, this time it is screenwriter Neeraj Vora who takes over directorial responsibilities. Vora isn't nervous about expectations, saying they will only help the cause of the film. Personally, he thinks his characters aren't just worth a sequel, but an entire series of films, and he's ready to make a Hera Pheri 8, if everyone's on board.
They just might be. Sunil Shetty dodges journalists for a while, and finally gives in, making it clear he's not going to talk about anything except this particular film. His favourite character? "Baburao."
Bipasha and Rimii (she's actually dropped the Sen because of the number of Bollywood girls sharing the surname, but it'll take us a while to get used to that) echo that, cherishing thoughts of working with Rawal and Akshay in a very funny script.
Akshay Kumar, who seems to be wearing crazy shirts every time I run into him, is a little taken aback at the thought of a 'series', as his director calls it, but says it was great fun working on the film, and that maybe we should take things one step at a time. "Lets see how Phir Hera Pheri does first. If the film doesn't work, I don't think anyone will want to produce a third." But the film will work? "I hope so," says Akshay, "It was just so much fun to slip back into these characters we all know and love. I think the audience would like to see them again."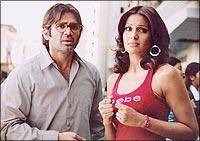 Hera Pheri ended with our heroes picking up a major cash reward. But, in the new film, they realise they haven't quite struck it rich enough. Despite their hesitation, the roguish Raju wins their trust and gets them to invest in a get-richer-quicker scheme that backfires, and they're all left wanting a lot more money. Which brings us to another con, some more hera pheri.
Phir Hera Pheri, unlike the original, is chock-full of actors. The first film revolved only around the three lead stars, and featured Om Puri in a memorable supporting role and Tabu as the obligatory love interest. Now, Rimii and Bipasha play the girls, and there's a gamut of comedians. Could this be a case of too many comics spoiling the farce? Vora doesn't think so. "Every actor has a very clearly sketched role, so they won't interfere. Each of these characters is important to the film."
Rawal is now clad in an alarmingly pink kurta, a fact the actor is only too aware of. As a family comes up to him, eager to get their picture taken with Baburao, Rawal obliges, asking the kids to come closer to get them to fit into the frame. 'Aa jaao, aa jaao, kurte ke rang se mat ghabraao,' ('Come come, don't let the kurta's colour frighten you') he says, deadpan. Rawal, always a bit more candid, thinks they might have packed too much into this one. "There's a lot of pressure, because everyone loves the first film. Which is why this one has a lot to live up to." Could they have gone overboard this time? Maybe, but it's a chance they had to take.
Phir Hera Pheri should hit screens in July, but the music video will possibly make it to your TV by the next fortnight.