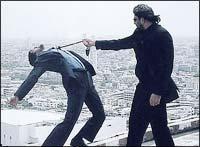 Cinema of the new millennium is
dangerous, honest. And, best of all, it doesn't hold back.
Whether it is for the better or worse depends on your individual capacity to accept and appreciate.
The new trend in movies, for which South East Asian filmmakers are largely responsible, is being very dark, brilliantly violent and characteristically unapologetic.
Now Hindi films too are increasingly being 'inspired' by the brute-force bandwagon. Hence, The Eye and Dark Water became Naina; Acacia; Ju-On: The Grudge became Vaastu Shastra.
And Oldboy becomes Zinda.
Sukanya Verma