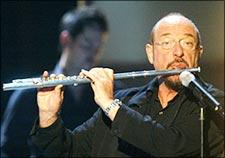 Imagine an impish Shakespearean court jester, clad in black, the top hat replaced by a bandanna-like skull cap.
Imagine a cross between Jack Nicholson in Batman and Johnny Depp in Pirates Of The Caribbean.
Give him a flute. A seasoned backing band.
And imagine a music that is as cerebral as it is physical, as melodic as European folk and as meticulously and immaculately arranged as Western classical. And as effective on the posterior as rock.
Of Jethro Tull & Aishwarya Rai

| | |
| --- | --- |
| | More on rediff.com! |
| | |
There you have Tuesday night's concert by Ian Anderson, frontman of the seminal rock band Jethro Tull, at Mumbai's Shanmukhananda Hall.

Anderson began with the poignant, existential Life's a long song. And he ended with the adrenalin-drenched Locomotive Breath.

In between, he grunted, yelped, woofed, spoke, shouted and breathed magic into the flute, darting from one corner of the stage to the other, deftly switching from flute to acoustic guitar, striking his famous one-legged pose, inconspicuously switching on his flute's effect patches, conspicuously conducting the music with his flailing limbs.

And singing songs that generations have grown up on, like Aqualung, Thick as a brick, Living in the past, Cross-eyed Mary and Budapest.

Jethro Tull and the Chicken Tikka invasion

"This is a song dedicated to the man who kept us free of the nuclear holocaust," he declared, introducing the track Boris Dancing, about former Russian president Boris Yeltsin. "Boris was so f***ing out of it on the vodka that he didn't know which buttons to press to send the missiles out," Anderson added, going on to inform us of the Russian leader's "three left feet", which was the reason for the track's title.

There was a lot of that kind of humour, with Anderson declaring after the song Mother goose: "That sounded like Pink Floyd on drugs!" Then he went on to play a tune "Pink Floyd couldn't play" because it was "too jazzy for them": Johann Sebastian Bach's Bouree.

Wolfgang Amadeus Mozart was not spared ("He was a bit of a sex, drugs and rock 'n' roll guy before there was sex drugs and rock 'n' roll"), and neither was Bryan Adams ("Thank you for not going to watch Bryan Adams. He is a sweet guy but a shitty flute player!").

'It is very tough to play in India'

The far from capacity sit-down crowd was on cue, cheering at all the right moments, and breaking into a roar when the opening piano strains of Locomotive breath came as a response to their demand for an encore after Aqualung.

If there was a bum note in the concert, however, it was the opening act Alms For Shanti.

I am all for Indian rock bands getting equal billing as their Western brethren. But not when they are as far from scratch as the band led by Uday Benegal and Jayesh Gandhi, both formerly of the band Indus Creed, which was formerly Rock Machine.

For one, just having a mridangam keep time to rock grooves -- and the rhythm section threatening to fall apart most of the time -- does not qualify as the 'Indian sound'.

For two, a tere kete tak-kind of Indian mouthed rhythm or bol, sounds nice as a surprise in rock, not as a staple gimmick. If you want to do bols, folks, learn them. They are not a child's toy.

For three, Benegal's jingle-friendly voice needs much better and tighter arrangements than Alms For Shanti can deliver. Give me Pretty child any day.

In fact, it took Ian Anderson to tiptoe into an Alms For Shanti song to breathe life into it. His crystal clear, razor-sharp and confident phrasings lifted the track -- set in the Phrygian mode -- to another level altogether.

And it was only a testimony to the rock music legend's magnanimity that he called the Alms For Shanti folks on stage for Locomotive Breath.

A note to the organisers: Guys, the idea for Indian bands alongside greats is appreciated. But find a better band, please. There are plenty.

Thankfully, Anderson and his band -- the Les Paul guitar-wielding bluesman Florian Opahle, the stoic and steady as a pillar David Goodier on bass, the sensitive John O' Hara on keyboards and the solid James Duncan on drums -- were too good to let that bum note linger long.