To jam -- improvise -- an interview with
Ian Anderson
, who leads that typically quirky rock band called Jethro Tull, is as easy as trying to improvise a new cricket batting shot against Shoaib Akhtar.
For one, rock music's famous flute player sends you a pre-interview All Too Frequently Asked Questions list, with long answers, that cover all your 'licks' -– pet musical phrases, here meant to mean standard questions.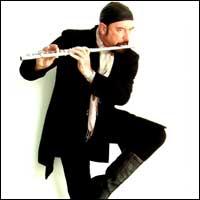 The ATFAQ list includes regular questions like his take on music of the new millennium ('Since the mid-seventies, the development has been more technological rather than musical'), if he feels bored of playing the same songs every night after so many years ('If they were not decent songs, then I certainly would'), how long he plans to carry on as a musician ('As long as it remains a challenge and my health permits.'), the secret of Tull's longevity ('The loyalty of our fans keeps us in work and pocket money.')
It also includes some 'what you would classify as different' questions like: If you could choose the words for your epitaph, what would they be? ("'Thank you and goodnight'. Or perhaps, 'Any chance of a wake-up call?' I think that probably covers it.")
So, Features Editor and talented guitarist Sumit Bhattacharya was stricken with a severe case of journalistic stage fright when he got the opportunity to speak to Anderson over the phone from Cologne on Monday afternoon.
The 58-year-old musical maverick is in Germany to do a television show called, wait for it, the Unlimited Charts Show.
"I must confess when I was first asked to do this I said I don't think that's quite what I should be doing," Anderson begins, but "apparently they have an edition this month devoted to the more rock side of things." And as Jethro Tull have been a big hit in Germany, the band is going to play a song on the show.
"As television shows always are, an awful lot of waiting around and sitting around just for three minutes of musical performance. Not my idea of fun, but there you go, it's part of the job," Anderson adds with signature matter-of-factness.
On the eve of Jethro Tull's India tour (they play in Mumbai on January 31 and February 1 and in Bangalore on February 3) this is the first of a two-part interview where the legendary rock musician talks about life, the universe and everything, including Chicken Tikka Masala.
It's an honour to be speaking to you.
Thank you very much. Nice talking to you too.
It's going to be your third time in India. What's new?
Third time in India to play music professionally, but probably my 10th time in India to visit. Because I have been to India quite a few times as a civilian, on vacation with my wife. In fact, once even before I got married. I made it as far as New Delhi with a girlfriend. But she got sick about 12 hours after we arrived and was not having a good time. So we abandoned the rest of our vacation and headed back to the UK. Otherwise I've always had a pretty good time in India.
I did get ill once. I can understand what it's like when foreigners come over and they get a nasty bug they picked up -– usually on the airplane. It works the same for you guys. You come over to England and go to a pub and have Roast Beef and Yorkshire Pudding and maybe your tummies aren't up to it either!
Although if you come to England and want to enjoy England's traditional, most-eaten family dinner, then the chances are that you'll actually be eating Indian food -– well actually you'll be eating Bangladeshi food. There are 10,000 so-called Indian restaurants in the UK, mostly run by Bangladeshi families as opposed to Indians, but they're mostly called Indian restaurants.
Chances are if you ask for our national dish, you will be given a curious mixture of Chikken Tikka Masala -– apparently Britain's favourite Indian meal, but, of course, we know it's a bit of an invented concoction. It's hardly the purest of Indian cuisine.
Even the British Army has been prescribed that.
That's right! Probably it will come to little freeze-dried packs for astronauts (laughs)! Probably the one and only British astronaut so far has probably had his personal allocation of freeze-dried Chicken Tikka Masala to eat in space, whilst the Americans have Chicken Wings or something (laughs)!
I don't know what Americans eat, really -- lot of salads and a lot of weird stuff! A lot of deep fried stuff, that's where we go.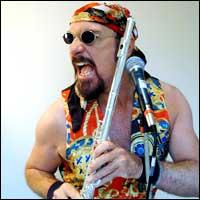 Where is your personal favourite place in India? It's a big country.
It is, and that's why, rather like North America, it's difficult… When people talk about the USA or Canada, they think they are talking about just a little country where they can have their easy idea of relating to a particular town or particular people or particular accent or language. But, of course, it's just so big that from one side to the other, and from north to south, it's like visiting 10 different countries.
I think India is very much like that.
A lot of people who go there on vacation -- and perhaps just sit in their beach hotel in Goa -- think they have been to India. I've had a lot of people who go to Goa think they are actually on an island somewhere off the Indian coast.
Anybody trying to 'do' India as a tourist really has not just one vacation ahead of them but perhaps 50 vacations to be able to take it all in and get some clear idea of all the different places and all the different sights and smells and history.
I am but a novice, having been just a few times to India. I have never been down to Kerala, which I am quite looking forward to doing. But it's unfortunately not served directly by any airlines from the UK. You have to go via somewhere else, and it takes a long time, and it means yet another flight.
As a rather fearful flier, and my wife's also not happy about flying, we try and make our occasional vacations as simple as possible. Prolonging the agony by taking more than one flight to get there is not our idea of fun.
What's with Western musicians and India? It probably started with (John) Coltrane. more than just the country it's about the music and the sort of philosophy you attach to the country. Does that play a role? When you think of India, do you automatically connect those wires in your head?
I don't think I connect with either the spiritual or philosophical aspects of Indian music, but it is purely the sound of Indian music and the kind of little questions it poses to you as a musician that make it fascinating.
I was drawn to Indian music when I first heard it as a child -- not only to Indian music but amongst other things that I heard.
And perhaps the most obvious popularization early on in my life was when the Beatles started to introduce elements of Indian instruments and the little kind of motifs that sounded reminiscent of what we heard in Indian restaurants (laughs).
I had an Indian drummer in the band back in 1967. So, growing up with a huge population of Indian, Bangledeshi, Pakistani and people in my country, we felt perhaps connected with India in a way that maybe we weren't so connected with some of the other immigrants to the UK.
I think Indian people have brought with them a quiet set of definitions of their culture and their background. And it's gradually become part of the English way of life.
These days, in a very expanding and confident India, we are ready to receive the full onslaught of Indian movies, of Indian music, of contemporary Indian music -– which is becoming more and more popular in other countries of the world.
A confident, forward-thinking India is now ready to unleash its much wider and more contemporary array of artistic and entertainment-based ideas and creative thoughts to a much more open and anticipating world around it.
I think we have the best to come from India in music and entertainment terms. It's always interesting to see these evolutions take place.
So, Indian music is -– I think, with us, as in music and entertainment -– is not about philosophising or spreading religious values. It's not about necessarily spreading moral values. It's actually just about -– on a more abstract and artistic level -– giving us a more uncomplicated look into Indian creativity and passion, without necessarily trying to drum other values into us.
It's the right time for India to make a lot of impact around the world with its arts crafts and entertainment.
And it's clearly doing that in a much bigger way than ever before.
Part II: 'It is very tough to play in India'