Sukanya Verma: So what did you think?
Sudarshana Dwivedi: It was nice, clean, wholesome entertainment, which is a rarity these days. Maybe a bit too sweet to suit today's younger Dhoom-loving generation?
SV: Yeah, there are times when the sweetness level tends to get somewhat overbearing. Even so, the emotional content did get to me post-interval. I must have cried thrice at least. I saw you reaching out for a pack of tissues too. Hee!
SD: Shut up! It's not as hard-hitting as (Ravi Chopra's previous offering) Baghban, but it does have its good moments.
SV: It definitely has. But unlike what Baabul insists on us believing, I, not once, felt Amitabh Bachchan's character is being some kind of a messiah. He was simply doing the right thing. Isn't that how one ought to be?
SD: The subject is a bit dated to go well with city audiences as the lot of widows is not as pathetic as say the time when Raj Kapoor was making Prem Rog. But I am glad Baabul refrains from the tear jerking drama associated with the rituals of widowhood.
SV: To an extent, yes. But I feel Baabul could have delved deeper into the layers of the subject matter and less on the songs. Also, it didn't really allow me to connect with Rani Mukerji. Oddly it was easier to identify with Amitabh Bachchan's dilemma.
SD: A more subtle approach highlighting the emotional and physical deprivation of a widow would have explored the deeper side of the problem. As for songs, the qawaali had no place in the movie. It only disturbs the general mood.
SV: I just can't get over the clothes the actors wore in that number. Magenta sherwani for AB? Red, green, bronze sari for Rani? Egad! Rani looked great in her now on-now off glasses and Sabyasachi Mukherjee's oddball designs. I can't imagine any one carrying it off like she did.
SD: Agreed! That's why her lack of colour post-interval hits you hard. Actually, being widowed in India is a much greater trauma especially if one is a Hindu widow. It means a loss of partner anywhere. But here, it translates in a total loss of life -- its colours, vibration and social interaction. This is brought out beautifully in Baabul. Especially gut-wrenching is Rani crying her heart out in the rain-drenched sequence that makes Amitabh alive to her needs and desires.
SV: That was one of my favourite scenes in the film. Followed by Bachchan's heart-to-heart conversation with his dead son looking at the stars in the sky.
SD: The chemistry between Amitabh and Salman was excellent throughout. In fact, the relationship between AB and Hema Malini was not as spontaneous in Baabul as it was in Baghban.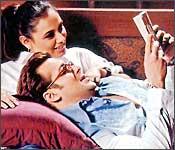 SV: You think so? I thought they looked perfectly wonderful this time as well. Some of the dialogues were cheesy. But they seemed made-for-each-other as usual. Even the Salman and Rani coffee versus tea romance was cutely done. The humour was endearing. I wish I could say the same about John Abraham. He stands out in Baabul for all the wrong reasons. He looked so much in awe. His body language was unbelievably taut. And did you notice how the only two scenes between Salman and him went? They were badly written, badly executed and badly acted.
SD: You are being too harsh.
SV: Oh well, let's stick to Rani. Did you empathise with her Mili?
SD: She is fabulous. But Mili is not only a widow; she is a mother too. The ordeal of a woman about to marry, despite being a mother, her fears about her son's acceptance of her changed state, what it might do to his psyche once he grows up is totally missing.
SV: Except for hugging him tightly, I didn't see any motherly love flow in the kid's direction. Funnily, even in that just one the-importance-of-drinking-milk scene, Salman and the little boy showed ten times more father-son chemistry.
SD: You are right. Moreover, Rani is convinced too easily. Her total lack of care for mom-in-law's opposition to the whole plan doesn't gel well with her earlier love and closeness to her.
Anyway, thank God for sparing us the melodrama of John moving in with Rani's in-laws as a surrogate son. So that everybody could live happily ever after. I feared it might end that way. Mercifully, the end was not dragged at all. It was short and swift.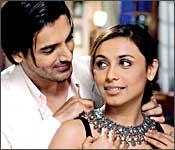 SV: Yeah, totally unexpected that was! I overheard one of the production guys saying that Baabul was originally five-and-a-half hours long. That's why some of the scenes look so lengthy and some so abrupt. I didn't mind the relatively low on melodrama climax. There was enough to go with earlier on, especially from Om Puri's (playing Big B's supremely orthodox elder brother) side.
Rani and Amitabh are good together throughout but their bonding leading to the final act does not show. It's more of Amitabh doing a noble act for his young daughter-in-law than his doing it because he feels fatherly towards her.
SV: Have you noticed how a filmmaker will never show a woman wanting to get remarried on her own accord? There is always a third party involved. Plus, there will usually be a child in the picture, so the need of a father can be further established. Never can a woman marry for the sake of marrying.
SD: Yeah, because Indian society still likes to believe that a woman has no physical needs of her own. And she is too scared to fall from the high pedestal on which she is placed for being chaste, post-widowhood.
SV: Hmmm. That's food for thought. One thing they establish is a genuinely concerned and unconditionally loving father (Amitabh Bachchan) wanting to fulfill his late son's (Salman Khan) incompletely uttered wish -- to see his wife Mili (Rani Mukerji) married to her best friend, Rajat (John Abraham).
What I appreciated is it's not just the idea of doing the right thing that prompts him to go out of his way. He not only observes her misery but is sensitive enough to recognise it. A combination of empathy, distress and guilt is visible on his face on seeing Mili dance with the sweater, knitted for her husband Avinash, and eventually breaking down to uncontrollable tears.
SD: Another plus is the in-laws have been depicted as understanding, warm and humane consistently. It is a welcome and heartening departure from their usual depiction as devils incarnate.
SV: Bottomline, Baabul works for me, primarily because of AB and Rani -- his resilience and her restraint. The film, undoubtedly, belongs to them.
SD: Don't forget Salman and (director) Ravi Chopra. They did a good job! I, for one, loved the whole experience. And I am sure, so will the masses.
Sudarshana Dwivedi is a senior journalist and writer. Rediff.com senior contributor Sukanya Verma is her daughter.
Rediff Rating: