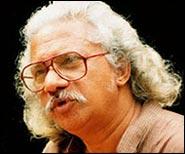 From the moment it was announced that noted filmmaker Adoor Gopalakrishnan won this year's Dadasaheb Phalke award, his phone has not stopped ringing.
It was only after hours of relentless trying that Shobha Warrier got to speak to him.
And, she found him the same simple, soft-spoken human being she had interviewed first over two decades ago, when she was fresh out of college, a journalist wet behind the ears.
Excerpts from her conversation with him:
You have just won the Dadasaheb Phalke award, the highest Indian honour for a movie personality. Though it's a clichéd question, how do you feel?
It is an award given to a real veteran. I don't consider myself a veteran. So, I am a little surprised. Of course, I am also happy because it is a great honour. The award is recognised as worthwhile. Yes, it is very satisfying and gratifying.
| | |
| --- | --- |
| | More on rediff.com ! |
| | |
Did it come as a pleasant surprise to you?
It was a real surprise. I would say it was news I least expected!
You must be tired of answering phone calls.
People from all over India have been calling me and expressing their happiness. It is nice to know that you have so many friends.
You said this award is given to veterans. Do you also feel it is generally given to those who have almost retired?
I look at this award as a warning! It is like, 'you better watch out! Don't sit back!' (Laughs)
Cinematographer Mankada Ravi Varma on Adoor

So, can we expect many more films from you?
Definitely. I am not going to retire or sit back!
Your first film Swayamvaram was released 23 years ago in 1972. At that time, did you ever think that one day you would become the most important filmmaker in India, after Satyajit Ray?
(Laughs) I just did what I thought was right. I still do what I think is right. I go along with a personal conviction. Swayamvaram happened to be in a new idiom of cinema. What I am trying to do is interpret the reality that I experience, the reality that I go through, in my own way. I tried to present the reality as reality, and show a pace which was different from what was being done. I also try to present each of work differently, different from what I had done earlier. So, each time I start making a film, I look at it as a fresh experience.
Do you look at your filmmaking career as a long journey?
No, I don't treat this as a journey. Because there is no final destination where you want to reach. It is a constant process of discovering and revealing. That is how I see my work, and that is how I like to see life as well.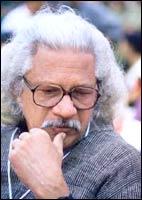 How do you look back at the films you have made, the awards you have won, the recognition you have achieved?
See, many deserving films went unrewarded, unawarded, and unrecognised. It happens. Sometimes, less important work gets recognition. These things do happen. But then, you shouldn't be too happy with an award, and not too unhappy with not winning an award. If you are lucky, you get an award, and it is not a bad thing not to get an award also.
Are awards important in a filmmaker's career?
Awards are important particularly in the early days of one's career, because it tells you in some way that what you are doing is worthwhile. If there is appreciation and substantial recognition, it helps a filmmaker. Awards are a kind of understanding from others about your work. Yes, awards are very important.
How important is filmmaking to your life, overall?
It's a very important part of my life. I make films whenever I feel like. There are so many variables in filmmaking, and whenever they come together, a film is made. The process has been going on.
When you made Swayamvaram, you were charting a new path. Today, when I spoke to Madhu and Sarada (who acted in Swayamvaram), both of them talked about the kind of conviction and belief you had in your film. How could you be so convinced of what you were doing when you faced a lot of difficulty in making it?
I was very sure and convinced about what I was doing. Yes, I had to cross so many hurdles to make that film. But in the process, I learnt a lot about making films, about the stance that I was taking, etc. In fact, the stance was hardened as a result of the bad experiences and difficulties I faced, and also the long wait: finance was not forthcoming. So, in a way, those experiences were good because when I look back, I feel it is better to go through that kind of struggle rather than get something on a platter.
Struggles make you stronger. The difficulties I faced made me more and more convinced about what I wanted to do. I would say my convictions got hardened which in turn helped me take a strong stand.
Also read:
Adoor's oeuvre
'Serious cinema is not dead'
'I don't make films on ordinary problems'
'I am the creator and the critic'
Adoor flays Jha over Devgan award
Adoor Gopalakrishnan's best Indian films
The Millennium Special: Adoor Gopalakrishnan
Films are made only to sell: Adoor Gopalakrishnan
'Hollywood films dubbed in Hindi are a threat'