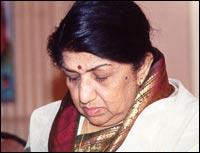 Lata Mangeshkar and Sunil Dutt had a long-standing and much-cherished relationship.
After she heard the news of his death, she was silent for a few moments. Then, collecting herself, she spoke to Lata Khubchandani:
It's very bad -- I can't assimilate it. Just the day before yesterday, I was told that he was to preside over a function and had cancelled it, as he wasn't feeling too well. That was the only hint I had that anything was wrong at all.
He was a very beautiful human being. He called me 'sister'. On Rakhi, either he'd call or come over. He'd come to my place if he had a problem, and talk it over with me. He was so lovely.
Have you met Sunil Dutt? | Pay homage
| | |
| --- | --- |
| | Sunil Dutt on rediff! |
| | |
Recently, we had a function in Pune, and had invited Devsaab(Anand) to be the chief guest, and Sunil Dutt just came along; he said, "it's my sister's function." We are about to have a function for our hospital, and we were just thinking of inviting him to do the honours.
He was often advised that he shouldn't do these pad yatras (rallies). He had become very thin, so perhaps he wasn't as fit as we felt.
Oh God! (she exclaims suddenly) This is just too bad! I have had a lot to do with him for years. I had gone with his (production house) Ajanta Arts to the (India-Pakistan) border to entertain the jawans once -- there were about eight of us, (her brother, music director) Hridaynath and our musicians.
We performed on many different occasions. We had gone together to meet the then president of Bangladesh Mujibur Rehman at his home.Sunil always gave me a lot of love and affection and respect, and it was all spontaneous affection. I recall him saying, "Today we are all going to meet Mujibur Rehman, so we'll all wear white -- my sister always wears white so that is not a problem."
Everything he said had affection in it. If I ever received any award, his congratulations would be the first to reach me.
I feel sorry for the kids, he has been such a wonderful father and the little one, Priya, has always been by his side. I keep recalling little things about him. He never recorded without me, and whenever we had a recording, he'd bring food for me -- sandwiches and things.
Nowadays, we met less. But he had this habit of telling me stories, we'd always laugh together; he was always smiling.
He was a gentle, soft human being. He never had a bad word for anyone. He came with me to America for my show. He'd go on stage and introduce me, and do it so lovingly that I can never forget it. He was a rare human being.