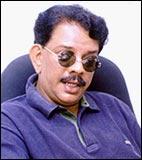 I
n our
first part
, Priyadarshan spoke about his new film starring Salman Khan and Kareena Kapoor.
While audiences love his popular Malayalam movies like Vellanakalude Naadu, Chithram, Thalavattam, Kilukkam, Vandanam, Poochakkoru Mookkuthi and Thenmavin Kombath and Hindi movies like Gardish, Virasat, Hera Pheri, Hungama and Hulchul, not many know about Priyan's -- (as he is fondly known) -- rise to fame.
In this second and concluding part of the interview, the director talks about his journey and his favourite actor, Mohanlal!
On his rise to fame
My first passion was cricket. But I had an accident in a coaching camp and I could not continue as I lost my left eye. My parents did not want me to continue playing, as they felt insecure. Even if I had continued, the most I would have been was a league player, as I was not a very good player.
| | |
| --- | --- |
| | More on rediff.com! |
| | |
I sat at home doing nothing. My dad was librarian so I started reading. My biggest fascination was reading comics. That's why I make comedy films. I had a great collection of Asterix, Mickey Mouse, Sad Sag and many others. I learned about framing and slapstick comedy from there.
I won a short story competition for Calicut University in Kerala, and I realised that I could write. So I started writing short stories for magazines.
I moved on to screenplays. I never thought of working for the film industry. I worked as a production assistant, but not on a permanent basis.
My friend Ashok, a director, wanted me to help him on a screenplay. I took it as a challenge and it was an arty kind of film called Thiranottam. It had Mohanlal in a small comic role. It was a very small film, in black and white.
Then Mohanlal got a break in a negative role in Manjil Virinja Pookkal, and I started going along for shootings with Mohanlal. I met directors Faazil and Jijo. Once Jijo asked me whether I can write a screenplay. That was my first big break. I stuck with him till he made Chotta Chettan.
I went to Chennai and had to struggle a lot. I would walk into every studio to narrate my story. Fortunately, I got work as a script corrector and that film worked.
The producer asked me to write his next film. That's how my career started.
My first film as a writer was Padiyottam and as a director was Poochakkoru Mookkuthi (this was later remade as Hungama in Hindi).
Everybody, at that time, was trying to make a love story to start their career. Since I was always fascinated with humour and since Malayalam films did not have comedy movies for a long time, I started mine with a comedy.
Poochakkoru Mookkuthi
was written and directed by me. It worked in a big way to make my career.
On Mohanlal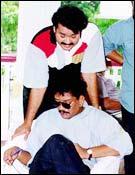 Mohanlal and I were from the same school and college. He was very junior to me; he was in my younger sister's batch. But we are from the same place, Poojaullazh. We used to play cricket and watch movies together.
I have stopped doing Malayalam films and that's why I am not working with Mohanlal anymore. Otherwise, he's my all-time favourite.
But recently, I did Vettam and signed Dilip, as I was making the film for a friend who gave me Poochakkoru Mookkuthi, and he had Dilip's dates. I cannot refuse him.
I don't have a second choice for my heroes. It has to be Mohanlal unless the subject is such that it demands (someone else). I have made about eight or nine films without Mohanlal, but all my hits are with him.
He has never asked me about the film's subject once I offer a movie to him. He just gives me the dates. He often tells me that when I see the film, only then will I know the story. I always tell him the scenes and never narrate the whole story.
He does whatever I tell him on the sets. He has that much faith in me. My last film Kakkakuyil with him was not a good film. I went overboard. It was my mistake more than his.
On Amrish Puri
I was filming Muskurahat and was looking for an actor. I met Amrish Puri through Pranlal Mehta.
Amrish Puri met me at Holiday Inn, Mumbai. Normally, stars have a secretary but this man did not. I still remember he had walked in with his umbrella and diary.
He asked me directly what the subject was. When I said his was a positive role, he informed me that he usually did negative characters. He asked me why I chose him for a positive role. I replied that I really wanted Utpal Dutt for the role, but since he was no more, I had thought of him. He laughed and agreed to do it.
From then on whenever I called him for a movie, he would ask whether it was originally meant for Utpal Dutt, which meant that he was positive in the film. In all my movies, except Kaala Pani, he had positive roles.
I always respected him like my father. He was just opposite to his screen image. He was very disciplined about his costumes and his role.
When we first worked together, he told me that he could do the role this way, the character this way, and the dialogue this way. I said there is only one right way to say the dialogue, and he laughed. I told him that he was to really impress me and show off his versatility.
He laughed again and told me that an actor is always insecure. He will ask a lot of questions. If the director gives him the right answers, he will never ask more questions. From then on, he never asked any questions, right up to Hulchul, his last film for me.
He was very sick during the Hulchul shooting. He thought he had a urinary infection and got himself tested. But they couldn't diagnose what it was.
When the film was in the dubbing stage, he told me he was feeling tired. I went to meet him. He looked very sick. He had malaria twice, and had a relapse again.
On his favourite Bollywood actors
I have no favourite actor in Hindi films. I do not work with big stars. I'm working with one (Salman Khan) for the first time.
Even if I had worked with a star, they were at their career's low then, like Anil Kapoor in Virasat, Akshay Kumar and Suniel Shetty in Hera Pheri.
I repeat stars if I am comfortable with them like Paresh Rawal, Suniel and Akshay.
Out of the 11 films I did, I made two with Anil Kapoor (Virasat, Kabhi Na Kabhi), three with Jackie Shroff (Gardish, Kabhi Na Kabhi, Hulchul), five with Amrish Puri (Muskurahat, Gardish, Kaala Pani, Hulchul, Virasat), and five with Paresh Rawal (Hera Pheri, Kabhi Na Kabhi, Hulchul, Hungama, Yeh Tera Ghar Yeh Mera Ghar).
I have done films with Tabu and Kareena Kapoor also.
On his venture into Hindi films and remake of Tamil and Malayalam films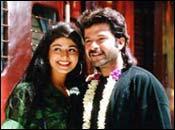 I used to see lot of Hindi film in the 1970s, which was also the golden period of Hindi cinema. I used to love Hindi films for their content and look and would wonder why Malayalam films weren't made like them. Those days, Hindi film had great directors, technicians and cameramen.
Secondly, the money was better in Hindi films than in Malayalam films.
My first film, Muskurahat, originally had Aamir Khan and Pooja Bhatt in the lead roles. But the producer changed his mind and I had no choice but to start the film with Jay Mehta and Revathy. Muskurahat would have been a bigger hit if it starred Aamir and Pooja.
Whenever I make a remake, I don't show the original to the actors because I don't want them to get influenced by it. I prefer if the actor goes according to their own body language.
When I made Talavattam, Jack Nicolson had done that role before (in One Flew Over The Cuckoo's Nest). But Mohanlal didn't see it. Everybody has their own plus and minus points. It is the director's job to see how well you can mould them within their limits.
I remake films because most of my films have been written by me, and I have made successful films in Malayalam. But these movies are not seen by many. The community that watches Malayalam films is very small.
Films that were made in Hindi by other directors like Chitram and Chanralekha have been spoilt. Why should I give my baby to others? I would rather make it myself and take advantage of my writing!
I made changes in Poochakkoru Mookkuthi's script, when I remade it as Hungama, because the original was written 22 years ago. I have adapted it in today's situation. Most of the South Indian remakes flop because they look like South Indian films. But I update them to Hindi standards.
Even Kamal Haasan said Thevar Magan (Virasat) could not be made into Hindi because it was rooted in Tamil culture. I changed it to a Uttar Pradesh background.
Instead of making remakes of English movies, I prefer remaking Indian movies. That's why I purchase the rights of Malayalam and Tamil movies, as we can identify with the subject.

Don't miss Part I of this interview:
'Salman doesn't put in 100 % in his performance'