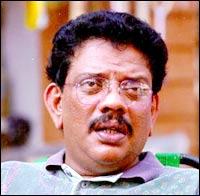 R
eputed director
Priyadarshan
seems to have become the king of comedy, as his recent laugh-riots,
Hera Pheri, Hungama
and
Hulchul
, have become mass favourites!
The director, who was once not keen on signing big names for his films, has changed his mind. His new film stars Salman Khan, Kareena Kapoor, Rimi Sen, Jackie Shroff and Om Puri.
Yet-untitled, the film is said to be inspired from the novel One Flew Over The Cuckoo's Nest, written by Ken Kesey.
Priyadarshan talks exclusively to Patcy N and gives a sneak peek into his new film:
| | |
| --- | --- |
| | More on rediff.com! |
| | |
My film with Salman and Kareena is a remake of my 1986 film,
Thalavattam
. It is inspired by the novel
One Flew Over The Cuckoo's Nest.
But since
Thalavattam
was made almost 20 years ago, I have written a new screenplay for this film.
The hero is admitted in hospital due to a tragedy, and he falls in love with the doctor. It has the same end as the original movie.
I think it will be accepted, just like Ek Duje Ke Liye and Qayamat Se Qayamat Tak were. I feel something unusual is always attractive for people. But at the same time, it should be entertaining.
I was planning this movie with Shah Rukh Khan. But he had a problem with his back at the time and he told me he was not able to work. I waited for a year and a half for him. Then, again, I was forced to wait till Farah Khan's Main Hoon Na was made. Then, Shah Rukh had a difference of opinion about the film's end. So I kept it aside, and made Hungama for Venus
Sunil Manchananda, the film's producer, then suggested Salman Khan. I narrated the script to him and he liked it.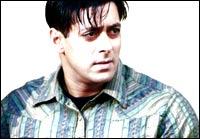 Working with Salman Khan was a great experience. People told me that Salman is interfering, never comes on the sets on time... I went on the sets with a lot of fear as to how to handle him.
But he would report on the sets at 6 am, even though the temperature was - 1, in Ooty. He never gave us any trouble.
I treat him like my son, Chandu. He's a brat but if you love and pamper him, he will listen and understand.
If the film doesn't work, I am the only one responsible, not him.
I will not comment on Salman's acting. People have seen Jack Nicolson and Mohanlal in the role that Salman plays in this movie. Let them see Salman and judge for themselves how good he is.
But Salman does not put in his 100 percent in a performance. If he did, he would have been one of the best actors in the country. He could have done better in this film. But it's his nature to takes things lightly.
Kareena is a director's actress. If you explain everything to her, she will do it. If you don't, she will do whatever she feels like. That's why I repeated her again here, after Hulchul. She's a very good actress, as long as you guide her.
The movie is not titled as yet. The producer wants the title to start with 'H'. But I don't agree with that, as I don't believe in such superstitions.
I'm also doing a spicy comedy with Akshay Kumar, called Garam Masala. I don't want to talk much about it. But I can tell you that Hera Pheri was a comedy of poverty, Hungama was a comedy of errors, Hulchul was a family comedy and Garam Masala will be about two timing. It's a thriller. Every youngster will identify with it because the moment you two time, you get tensed as the other girl may find out. I want to play on the humour angle, and that's why I chose Akshay Kumar.
This film is based on a Malayalam movie called Boeing Boeing. I have just taken the spirit of that and adapted it to today's situations. I want to shoot it in the Caribbean Islands.
The film will also star John Abraham. The other actors will be newcomers. The film will have four girls.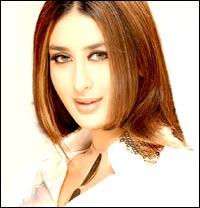 I am making another film with Om Puri, Paresh Rawal and Riteish Deshmukh, based on a new subject. I was supposed to make it in Malayalam, but now I will make it first in Hindi.
The film is about a dead man winning a lottery, and the entire village tries to hide it and get that money.
It will have two Malayalam actors, Innocent and Jagdee Shreekumar. One of them will be acting like a dead body. The other wants to tell the truth but has a bullet shot in his neck. So both do not talk in the film.
In spite of not taking big stars, I have survived in the industry.
I did not expect such a big opening for Hungama. Now, people are coming to see my films rather than a star's film.
People like comedies. But Hindi films no longer make good comedies. You only find buffoonery. Earlier, Hrishikesh Mukherjee and Basu Chatterjee made fantastic films. I hope people remember me after them. But I don't want to get typecast as a comedy filmmaker.
I am going to retire next year because I want to stop making the kind of commercial films I make, and make the kind of films that I really want to.
I want to make a Hindi film on AIDS, and a Tamil film on the weavers of Kanjeepuram. These will be realistic films, about one hour and 20 minutes long.
I wanted to make them since the last four years but I did not get the chance because I was making commercial films. I have already stopped making Malayalam films.
I also want to make one on female infanticide.
Whatever I have achieved is all thanks to my team. I always say that I don't repeat actors as often as I repeat my technicians. My art director, Sabu Cyril has done all my films. I have not changed my editor or action master. I am lucky to have such a good team.

Don't Miss the second part of this exclusive interview tomorrow, where Priyadarshan chats about films and Mohanlal.