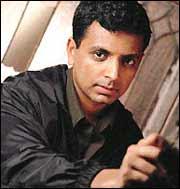 Walt Disney has lost one of its brightest directors, M Night Shyamalan, to Warner Bros. Shyamalan was also one of its biggest moneymakers. His four films in a row for Disney have grossed over $2 3 billion worldwidein theatrical receipts and video sales.
Creative differences over Shyamalan's new project, Lady In The Water, led to the parting, Hollywood's trade papers reported.
Even Shyamalan's last film The Village, which was savaged by most critics, earned $240 million worldwide in theaters. Ancillary revenues are estimated to be around $150 million.
Shyamalan has steadily built a reputation for making films on medium size budgets of $50-$75 million by offering the stars part of the film's gross. There was speculation last year that Fox had offered him to direct the Booker Prize winning novel Life Of Pi the studio had acquired about three years ago.
| | |
| --- | --- |
| | More on rediff.com! |
| | |
The casting for
Lady In The Water
would start in a few weeks and the movie could be in theatres next summer. According to Warner, the film centers on the superintendent of an apartment building who finds a sea nymph swimming in the pool, setting in motion unexpected events.
The parting was perhaps not a happy event for either Shyamalan or the studio.
'We have a terrific relationship with Night, and although we didn't agree creatively on this particular project, we look forward to working with him in the future,' a Disney company spokesman was quoted as saying in Hollywood Reporter.
Welcoming Shyamalan to Warner, studio president Alan Horn said in a statement: 'I hope it is the first of many outstanding films that Night makes at our studio.'
In all, Shyamalan, 35, has made five films for Disney, after producing independently his first film Praying With Anger. His next film Wide Awake, the story of a young boy trying to communicate with his dead grandfather, was made for Miramax, a Disney division. Though the film was an abysmal flop, he continued working on The Sixth Sense, which was green-lit earlier. The psychological thriller remains his most famous and successful film to date, having grossed $700 million in theatres worldwide.
Next was Unbreakable, Signs and The Village. Unlike The Sixth Sense and Unbreakable that starred Bruce Willis and Signs that had Mel Gibson, The Village had no stars. Adrien Brody, who played an important role in the film, is no star despite winning an Oscar.
And yet, riding on Shyamalan's name alone, the film opened to huge numbers (over $50 million in three days in North America) and despite steep falls in subsequent weeks, it turned out to be a hit.
Shyamalan's first film, a coming of age cross-cultural story, was shot in India. His subsequent films have been made in his home state of Philadelphia. The new movie would also be shot there. But if he takes up Life Of Pi, which has some of its crucial sequences set in India, he might have to visit the country of his birth and shoot there after nearly 14 years.