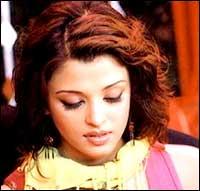 Aishwarya Rai has seldom sounded happier. She has just about wrapped up shooting for Paul Mayeda Berges' much-discussed Mistress Of Spices in England.
"Can you imagine?" she laughs from London. "We've almost finished the entire shooting in just about a month! Now we shoot for a week in San Francisco and the film is ready to roll out. Amazing! It didn't feel like shooting at all. As it is, Gurinder Chadha's unit is like family after Bride & Prejudice. Her husband Paul was with us right through that film. So was (cinematographer) Santosh Sivan who has always shot me like a dream, ever since my first film, Iruvar (in Tamil).
| | |
| --- | --- |
| | More on rediff.com ! |
| | |
"The rest of the unit, with whom we shot on the Isle Of Man and London were English. Today, when they all packed up to proceed to the US, we didn't feel like we had shot a movie. It was a picnic, honestly!
"And before you ask how I compare Gurinder and her husband as directors, I don't! No trick questions, please! They are two individuals with two completely different visions and films. Mistress Of Spices is as different from Bride as Devdas from Hum Dil De Chuke Sanam!" she exclaims.
Ash is gung-ho about her new character. "Lalita in Bride and Tilo in Mistress are two different individuals, with two different looks. I worked really hard on Tilo's look. There was no time to prepare, no rehearsals, and we had to do it on our own. So I had to work out Tilo's graph. Also, her clothes, saris, attitude... they're all mine. Of course, Gurinder and Paul had their own idea of the way she needed to be projected, and I respected that. I'm always the director's actress."
Mistress Of Spices tackles the age-old relationship between the Indian woman and the spices. Ash laughs again, "Those aromas from my mother's kitchen came alive in this film. Paul has gone to great lengths to connect the world of spices with the world of human perceptions. Is it a very sensuous film? Oh, I don't know! Sensuality is a state of the mind and soul. Mistress Of Spices tickles the palate."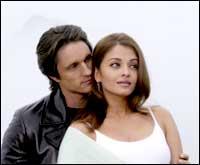 She's very happy and flattered by the attention she's getting in the US for Bride, especially after the bashing the film and Ash got back home. "But we all know that was premeditated. Now, after seeing the response in the US, I feel like I'm back to where I was when I was starting out as Miss World ten years ago -- the same attention and the unbiased critical overview. It feels wonderful and comforting.
"Even before Bride & Prejudice, the West noticed me as an actress in Devdas, Kuch Na Kaho, Raincoat and Chokher Bali. So Bride has been the culmination of a journey that began in Cannes when Sanjay Leela Bhansali, Shah Rukh and I took Devdas there. The US has been wonderful. When I landed there for the promotion of Bride, everything happened so quickly! I was on David Letterman's show, and then in Chicago recording for Oprah Winfrey.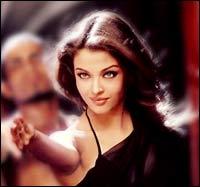 "They wrote about my clothes and appearance, but not about my giggling which a part of the Indian press seems to be obsessed with. Honestly, this is how I've been all along!In fact, (photographer) Gautam Rajdhyaksha wrote about my giggling habit in his book several years ago. So it isn't an overnight affectation which I've acquired as part of my image. Please! Grant me more substance than that!"
Substance is what Ash is looking for in her roles as actress and brand ambassador. Does it feel good to be carrying Bollywood to the West? "It sure does! But wasn't I doing that all along, even when I was a model and Miss World?"
Now after completing the shooting of Mistress Of Spices in San Francisco, Ash returns to London and then goes to either Prague or Paris for the L'Oreal campaign.
She will be back in India in April. "And the first thing I want to do is watch Black! On the day of its premiere, I had to attend my own Shabd. I caught just the last portion of Black. What I saw blew me away! It's a work of art."