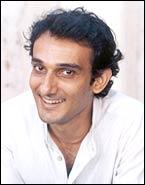 Govind Menon is a man to watch out for.
He convinced Mallika Sherawat to kiss 17 times in her launch film, Khwahish.
And in Bachke Rehna Re Baba, which will hit theatres on June 17, the director even made the legendary Rekha eat a raw octopus!
In conversation with Patcy N, the director talks about his latest film and how it was to make Rekha do intimate scenes with Paresh Rawal. Excerpts:
Bachke Rehna Re Baba is about two con women who seduce, loot and abandon rich men. Yes, it is similar to the English film Heart Breakers. But in that film, they were a mother and daughter team. Here, they are mausi-bhanji (aunt and cousin).
Mallika is not my lucky mascot. Why does Karan Johar always take Shah Rukh Khan? Mallika did her first film, Khwahish, with me. We have a very good working relationship
| | |
| --- | --- |
| | More on rediff.com! |
| | |
Second, she has become a saleable star on her own merit. And that helps.
Mallika was very excited to do this film, as it was different from the roles she has played before.
There is no male lead. Karan Khanna (Vinod Khanna's nephew) plays one of the characters in this movie. This is his first film. He is a good actor and has done well.
When we narrated the story to Rekha, I feel she wanted to do something more radical. It was difficult convincing her. After all, she is a legend of Indian cinema. They have to feel excited about the story, their role, their co-stars, the banner… And they have to believe in you as a director. Luckily, these things worked for her.
She liked the banner under Jammu Sughand, the music director (Anu Malik) and the cast. But she wanted to see the final script. Once all her demands were met and she was convinced, she was very cooperative. Her commitment was 110 percent in every department, whether it was her costumes or her look. She is very hardworking and incredibly intelligent.
There is a scene in which she had to eat a raw octopus, which she has ordered by accident. And she had to pretend that it was one of her favourite dishes. She cut a piece and swallowed it. That is dedication!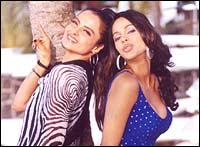 Rekha has also sung a song in the film. There is a situation where she was required to sing. If we had asked a professional singer to sing, it would have looked rehearsed. So we asked Rekha to sing because it had to look spontaneous.
She took it on as a challenge. She was also involved in the song's lyrics. We worked on the song for a long time.
She is always concerned about creativity. If something didn't work the way it should have -- whether it's the lighting or a location -- it would upset her.
I worked with Paresh Rawal for the first time in Bachke Rehna. It was fun. He has good comic timing and he plays a Punjabi character. It was something that he was not strong at. He had to really work at it.
The two ladies did not have any problems on the set. There was no competition between them, as there is nobody like Rekha. Whether you like or dislike her, everyone in the industry will say that there will never be another Rekha. She is phenomenal!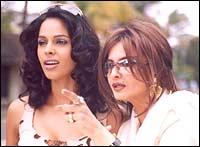 There were two scenes that I really liked in the film. One is when the two ladies have a huge argument with each other, and Rekha tries to justify why she is behaving the way she is.
The other is the title song of the movie. Both women dance in this song and have a wild time.
There were also these romantic scenes between Paresh Rawal and Rekha that were hilarious. Paresh Rawal had not done such scenes, so Rekha tried to make him feel comfortable. She told him to lie down and pretend to be her. She showed him what he had to do.
One can never predict the box office, so I don't have any commercial expectations. Sometimes, films with big names flop, and vice versa. The purpose of making this film is entertainment. This movie is naughty, wicked and full of fun. But I hope it will be a commercial success.
I have worked with (cinematographers) Santosh and Sangeeth Sivan and (director) Priyadarshan earlier. I was helping Priyan with the foreign cast in Saza-e-Kalapani. I also played a small part in that film. It was a great film to be part of.
I am from Kerala but I did my schooling in Darjeeling. I did my Bachelors degree in theatre and films at Middle Berry College in the US. I did a masters in film direction from the University of Texas.
It was difficult to enter the Hindi film industry in the beginning. Besides, I was not fluent in Hindi. Now, after a few films, I'm getting the hang of it.