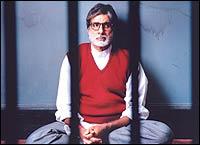 AB Corp Limited's films wing has swung back into action with Viruddh," Amitabh Bachchan declares.
"But we will only produce films holding someone else's hands," he adds. "Viruddh is done in collaboration with Mahesh Manjrekar Productions."
Amitabh is getting ready to leave his home for the shooting of Baghban director Ravi Chopra's Babul, co-starring Hema Malini, Rani Mukerji, Salman Khan and John Abraham.
Abhishek had been shooting all night for Rohan Sippy's Bluff Master and is asleep. The lady of the house Jaya is pottering around instructing the house help. Just another day in the Bachchan household.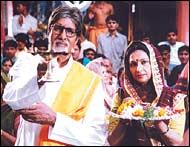 And another Big B release -- his sixth this year. All his films this year, including Sanjay Leela Bhansali's Black, Vipul Shah's Waqt, Shaad Ali's Bunty Aur Babli, Ram Gopal Varma's Sarkar and Amol Palekar's Paheli, have done well at the box office.
"But will the luck hold for Viruddh?" Amitabh wonders. "By the law of averages, the downslide should be around the corner. I hope it doesn't happen with Viruddh. It's a very sincere film about an elderly couple and a trauma they go through. All of us have worked hard on the film."
Mahesh has been going through a career low lately. Will the AB luck bail him out? 
Amitabh shrugs. "I don't know. Every director is entitled to make what he wants. As for a  career-low, didn't I go through it? I do know that this one is straight from Mahesh's heart. He truly believes in Viruddh. The narrative is simple and suffused with believable and moving moments. And the situations in a typical middleclass household are believable. This is the film's USP. Also, Mahesh is an actor. That helped. He could explain what he wanted from the actors very clearly. We three -- Sharmila Tagore, whom we call Rinku, John Abraham and I felt like a real happy family."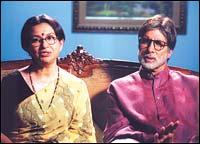 Viruddh is AB's first film with Sharmila in years. "And we make a convincing pair. Whether audiences like our collaboration as much as they liked me with Hemaji in Baghban, one cannot say. Onscreen compatibility is a matter to be judged entirely by the audience. I always leave the casting to the director. Mahesh wanted Sharmila because she thought she suited the role. We required someone who was strong yet vulnerable. Someone who stands by her old husband as a pillar of strength after a tragedy strikes our family."
He speaks highly of his screen-son Abraham. "Tall, handsome, good physique, very soft-spoken and affectionate. I had worked with John earlier in Aetbaar. But there, we played hostile characters. In Viruddh, it was fun to have John as my son."
What pains does he take to keep one patriarchal role different from another? After a pause Amitabh replies, "It's partly to do with  the clothes and makeup, the paraphernalia such as the glasses and the hairstyle. Then the differences comes in the dialogues. The words that my character speaks and the way he says them are important. But most importantly, it's the director's vision that makes my role of the father in Viruddh stand apart from the one in Waqt or Veer-Zaara."
The Big B confesses he had to speak the English language in a particular way in Viruddh. "Quite unlike the way I spoke in Black where I was more suave and sophisticated. In Viruddh, I am an ordinary Maharashtrian with middle-class tastes and emotions."