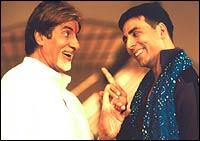 If comic timing was everything, Vipul Amrutlal Shah would have rocked around the clock with Waqt – The Race Against Time. Team funnymen Boman Irani and Rajpal Yadav together and you are assured a barrel of laughs. No problem there.
Team the likes of Amitabh Bachchan and Akshay Kumar together, as director Shah did in his earlier Aankhen, and you'd expect an explosion at the BO. But that's not likely by my account, for while Waqt might manage to warm the cockles, it simply doesn't turn up the heat. It leaves you wanting more as you walk out of the theatre wishing your time was better spent.
An occupational hazard of being a film critic is finding fault. But let's spare the film's makers of chastisement, this once. Yes, I blame myself. For not being able to relate. Here's why.
| | |
| --- | --- |
| | More on rediff.com! |
| | |
Aditya Thakur (Akshay Kumar) plays spoilt scion of postman-turned-toy maker and industrialist Ishwarchand Thakur (Amitabh Bachchan).

Apple-of-his-father's-eye Adi's indulgences include Rs 15 lakh chartered flights to Jaisalmer with girlfriend Pooja (Priyanka Chopra) who he woos with Rs 25,000 outfits and marries later in secret, foreign cars and a two-month sponsored honeymoon. This papa don't preach, he's a peach.

Dad dearest dotes devotedly on Adi who can do no wrong, much to the dismay of his wife (Shefali Shah draped in swarowski sprinkled saris), casually referred to as 'Mother India'.

While Ishwar toys with the idea of having his son come to work with him and shoulder his responsibility as a soon-to-be-parent, Aditya with stars in his eyes and milk-cream (malai) face-packs wants to be a film actor with his 'But, you love me daddy,' routine.

More non-starter than star, life changes dramatically for Aditya when Ishwar sends him packing, forbidding him to enter his house. All this for a reason unknown to his son. For Ishwar hides a deep painful secret that he cannot yet share with Aditya.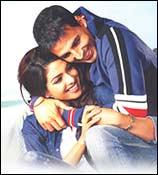 Director Vipul Shah whose Aankhen was a fast-paced action-packed thriller experiments with a different genre with the light-hearted family-oriented caper. Three's repartee -- Bachchan, Irani (playing Aditya's father-in-law) and Yadav (playing the dense domestic help) -- ensure laughs aplenty.
The film could definitely do without some of the songs. Exquisitely shot though some of them may be, they are an unnecessary burden. As jarring as a few of his tunes is Anu Malik, in a cameo, playing DJ at the wedding party.
Amitabh and Akshay share a warm on-screen camaraderie; essaying again father-son roles after Ek Ristaa – The Bond Of Love. Amitabh does justice to the role but this certainly is not one of his best. Akshay shoulders an author-backed role, carrying more of the film's emotional baggage though he is distinctly uncomfortable in the soppy-weepy scenes. Something that Shefali Shah handles with the finesse of the crying prima donna of a weep-o-rama. Priyanka Chopra, is well, Priyanka Chopra. So much for that.
The plot adapted from Gujarati stage would make for an engaging two-act play at best but as a three hour long cinematic caper, it's still-born. Watch Waqt if you are a serious AB-Akki fan or have the time to kill.

Download Waqt ring tones!