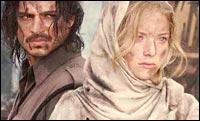 The fact that Kisna is a man truly in love manifests itself only when Katherine and he are being chased by relentless hordes of mustachioed farmhands on horseback, armed to the hilt. Kisna turns around and looks at the charging natives, and then back toward his fair woman. The fugitive pair is in a stolen chariot, and our hero has to be thrown into the tug of battle. With a slight sigh of helplessness, he does what only the besotted would do: he hands the reigns over, and lets the woman drive.
Kisna is a really big film, the kind that hasn't been seen in Bollywood since Lagaan or Asoka, and one can arguably say that it has better period detailing than both those films. It is calculated to appeal to audiences abroad, which it should do with ease. A lot of the movie seems tailored to fit into a Western perspective of India -- at times it is explanatory to the level of seeming tiresome to crowds thronging multiplexes.
| | |
| --- | --- |
| | More on rediff.com! |
| | |
The story is refreshingly different, and wills you into a suspension of disbelief as Hindi cinema invariably sets out to do. It's a fairy tale, and you need to accept it as that. But Kisna is visually stunning, right from the Lord Of The Rings-style credits, and quite an enjoyable fare.

There's only one big flaw: The film should have been called 'Katherine'.

Kisna is a character quite incidental to the film -- the kind of flat, vanilla hero who we easily tire of, like Superman or Rajnikanth. He's self-righteous, morally staunch, obviously deft during fisticuffs, and can, because the music demands, wield a pretty darned mean flute. The most uninteresting person in the film, he's played adequately by Vivek Oberoi.

In an interview to rediff.com, the actor called this among the hardest characters he's ever had to essay. The only plausible reason for this bewildering statement is the actor must have had to work at keeping a straight face while mouthing words like 'maryaada' and 'karm' and – don't miss – 'maa ki saugandh', that one (wrongly) assumed were extinct since Amitabh Bachchan flicks of the 1970s.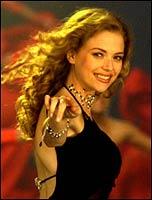 Katherine Beckett, on the other hand, is a masterstroke. Several foreign faces have hit Hindi shores with great rapidity, only to vanish in a flash of blink-and-miss glory, but this is not one of them. Subhash Ghai has indeed done it with Antonia Bernath – a star has been born.
Antonia's first shot, laughing gleefully as her car trundles toward her childhood home, is dazzling, and sets the scene for the rest of the film. As we go on, Kisna becomes a showcase for Antonia, a fantastic actress, who just happens to be classically beautiful. The film is hers.
In her scenes with Vivek, we are exposed to the vast difference in acting capabilities between the two. Bernath is overpowering when she needs to be, and meekly understated with equal fluency. Her teardrops are authentic, and her dialogue delivery is excellently modulated. She's plodded through the Hindi with considerable élan, and given her character the believability it so earnestly requires. Even in Lagaan – the comparisons are inevitable – you don't really feel for Rachel Shelley, who plays Elizabeth Russell. Here, Antonia takes on the spotlight, owns the scenes she's in, and steals the show.
The real strength of Kisna is in its casting. The director hasn't invested on A-listers, just a powerful group of talents from theatre and television, and spent his money on the production, which shows. The character actors make Kisna believable, and give the film heart. From Om Puri to Yashpal Sharma, they breathe credulity into the script, and help the project immensely. If only Ghai had a younger Anil Kapoor to take on the Kisna role, the film would be an instant classic.
This is Amrish Puri's last film, and his booming voice seems hauntingly overwhelming. He's an evil uncle, a treacherous warmonger exploiting the freedom struggle for pecuniary gain, and his character – bushy doorman moustache, the characteristically bizarre name of Bhairon, and one very disconcerting glass eye – would be called pure caricature. Except he plays it like only he can, and we, perhaps imagining visions of his old scoundrels, are totally taken by it. The role is brief, but necessary. He is a legend who will be missed, and it's inevitably fitting that his last celluloid moments are as a memorable villain.
Sushmita Sen makes a dazzling appearance in a scene that even present generations would now recognise as an ode to Mughal-e-Azam, and tosses in a fillip of glamour at a time when the film needs it the most. The story comes charging at you from the beginning, a simplistic mix of emotion and thrill, and isn't allowed to flag or drop.
The very end of the film is a drag, and a bit of a cop-out, though points have to be awarded for the story to not be essentially as predictable as you assume it might be. The prologue and epitaph tacked onto the story act as brackets, as explanatory passages to weave the whole story into place. Again, this is something that perhaps might annoy Indian crowds, but should be compensated for by the film's steady pace. It sticks to a succinct 160 minutes, and never seems too long.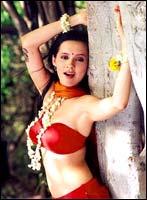 The film is cunningly crafted, and you have to marvel at the cleverness displayed by the director. The songs are superbly picturised.
Isha Sharvani, all over the film's posters, is a non-actress marvelously relegated to pure background, and the role of a vivid music video. The 20-year-old dancing girl is barely allowed to stand straight, each scene involving fascinating contortions, several times snaked around ropes. These circus moments act as visual relief, and are obvious awe-candy for the Western audience.
The film, as said, is essentially for them, and it should be one they appreciate. India, 'the real India,' is made conveniently bite-sized and accessible, and it's interestingly free of jingoism, something not too common in Bollywood. The fact that it's set in 1947 doesn't mean it involves the freedom struggle, only that it makes for a uniquely enthralling backdrop to weave the simplistic story of two girls in love with a long-haired boy.
Kisna is a return to form by a director who knows exactly what he's doing.