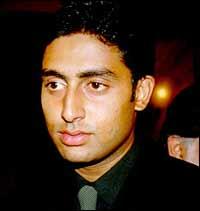 T
he young Bach cometh.
After waiting through two of Karan Johar's directorial opuses, Abhishek Bachchan has finally found a place in the third.
The yet-untitled film also stars Shah Rukh Khan.
Says Abhishek, "I've known Karan all my life. He's like family. Frankly, I was surprised when he asked me to be in his new film. I'm very excited. Who wouldn't be? Not only would this give me a chance to work with an old friend, but it's a high point in any actor's life to be in a Dharma Productions film, and that too one directed by Karan Johar."
Abhishek has not worked in a film produced by Dharma Productions, Johar's company, though both Amitabh and Jaya Bachchan have. "It's all about loving my parents and Karan's parents," quips Abhishek.
| | |
| --- | --- |
| | More on rediff.com! |
| | |
Interestingly, Abhishek almost had a walk-on scene in Karan Johar's
Kabhi Khushi Kabhie Gham
. Explains Abhishek, "Oh, that happened when a schedule of mine got cancelled in Mumbai. My parents were shooting in London for
K3G
, and my father called and suggested that I fly down to London for a week since my sister, brother-in-law and kids would also be there. One day, while they were shooting, I just walked into a frame as a joke. It was done just for fun. It was edited out.
"But I keep joking with Karan that he cut me out because the other heroes in the film -- Dad, Shah Rukh Khan and Hrithik Roshan -- got insecure with my presence! That sums up the relationship I have with Karan. I'm looking forward to working with him. Being in a Karan Johar film means you've arrived as an actor. But let me reiterate, I treat Karan first as a brother then a director. As an actor, I'm elated for the opportunity to work with him so early in my career."
What does he play in the film? "It's too early to say. Karan is still scripting the film. He signed me because he wanted to reserve my dates."
Speaking of big banners, after Dhoom and a guest appearance in Hum Tum, Abhishek is considered the lucky mascot of Yashraj Films. Laughs the affable actor, "I don't think I can lay claims to being any kind of mascot. I'm just happy being part of banners like Yashraj Films and Dharma Productions!"