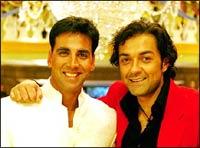 Usually, Akshay Kumar is quite entertaining in his movies, even though the movies themselves might be pedestrian. So, I expected him to be the best part of Suneel Darshan's Dosti: Friends Forever.
But I was wrong. Everything about Dosti: Friends Forever is bad, including Akshay.
The movie starts with a flashback. Karan Thapar (Bobby Deol) gets an award for the best businessman of the year and he ponders over his past. He thinks about his childhood friend Raj (Akshay Kumar).
The two meet when Raj saves Karan's life after an accident. Karan forces his parents to adopt Raj. They grow up together, and the two become inseparable.
 Exclusive! Akshay Kumar on Rediff

| | |
| --- | --- |
| | More on rediff.com! |
| | |
Raj falls in love with Anjali (Kareena Kapoor) while Cupid strikes Karan in the form of Kajal (Lara Dutta).

But just when things look rosy for the foursome, differences and a medical condition drives them apart. Towards the end, Dosti comes dangerously close to Karan Johar's production Kal Ho Naa Ho.

Dosti is quite unbearable because the actors are too loud. Certain scenes, like Akshay's clash with a hostile matron, and Bobby's outburst at god. Shakti Kapoor, Kiran Kumar, Lillete Dubey, Mahesh Thakur, Aman Verma and Navni Parihar are wasted.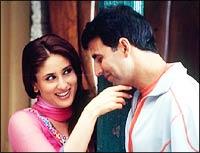 Lara and Kareena look good, but that's it. Their roles are far too short.
Suneel Darshan tries to save the film in the last half an hour, but all he does is play with emotions. Add to that, bad music.
If you don't want to waste your weekend, avoid this film.