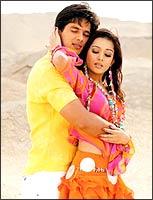 Life after death continues to kindle filmmakers' imaginations across the world. They cash in on humans' everlasting curiosity about the subject.
And Bollywood has a tendency of following a pattern. Hence, close on the heels of Mr Ya Miss, a Ram Gopal Varma Factory offspring, comes Vaah! Life Ho Toh Aisi, written and directed by Mahesh Manjrekar.
If sub-plots of life after death, reincarnation and rebirth bind the two movies, the latter's execution far exceeds the former. Manjrekar chooses to walk the much trodden path, knowing well that he will not make a mess of it like his colleague Antara Mali did in Mr Ya Miss.
Aditya (Shahid Kapoor) has a lot of responsibility. He heads a battalion of nephews, fondly termed Tigers, an old and ailing grandmother, and an about-to-be-married-off sister. Therefore, he has no option but to sweat it out so that these people can have a better life.
Shahid Kapoor: Two films, one confident hero
| | |
| --- | --- |
| | More on rediff.com! |
| | |
Amid all this, Aditya turns to his lady love Piya (Amrita Rao) for comfort. But as fate would have it, Aditya meets with an accident and leaves with a techno-savvy Yamraaj (Sanjay Dutt). This god of death is, as he says, quite modern; he drives a Chevrolet and flaunts designer glasses. Strangely, however, he is very emotional as well. And so as Aditya cries his heart out asking for a five-day re-run on earth, the Yamraaj can't say no.
Aditya visits his home again, accompanied by another dead soul, a child called Shakti, only to find a group of baddies giving his people a tough time. Aditya wants to straighten things out for his family but that, he sadly realises, needs divine intervention.
In comes a mediator, in the form of Arshad Warsi. His typical roadside Mumbai lingo may seem mumbo-jumbo to others but to Aditya and Shakti, he seems to be the only channel to seek divine intervention. Arshad helps the duo attain superpowers by virtue of which they set out to teach the villains a lesson.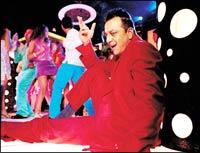 Understandably, the plot leaves no room for logic and those who intend to be entertained are requested to throw reasoning out of the window. Audience sans power of analysis are assured of loads of fun. Manjrekar makes full use of absurdity to generate excitement. His depiction of Yamraaj is brilliant.
Vaah! Life Ho To Aisi in pictures
The film loses pace in the second half as the plot unfolds too predictably. Still, deft use of special effects and the effects they have on the cast produce systematic outbursts of laughter. One does see uncanny resemblances with the Hollywood film, Ghost. Arshad Warsi's role does seem like Whoopi Goldberg's and Shakti fails to kick a coke can much like Patrick Swayze. Yet Vaah! -- unlike many of its contemporaries -- does not become a weak copy.
The cinematography looks slick. Music director Himesh Reshammiya should have cut down on the number of songs.
The film sees some commendable performances by Shahid Kapoor, Sanjay Dutt and Arshad Warsi. Warsi seems to be riding the height of excellence very fast. Shahid looks good except when he needs to express love. 
Dutt, in his usual inimitable style, drives home a point: He is just cut out for such roles. Prem Chopra -- and his repetitive villainy -- not only looks incongruous but also unnecessary. It's time he retired.
These are but minor glitches in an overall paisa vasool film.