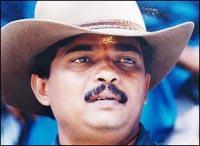 National Award-winning director Jayaraj is on his way to creating a world record. He is going to shoot his new film Atbhutham, a bilingual (Malayalam and English) in less than 10 hours. The shooting will take place at Ramoji Film City in Hyderabad on December 17. While preparing the groundwork, he spoke exclusively to rediff.com
You have made Karunam, Shantham and Bheebhats -- three rasas of the navarasas. Is your new film a part of the series?
Atbhutham is the fourth rasa. It means 'no bhootham' -- something that wasn't there earlier. The film is about euthanasia, and what I want to convey through the title is that euthanasia wasn't practiced earlier. The only state that has legalised it is Oregon in the US. So, naturally, my story takes place in Oregon, and is about a patient waiting for his death.
| | |
| --- | --- |
| | More on rediff.com! |
| | |
Was it after you read about the recent story of Terry Schiavo that you wrote Atbhutham?
Actually, around five years ago, there were a lot of debates on whether to legalise euthanasia or not. That was when I felt it was a good theme for a film. I downloaded the judgment made at Oregon and read it carefully. That was how the preparation began. My plan was to make an English film then. I wrote the script and even went to the hospital in Oregon that performed euthanasia. I had even registered the story at the Writers' Guild at Hollywood.
Sadly, the producers withdrew at the last moment and I had to postpone the making of the film. I felt the real reason for their withdrawal was they couldn't really understand or accept the idea of euthanasia. But at the back of my mind, I always wanted to get the dust off the script and start shooting.
Has the reason to take the script back anything to do with the Schiavo incident?
Exactly. What happened in the US was about a lady's husband helping her die, while her parents vehemently opposed it. When the story broke, I felt it was good that my film got delayed. Now, people are more aware of what euthanasia is all about. What happened in the US is similar to my story. The wife of the protagonist in my film agrees to euthanasia but the man's parents oppose it.
Could you tell us a little more about your plot?
The protagonist of my film, Warrier (played by Suresh Gopi), is a world-renowned playwright and director in the US. He migrates to the US at a young age, and has no contact with his family in Kerala. He is also a US citizen now. He has been suffering from pancreatic cancer for two years, and when he finds it difficult to bear the pain, asks for mercy killing. Helping him die is his US-born Malayali wife and his attorney.
Just before his death, he calls seven important people in his life to the hospital. Of the seven, there are his parents and one of his closest friends from Kerala. Only when they reach the US do they realise he has decided to die. His parents can never accept this. Another visitor on the day of his death is his love, an American, and also an actor he had groomed.
Why did you decide to shoot the film within a record timing? Another case of Atbhutham, something that didn't exist before?
Yes, it is Atbhutham in the content as well as the making. The story begins at 10 am in a hospital. By 11.30, everything will be over for Warrier. So, the plot has only this one and half hour.
Personally, do you support euthanasia?
I am against it. Don't people with healthy bodies commit suicide? What does it show? That the problem is not with the body but the mind. It is the mind that is responsible for a man taking a decision to end his life. Disease or pain is only an excuse. There are many successful scientists who have contributed a lot to society but are physically disabled. Your mind can help you get over all pain if you make it believe that.
So, you are going to shoot the entire film in ten hours…
In less than ten hours. It may end in five or even two hours. You never know.
It means a lot of precise planning, which is a big challenge.
Yes. We will have five days of rehearsals and a day of shooting. I like taking risks. I love challenges. I always want to do something different.
Why did you decide to have Suresh Gopi in the lead role? Was it because of your earlier association with him? He won the National Award for your film Kaliyattam.
He is the first actor who gave the story the attention and importance it deserves, which is why he is the protagonist.
How did you finally convince a producer?
I am the producer. I have understood that it is difficult to convince others about my story. I prefer producing such experimental ventures myself. Do you know the name of our company? Harvest Dreams! We have dreams, and we like to harvest them.