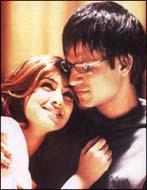 Sujoy Ghosh's new movie Home Delivery traces a day in the life of Sunny Malhotra (Viviek Oberoi).
Sunny has a full-time job with a national daily, where his work profile is to dole out advice on such matters as love, heartbreaks, extramarital affairs and the like, akin to that of an agony aunt, except that this agony aunt is suave, ubercool and goes by the name of 'Gyaan Guru'.
Sunny is a prankster who uses charm to get his own way, whether it comes to stalling plans of marriage with his live-in girlfriend (Ayesha Takia) or getting free food from the local pizza place.
He is also a scriptwriter-in-waiting, working on a script for producer Karan Johar (played by Karan Johar himself), but is having serious trouble bringing his storylines to fruition.
| | |
| --- | --- |
| | More on rediff.com! |
| | |
When the popular Gyaan Guru is invited to appear on a television chat show, he comes face-to-face with his old teenage heartthrob, a South Indian film actress (Mahima Choudhary) and his hormones are catapulted into overdrive.

He sneakily declares he is writing a script and scouting for a female lead as the protagonist. She bats her eyelashes and Sunny is suddenly caught in an emotional tug-of-war -- a battle between love and libido. This internal conflict sparks off a series of events that make up the rest of the story.

It is apparent that great pains have been taken in making the film. Yet, it has a flimsy plot. That really is the downside of Home Delivery.

Sunny's character is ill defined, and Oberoi indulges in histrionics all the way, which makes it even more unfathomable. It's as if the entire film is a canvas to showcase his acting -- or overacting -- prowess.

With such an overdose of playfulness, one finds it difficult to take him seriously as a budding scriptwriter. Arif Zacharia is a psychopath who stabs his victims with a pen, yet the purpose of his character in the plot is not clearly established.

Ayesha Takia is your affable girl-next-door with a twist -- she is also strong and bold, yet sensitive. And she portrays these various shades with maturity.

Mahima Chaudhry is perfect as the sexy, sultry, manipulative siren, who epitomises the stuff that makes up pubescent male fantasies. She pouts and pirouettes, flashes cleavage, bats eyelashes in any direction that promises to bring her a meaty role (be it a pot-bellied film producer or a good-looking but budding scriptwriter). And she has good comic timing and screen presence.

Boman Irani does a great job of essaying the role of a simpleton who can't keep a job, takes everyone's words literally, and yet displays occasional flashes of wisdom. Saurabh Shukla is entertaining as the garrulous, gluttonous and affectionate neighbour who is always poking around in Sunny's fridge and trying to hatch run-off-the-mill moneymaking schemes.

Juhi Chawla doesn't have much to do in the film, but is nevertheless likable in the role as Sunny's boss at the daily.

Great pains have been taken to stylise the film using a variety of treatments. For instance, Vivek's character is shown being physically trapped in a glass box, as he battles with temptation.

Music director duo Vishal-Shekhar has done a good job on the soundtrack, which is funky and upbeat. The film also has some funny moments. But these elements fail to salvage the film, where the main villain is a weak premise.