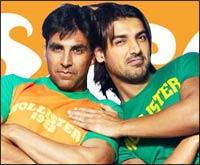 What does Akshay Kumar do to keep fit at 38? "I eat Dabur Chyavanprash," he quipped when I asked him.
But isn't it true that Amitabh Bachchan too eats it to keep fit at 63? Isn't he also the brand ambassador of the product? "Yes," says Akshay, then pauses to add, "Actually, Amitji has one spoon of Chayavanprash and I have two -- one in the morning, the other in the evening." I ask if his sense of humour has been getting better because of his comic roles. "No," he says, "I have always been this way."
The tag of action hero that he got when he first entered films has disappeared. Akshay is now termed a complete actor. This is more evident from the fact that he has proved himself in the most difficult genre of acting -- comedy.
If last year saw Khakee, where he played a flirtatious inspector, and Mujhse Shaadi Karogi, where he played the wicked Sunny, this year has Garam Masala and Deewane Huye Paagal, both of which are ruling the box office thanks to his brilliant performances. In fact, for the first time in his career, Akshay has surpassed Shah Rukh Khan and Salman Khan at the box office after Garam Masala became an astounding success in India as well as abroad.
| | |
| --- | --- |
| | More on rediff.com! |
| | |
His earlier film Waqt clicked at the North American box office in a big way and Akshay finally got into the big league after struggling for 15 years.

 

So, should we call him today's Comedy King? He brushes off the question angrily, saying, "Please don't say that to me. I hate to have tags. I did Waqt with Amitabh Bachchan, which was a tragedy. Nobody called me Tragedy King then, so why call me Comedy King now?"

 

When he entered the industry 16 years ago (in 1989), Akshay was tagged with the action hero image. Then came his Casanova phase, thanks to alleged affairs with almost all leading actresses of the time. A bad patch followed when his films began to bomb, and he was called a flop hero from 1997 to 1999. "It was bad phase of my life as 14 films flopped in a row," says Akshay, but I overcame it."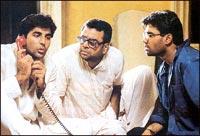 When he played a double role in Jai Kishen a critic wrote: What is worse than Akshay Kumar? Two Akshay Kumars. They all thought that, sooner or later, his end would come.
But Akshay kept going. Finally, Hera Pheri happened with Priyadarshan in 2000, followed by Dhadkan. Both were huge successes. When asked to comment on Akshay's acting, Priyadarshan once told rediff.com, "When I signed Akshay for Hera Pheri, few people believed he could deliver comedy, but he surpassed all expectations."
Producer Firoz Nadiadwala says, "Akshay is a performance-oriented actor. He understands the character and gets personally involved in the film. Whether it is playing comedy, action or any other role, he gives it 100 per cent. I have done seven films with him and he has performed far beyond my expectations. If he acted brilliantly in Aan, an action film, he also delivered brilliantly in Deewane Huye Pagal, a comedy. He is a complete actor."
When asked if it's true that Akshay has no huge fan following like Shah Rukh or Salman do, Suneel Darshan -- producer-director and a friend of Akshay's -- says, "Akshay is in Dharmendra's league. Like Dharmendra, who lasted from 1960 to 1990, Akshay is going to last long in our industry. You cannot compare Dharmendra to Amitabh, neither can you compare Akshay to other actors."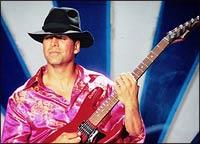 Does he feel happy that, for the first time, his films have surpassed SRK and Salman's films at the box office? Akshay is modest. "It is immature to make such statements. I am not here for competition. I feel every film must do well so the entire industry benefits as a whole."
What is the target for next year? Akshay says he wants to stop doing comedy. "I want to keep trying new things. I don't want people to say I am a Comedy King. There are few films where you get situational comedy. So, it is difficult to do comedy all the time."
Does he fear he might fall into the trap like Govinda did? "I don't know about Govinda," he replies, "but I just get bored doing the same things again and again."
What keeps Akshay going? He tells me it's his determination and hard work. "My martial arts background has helped me a lot. When I was in Bangkok, there was a guy who beat me seven times. But I won the eighth fight!"