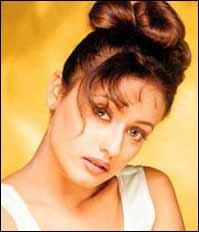 After a string of films that sunk at the box office, including the recent Charas and Insaaf: The Justice, Namrata Shirodkar hopes her role in Gurinder Chadha's Bride And Prejudice will revive her career.
Namrata speaks to Vickey Lalwani about her new film.
Tell us about your role in Bride And Prejudice.
I play Jane, the eldest sister. Nadira Babbar, who plays my mother, tries to get two boys from well-settled homes to marry her two daughters -- Lalita and Jaya Bakshi played by Aishwarya Rai and myself.
She cannot think much beyond our marriage. I am the eldest, dutiful daughter prepared to marry for my parents' happiness. Naveen Andrews is paired opposite me (right, below). I have my opinions but I keep them to myself. I am the quiet, reticent type.  
Was the role easy?
No. It's easy to be loud, outspoken and play to the gallery. It's difficult to underplay one's self.
A lot of emotion has to be felt to get under the skin of the character, otherwise one would stand out like a sore thumb. So I went through the script quite a few times to understand the graph of Jaya.  
So you play a character true to your name. Namrata means 'soft attitude,' doesn't it?
Oh, I never thought of that! Now that you say it, yes! (laughs) 
How did you get selected for the role?
The reading-out process was the main selection criterion. Gurinder informed me they [in the West] select actors on the basis of reading lines from the script. When she was in Mumbai for the casting, she asked me to read some lines from my portrayal.
The very same evening, I got a call telling me I had the role! It was very quick. No beating around the bush like it often happens in other cases.
| | |
| --- | --- |
| | More on rediff.com! |
| | |
How would you rate Gurinder as a director?
I rate Raj Kumar Santoshi as perhaps the best director among the current crop.
Gurinder has her own style, but they are in the same league. Working with her has been an enriching experience. Her thoughtfulness must be seen to be believed! She knows exactly what she wants.  
How confident are you of the film's fate at the box-office?
I am not a box-office guru, but have a gut feeling that it will work.
You did not attend the film's music launch. It's said you are upset about your role being cut down.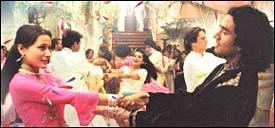 This is hogwash! I wish the media stopped making two and two equal five all the time.
My back had played up, I was suffering from a severe slipped disc. How could I get up and come?
But some of your scenes have been edited out, haven't they?
Yes, the final cut doesn't have some of the scenes I was shown in the first copy. If I view it in terms of the script, I am not disappointed. What is required is a tight script and we have one.
But from an actor's point of view, I admittedly feel, 'Arre yaar, this shouldn't have been cut.'
Any particular experiences in working with Aishwarya, Peeya Rai Chowdhary and Meghna Kothari who play your sisters?
We had a ball, especially in London, which is my longest outdoor stint till date. We were so many girls together, yet there was no rivalry.
Why do we see so little of you these days?
I get several offers, but have refused most. I am making a conscious effort to ensure that my acting potential gets tapped in every project I do. I would love to do only one film a year.
If you see my career graph, you'll see that I have never exceeded two films in a year. So why now?
Next, you'll see me in Arindham Choudhary's Rok Sako To Rok Lo where I play a café owner. A lot of activity happens in my café. Sunny Deol plays a biker in that film.
I am also going through a few scripts.
Has Gurinder spoken to you about her forthcoming production, Mistress Of Spices?
Yes. But nothing has been finalised as yet.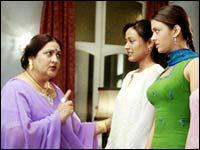 Are you offered 'bold' roles?
Lots! But I am not comfortable doing such stuff.
I wouldn't exchange kisses or make love on screen.
I am not desperate. Thanks to the Almighty, I come from a secure background.
Your sister Shilpa is in Mumbai these days...
Great! Now that she has delivered a baby girl [Anoushka], I understand how excited my colleagues felt whenever there was a new addition in their family.
Are you and Mahesh Babu (the Telugu actor and her Vamsi co-star) going to tie the knot?
No comments. (smiles)