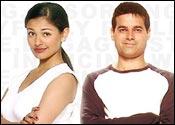 If you have been disillusioned with the films being churned out by first-time filmmakers with the same skill as a clueless foodie experimenting with recipes,
FLAVORS
might make you change your mind.
It is perhaps the most ambitious and colourful film in the independent film movement that was triggered by the success of American Desi over four years ago in North America.
A complex, but engaging, look into the lives of many young lives set against the background of the crumbling IT world in America, FLAVORS is often hilarious, smartly avoiding melodrama and silly comedy.  It is also heartfelt. 
| | |
| --- | --- |
| | More on rediff.com! |
| | |
The movie offers realistic, engrossing, funny and thought-provoking insights into the lives of Indians in America than those seen in big-budget Hindi films. The reason being that 
FLAVORS
was written and directed by Raj Nidimoru and Krishna DK, software professionals who have a sharp eye for the humour and sadness around them. 
The modestly made film could do well with stronger technical accomplishments, but it is gripping and seldom boring. More important, it has been receiving attention from the mainstream media, including the influential trade publication, Variety, that praised its 'likeable, credible actors and snappy dialogue.'
'If you like... Bend It Like Beckham (watch) FLAVORS. It's My Big Fat Indian Wedding,' wrote New York magazine last year.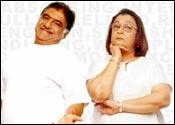 At the Asian American International Film Festival last year in New York,
FLAVORS
emerged as one of the better received films. Raj and Krishna were also nominated at the fest for the Best Emerging Director award.
After having travelled to film festivals in about a dozen cities, including Milan, Cairo and St Louis, where the local chapter of the Screen Actors Guild recognised home girl Pooja Kumar, with the Best Emerging Actor award, the movie is being released across North America on July 16 in about 30 movie houses.
The film also features veteran Hindi cinema actors Bharati Achrekar and Anjan Srivastava, who go through a bit of a culture shock when they arrive in America to meet their son and his American fiancee. 
Seamless editing is crucial to any film, but for any up-and-coming director, the guiding hands of a seasoned editor is priceless. Hollywood is full of stories about how great editors gave a definite shape to their early films of Woody Allen and Mel Brooks. Raj and Krishna had the privilege of hiring Frank Reynolds, the editor of the Oscar-nominated  arthouse hit, In The Bedroom. And Reynolds' contributing in giving the film a solid structure has made FLAVORS' appeal even stronger.
"We found a very similar-minded creative individual in Anupam Mittal (
founder-chairman, People Group, which also owns the popular portal,
www.shaadi.com
)," the directors noted. "He liked the idea of
FLAVORS
and thus we developed it together into the movie it is now.
"We want this film to be seen in the theaters, and we are not going rush this into the video stores," co-director Krishna had said at the end of the screening at the Asian American International Film Festival.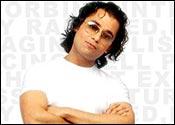 A bittersweet comedy,
FLAVORS
would take anyone who has lived in America for a few years on a nostalgic journey. For a non-South Asian, the film offers insights into immigrant lives that are often amusing, at times saddening, but ultimately rewarding because the film celebrates the resilience of young men and women and how they connect.   
Raj and Krishna were not worried about the complex script they had cooked up for their second film, following shaadi.com, their hour-long feature film made three years ago.
Friends since their university days in Tirupati, the two had been dreaming of making films even as they continued with their IT careers in America. Even as they lived in different parts of the country, the two had no problem conjuring the movie, happily using the services of their friends and technicians in Mumbai.
Weren't they apprehensive that some audience might find it difficult to keep track of the multiple characters? "We agree it is quite easy to lose track of people in an ensemble film," they continued. "We have 13 lead characters and each of them had to be connected. We did fear people wouldn't be able to get all the connections, and that is why we plan to release a Flavors 101 CD before the film releases! Just kidding!
'But our basic assumption is, the audience is an intelligent entity and, as part of the audience, we feel we have been spoonfed quite a bit for many years,' they said in a written response to what seems a complex screenplay. 'We felt we could make a film that doesn't just go from point A to point Z, or has just the four usual suspects: a hero, a heroine, a villain and a comedian.'
'"We thought it was the perfect opportunity to make FLAVORS with multiple stories running parallel, and weave them all together,' they added. 'A structure like this, which would be a treat for a discerning audience, when topped with light-hearted humour would be a palatable dish for everyone.'
The filmmakers decided that the key to clarity was to give the characters individualistic and defining traits. Making them 'wholesome and real' would help the audience remember them, they reasoned. 'It was a challenge,' Raj said, 'but since each character has a specific purpose and a reason to be there, there is no room for confusion.'
Audiences who have seen the film at the film festivals that FLAVORS has screened at could follow the story flow in a few minutes, the directors felt.
Raj said he would be surprised if the viewers didn't come out the theatre grinning yet wondering how their friends' stories made it into FLAVORS: 'There is a universal element to the film and you may feel you have met some of our characters,' he said. 'You will also wonder how so many of them happened to be in one film!'