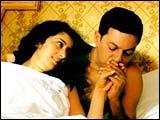 The Hindi film industry is notorious for being 'inspired' from Hollywood films. Now, that is not bad really. If only did a better job at repackaging.
Aruna Raje's Tum: A Dangerous Obsession is heavily inspired from the Diane Lane-Richard Gere-Olivier Martinez starrer Unfaithful. Raje does a terrible job.
Kamini (Manisha Koirala) is happily married with two children. She and her husband Vinod (Rajat Kapoor) plan to spend their 18th wedding anniversary in Mauritius. She heads for the island, while some work holds Vinod back. Alone in Mauritius, Kamini plunges into depression when Vinod's arrival is further delayed.
| | |
| --- | --- |
| | Also Read |
| | |
Enter Jatin (Karan Nath). A fashion photographer, he takes it upon himself to entertain her. The way they get acquainted seems unrealistic. Kamini is portrayed as an introverted housewife who does not leave her hotel room except for meals. How then would she suddenly go off sightseeing with a stranger in a foreign country?
At night, Jatin gets her drunk and sleeps with her. That is normally called date rape.
Kamini holds herself responsible, while Jatin falls hopelessly in love with her. 
Vinod ignores her guilt-ridden face and the couple continues with their lives. Meanwhile, Jatin's love turns into an obsession. He makes friends with Kamini's family, blackmails her and threatens to sleep with her daughter.
Now, Jatin has a celebrity fiancée (Netanya Singh). She senses that he has another woman in his life. So Jatin now has to balance his fiancée who is his only road to success and his obsession.
In all this, the story loses itself in a contorted climax.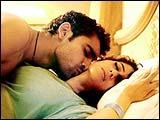 Diane Lane's compelling show in Unfaithful had won her an Oscar nomination. Koirala whimpers through most of the film and seems terribly uncomfortable in the 'steamy' scenes. Why do them when you are so uncomfortable?
The bedroom scenes are unnecessarily prolonged and totally lack chemistry. The actors, whether Nath or Kapoor, seem equally uncomfortable.
Nath had shown potential in some of his earlier films like Yeh Dil Ashiqana and Paagalpan. In Tum, he fails. It isn't really his fault. His character is so half-baked that you wonder why he does what he does. For example, why would a successful photographer, who makes headlines and covers, want to blackmail a rich housewife and throw away his career and fiancée? He is 'in love' with Kamini in the first half and lusts for her post-interval. What is it exactly that he wants from her: love or sex?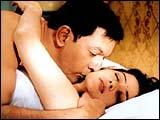 Rajat Kapoor may be the only saving grace of the film with his subtle act as the practical husband. But even he fails in the end. When Kamini confesses her one-night stand to him, he remains impassive. In fact, he calls her 'my imperfect perfect wife'! Wow, are people really that forgiving?
Even here, he is not to be blamed. Director Aruna Raje lets her actors down in a big way.
But the worst of them all is Netanya Singh. Her only role was to bare all, seduce Jatin and sleep with him. She does all of it, but she requires serious acting and voice modulation lessons.
Instead of the new Hindi releases this week, the other being Kismat, I would recommend the Hollywood releases, Cold Mountain or School Of Rock. After all, it would make better sense to watch the originals before the badly remade Hindi films come piling out a few months later.
CREDITS
Cast: Manisha Koirala, Karan Nath, Rajat Kapoor, Netanya Singh
Director: Aruna Raje
Music: Himmesh Reshammiya