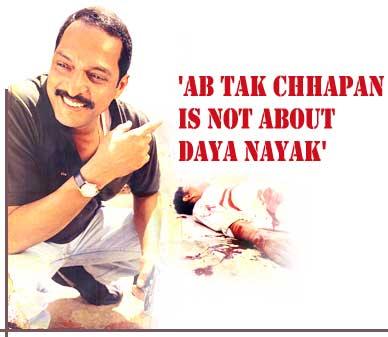 He makes a dynamic filmi appearance and then disappears. It happened during Wajood, after which he disappeared. He surfaced again with Khamoshi: The Musical.
"That is my style. I work when I feel like working," says Nana Patekar, in his usual deep voice.

February 27 will see the actor play a Mumbai cop in Shimit Amin's Ab Tak Chhappan, which is loosely based on encounter specialist Daya Nayak, who has killed about 83 people in encounters.

Patekar talks about the film with Chief Correspondent Syed Firdaus Ashraf.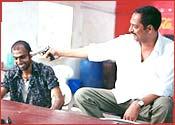 Did you observe Daya Nayak before taking on your role as an encounter specialist?
The film is not about Daya Nayak. Besides, I do not observe just one man. I have seen many policemen before I started shooting for this film.

Did you meet him before the film was made?

I have always wanted to see him in person. I wanted to see how he lives, what his viewpoints are and how he behaves in his day-to-day life. So I have met him many times, more than 200 times!

How did you approach the role?
There was no written script, only a format on which this film would be made. The script was being readied during the making of the film.


| | |
| --- | --- |
| | More on rediff.com! |
| | |
My role is about a human being who happens to be a cop. He is a simple man. He does his job honestly just like a banker or a shopkeeper. He is a husband, a normal human being.
Why the word Chhappan?
There are 56 encounters in his life, hence the title. 

What is the USP of Ab Tak Chhappan?

I don't know. Nobody can say that about any film. People think if I put this actor, dance or jokes, it will sell. But no one knows what really works.

Does the film have a message?
No. But you should see the film to judge that. The police are dedicated in our country. When you serve the country selflessly, that is your greatest contribution to the country.

Are there any songs in the film?

No.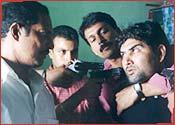 Your film is releasing at a time when Mumbai cops are in bad shape. Former Commissioner R S Sharma is in jail, along with many others.

[Interrupts] Listen, there are only 42,000 policemen in Mumbai city, which has a population of over a billion. If eight or ten [cops] are bad, it does not mean all of them are bad. If some bankers are bad, it does not mean that everyone in the bank is bad.
In your experience, what do policemen feel after an encounter killing?
They feel bad initially, if they have just joined the force. Later, it becomes routine. But that is their job. Even if it is bad, they have to do it.
What is your opinion about policemen?

I respect them. The police and the army do their job honestly and sincerely. They are devoted to the country.

What do you think about encounter killings?

Please don't ask me that.

Are you doing any other projects?

No.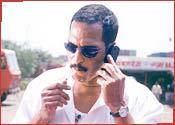 You often take long gaps between films.

When I don't feel like working, I don't. I don't know when I will do my next film.

Do you think the kind of films Ram Gopal Varma makes should have been introduced in our country ten years ago, a film without a hero, which can still can sustain itself?

Even today, nobody is doing what Ramu is doing. Now, due to television and electronic media, many actors are getting a chance.

Do you study the character a lot or do you only read scripts?

I study the character. But everything does not depend on the script. Shakti's script was good but they introduced Shah Rukh Khan in a special appearance. Film ka satyanash kar diya [they ruined the film].

Don't you feel that as an actor, you were never justified because you didn't get great roles?

I am not responsible for that. The filmmakers are responsible. Naseeruddin Shah is the best actor in our country but see what kind of roles he gets. See where he is. If he is 100, I am not even 35. He is that great.
It is not about the potential of an actor. The actor has to be saleable at the end of the day. Even if you are a bad actor and you are saleable, people will accept you.

Don't you feel bad that you are not saleable?

No. I am happy.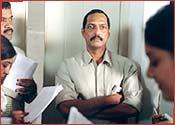 Did the failure of any of your films make you feel bad?

Yes, I could not believe Khamoshi and Wajood failed. I felt very bad. I don't know what clicks. It depends on people. Sometimes, the subject is appealing, sometimes it's something else. Maqbool is a good film but audiences didn't like it. 

What do you do on the day your film is released?

I go to my village. I am not reachable.

Do you think actors should market themselves?

No. Good actors are always good actors. Naseer is a good actor and will always be one.

Do you have any dream role?
To play Bhagat Singh was my dream role. Unfortunately, I cannot play him because of my age. I have always admired him. It is my biggest regret that I could not play him.

Why not a drama based on him?

It will not have a wider appeal.
Click here for More Interviews