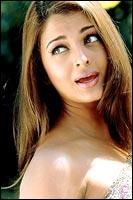 C
ontrary to reports that Aishwarya Rai is doing Rajkumar Santoshi's
Autograph
and Suneel Darshan's
Barsaat
, the fact is that she is doing neither.
After her first negative role in Santoshi's previous film, Khakee, Ash was offered the Hindi version of the Tamil hit Autograph, opposite Ajay Devgan. Santoshi has bought the Hindi remake rights of this film.
The Tamil film stars Cheran (who is also the producer and director of the film), Mallika, Gopika and Sneha.
Cheran plays an ad-creator from Chennai, who takes off on a journey to re-live his past with three girls who made an impact in his life -- Mallika (his high school sweetheart), Gopika (with whom he shared his college days) and Sneha (his colleague in an advertisement company).
Reportedly, Ash was offered Sneha's role.
But the disastrous fate of the film's Telugu version Naa Autograph, which released on August 11, prompted Ash to change her mind.
The actress was unavailable for comment. But her secretary Hari Singh said the Telugu version's flop had nothing to do with her decision.
"We are not aware of the Telugu version's fate. We had notified Santoshi about Ash's unavailability four weeks ago."
According to Singh, Ash could not accommodate Santoshi's film due to her hectic schedule. "It would not have been ethical to hang on to it," he says. "Ash is doing Santoshi's period film which is in the nascent stages."
Singh added that Ash has also turned down Suneel Darshan's Barsaat for the same reasons.
The role was first offered to Katrina Kaif, but she lost out as she wanted more songs shot on her.
Barsaat
has Darshan's mascot Akshay Kumar playing the hero opposite Priyanka Chopra.