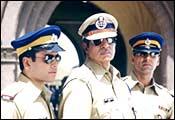 Whoa! That was my first reaction after I saw Khakee, first day first show. It wasn't the first time, though. The film offers many surprises throughout its 18 reels.
The biggest twist in the story is completely unexpected, and I took a while to recover from it. Khakee is a three-hour, heavy-duty film about cops that keeps you engaged.
Unless you happen to be the writers (Rajkumar Santoshi and Shridhar Raghavan) of Khakee, it is hard to guess what happens next. And if I had any preconceived notions about Khakee being a desi Internal Affairs, I could not have been more wrong. It feels good to be wrong.
When a convoy of police officers fails to transfer alleged ISI agent Iqbal Ansari (Atul Kulkarni) from Chandangadh to Mumbai, a new team is assigned to the task.
At the fag end of his career, DCP Anant Shrivastava (Amitabh Bachchan) is finally asked to go on a life-threatening mission. Finally, because the man has been waiting for an opportunity to prove his guts all along. Only, it comes at a time when he and his wife (Jaya Pradha) are preparing for their daughter's wedding.
Senior Inspector Shekhar Verma (Akshay Kumar) falls into the debauched cop category. He travels in sleek four-wheelers, flaunts a $5000 Swiss watch and a hi-tech silver Motorola handset. Unwilling to be part of the mission, he agrees reluctantly.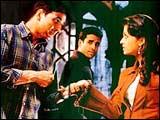 Sub Inspector Ashwin Apte (Tusshar Kapoor) is the new cop on the block with his conscience and enthusiasm intact.
An unlikely fellowship is formed between the three and two sincere constables. A social worker Mahalaxmi (Aishwarya Rai) is their glamorous accomplice on this dangerous mission.
The road from Chandangadh to Mumbai turns out harder than expected. Reason: they are being hounded by the suspicious Inspector Angere (Ajay Devgan) at every step.
That's it. No more storytelling. What I just gave away is one-fourth of Khakee's plot. Interesting enough? Watch the movie.
What I would like to talk about is the effect of Khakee.
Rage in its most explicit form, which director Rajkumar Santoshi conveyed in his earlier films like Ghayal, Ghatak and Pukar, is in full swing in Khakee. Through DCP Anant Shrivastava, Santoshi expresses his anger at corruption, admonishes the media and the easily influenced masses. There are not-so-subtle references to POTA and the tendency to blame our neighbouring country for every blunder we make.
| | |
| --- | --- |
| | More on Rediff: |
| | |
What I also like about Khakee is that every actor, big or small (in terms of footage), good or bad (in terms of character) has that one defining moment on screen.

 

Amitabh Bachchan is essential to Khakee. Only an actor of his calibre could carry off a role which has him take on the government and police administration single-handedly.

 

The angry young man lives in the moments when he unleashes his fury. At the same time, the redness and exhaustion in his eyes speak of burning frustration and a sense of failure. Bachchan has played police officer often (Zanjeer, Ram Balram, Shahenshah), but he portrays his Anant Shrivastava with determination and grace in Khakee. The film belongs to AB.

 

After Hera Pheri, Akshay Kumar plays the comic bad boy to good effect in Khakee. Note the scene where he flirts with Aishwarya. A coughing constable interrupts him constantly. An irritated Kumar in his trademark kya-bache-ki-jaan-lega tone (a la Mr & Mrs Khiladi), scoffs, "Beta, kuch leta hai ki main doon [Buzz off, kiddo]."

 

Even when his character transforms into a responsible police officer, he maintains his cheeky sense of humour.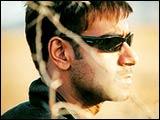 Then there is Ajay Devgan. Is he droopy-eyed, self-styled and smug in Khakee too? Somewhat. To give Devgan his due, he lends a lot of little quirks to his Angere. He is a chain-smoker. He wears dark black sunglasses, a dusty blazer, an olive green tee and light blue faded jeans throughout the film. And he speaks in singsong manner, which has subtle hints of Rajesh Khanna's Anand Babu in Amar Prem.
I liked the part where he casually remarks, "Maar to ise kehte hain, jise maar khane wala aur maarne wala dono roye." Though that 'getting X to hit Y' scene is clearly reminiscent of Dilwale and Mohra.
Aishwarya Rai uses her blue green eyes appropriately. Truth be told, that is all she is expected to do in Khakee. 
There is a certain earnestness in Tusshar Kapoor's personality. And Santoshi uses it to Khakee's advantage.
Technically too, Khakee is tops. Note Nitin Chandrakant Desai's imaginative sets, K V Anand's adventurous camerawork and Tinu Verma's thrilling action. The background score harks back to Hollywood's Spy Game and Rakesh Mehra's Aks.
What I didn't like about Khakee is its music. The songs are so UNWANTED. It is a good standalone music album. But in the film, it just doesn't work. The songs come at the most inopportune moments and shatter the tension and pace of the screenplay.

There are clichés as well. Take "Tum jaise kuch khudgarz log apni poori kaum ko badnaam karte hain [A handful of selfish people like you give a bad name to your community]."
Overall, Khakee is a smart film. It makes you think. It keeps you at the edge of your seat. It gives you your money's worth. What more do you want?

Would you like to review this film? Here's your chance!