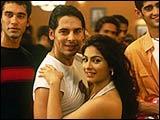 Twenty-five minutes into the film, and I knew how 
Sssshhh...
, which has been marketed as a suspense thriller, would end! If you've seen Wes Craven's
Scream
, there is nothing much left for you to figure out here.
In Hollywood, slasher flicks have proved a huge hit among teenagers. Films like Scream, I Know What You Did Last Summer, Urban Legend and Freddy Vs Jason are recent examples of the genre's popularity. In Bollywood, murder mysteries are rare while slasher movies don't really exist.
Earlier this year, Kucch To Hai tried to pass off as the desi version of I Know What You Did Last Summer to disastrous effect. How will Sssshhh... fare?
Let's talk about the cast first.
Sssshhh... marks the debut of Tanuja's younger daughter and Kajol's kid sister, Tanishaa.
Is she good?
| | |
| --- | --- |
| | More on Rediff! |
| | |
To put it mildly, she is no Kajol. She has an ordinary screen presence and her acting skills are not exceptional.

In Sssshhh... she plays the victim, Mahek, who lost her father (Nasir Abdullah), then her sister (Simone Singh), to a psychotic serial killer. As in all slasher films, the killer wears a black hooded overcoat; he also wears black boots and carries a razor-sharp knife.

Tanishaa fails to convey Mahek's terror. Her shrieks of horror are akin to the kind one makes while spotting a cockroach as opposed to watching your close friend being murdered.

To help Mahek forget her trauma -- given Tanishaa portrayal, one may well ask 'What trauma?', but let's get on with the story instead -- her friends, Rocky (Dino Morea), Sooraj (Karan Nath), Nikhil (Kushal Punjabi), Gehna (Suvarna Jha), Rajat (Gaurav Kapoor) and Riya (Teena Chaudhry) decide to take a trip to Thailand.

The idea is mooted casually, as if one were making a trip to next-door Khandala.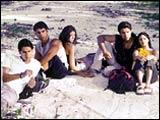 Sssshhh... boasts of many such stupidities that one just can't ignore. Like when Tanishaa drops her purse in the college common room. There nothing really wrong with that, you might say. What's wrong are its contents which spill out -- six different shades of lipsticks, eyeliners and kajal sticks. This, after she just lost her sister a couple of reels ago.
Mahek's character is rather inconsistent. First she befriends Sooraj, then she accuses him, then she falls in love with him. We are not the only ones disappointed by her inconsistent behaviour. Rocky is too, because he is in love with her.
A lot of screen time is wasted on establishing an unnecessary romantic crisis. A slasher film is all about gory murders in quick succession. Sssshhh... lacks this mean streak.
On the positive side, the film has some breathtaking camerawork by Hiroo Keswani. But the background score by Salim-Suleiman is a jarring letdown.
Sssshhh... cannot boast about its cast's acting skills. Dino Morea, however, is an exception with his endearing performance. He seems to be having a ball and it comes across. His co-star, Karan Nath, is strictly ho-hum. Gaurav Kapoor, who plays Rajat, seems to have watched Scream numerous times. He imitates Matthew Lillard, on whom his character is based, to the tee. The other actors fail to make an impact.
CREDITS
Cast: Dino Morea, Karan Nath, Tanishaa, Gaurav Kapoor, Suvarna Jha, Kushal Punjabi, Teena Chowdhary, Aly Khan, Shivaji Satam, Nasir Abdullah, Simone Singh
Director: Pavan S Kaul
Producer: Prem Kishen, Sunil Mehta
Music: Anu Malik
Lyrics: Praveen Bharadwaj, Rahat Indori, Yogesh, Dev Kohli
Would you like to review this film? Here's your chance!