Almost all of Subhash Ghai's earlier subjects were about defining the good and the bad, followed by the inevitable victory of the former over the latter.
Though Karma comes close, it is Ram Lakhan that fits this definition perfectly. Ram Lakhan is easily his best work because of its interesting story, endearing narration, vibrant performances, flawless direction and superior screenplay.
Though the basic premise of the story is 'inspired' from the blockbuster Deewar, the film clicked with the audiences and became a huge hit because of its refreshing presentation.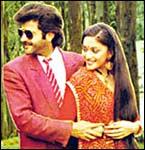 The story is about a woman (Rakhee) who becomes a victim of her husband's (Dalip Tahil) evil cousin's (Amrish Puri) evil deeds. Her husband is killed and she is thrown out of the haveli, stranded on the streets with her two boys, Ram and Lakhan. Instead of giving up, she vows revenge. How her children become the instruments of her vengeance forms the crux of the plot.
| | |
| --- | --- |
| | More on rediff.com! |
| | |
Ram becomes a police officer and is very focused on his mission. Lakhan is a street-smart
tapori
. Young, immature and overly ambitious, he deviates from his mother's mission and finds his own -- of becoming rich overnight. But he ends up losing everything -- his family, his job and his childhood sweetheart, Radha. Thus, he learns the lesson of distinguishing between good and bad and eventually gets back on track.
The character sketch of the film is a craftsman's work. Every character is earthy, natural, and offers entertainment value.
Jackie Shroff as Ram is the perfect depiction of 'good'.
Anil Kapoor as Lakhan gets to perform various shades. He carries off the huge responsibility with sincerity and succeeds. Not once does he let Lakhan down.
Madhuri Dixit oozes freshness as she adorns the project with her bewitching looks, gracious dances and a down-to-earth portrayal of Radha.
Rakhee leads the mission with conviction.
Other cast members like Dimple Kapadia, Saeed Jaffery, Amrish Puri, Anu Kapoor, Gulshan Grover, Raza Murad and the sexy Sonika Gill, who plays Vivian, lend adequate support. Special mention must be made of the comic duo, Anupam Kher and Satish Kaushik, who keep charming the viewers throughout.
The music (by Laxmikant-Pyarelal) is part of the script and provides ample support to the narration.
The melodious Mere do anmol ratan keeps playing in the background throughout the initial part of the film. One two ka four introduces the grown-up Lakhan and also defines his character to a great extent.
Tera naam liya is extremely melodious and romantic. The songs O Ramji and Bekadar bekhabar accompanied by the dances rendered by Radha provide a classy touch.
| | |
| --- | --- |
| | Write to us: |
| | |
The cinematography is excellent and the background score, brilliant.

Some of the scenes and situations that stand out because of their intelligent handling:
Jackie Shroff and Dimple Kapadia are invited to the engagement of Amrish Puri's son (Anand Balraj) with Madhuri Dixit. The intention is to insult them by making Madhuri (who is Lakhan's childhood sweetheart) dance with prostitutes in the mehfil [party]. Providing a classic twist to the mood, Madhuri breaks out in a song addressing Lord Ram, complaining of his brother Lakshman/Lakhan. Jackie, who is Ram, suddenly becomes the focus of the party. Dimple notices this and takes part in the subtle communication with Jackie and the helpless Madhuri. A masterpiece.
Anil's deep-rooted memory of his mother being dragged out of their haveli and his subsequent revenge on Amrish Puri in the same manner.
Anil's constant pranks in which Anupam Kher and his assistant Satish Kaushik are the main targets.
Anil's dramatic capture of Kesariya, the dacoit.
Dimple's introduction and the subsequent Tera naam liya, where Anil and his friends chase Jackie and Dimple and tease them about their romance.
A heartbroken Jackie when Anil accuses him of resenting the latter's success.
Rakhee's display of wrath -- destroying the furniture at Anil's residence -- when she finds out that her mandir (temple) is corrupted.
Anil and Madhuri's intense chemistry.
Madhuri's demanding screen presence.

Your favourite Subhash Ghai film?

Click here for More Features