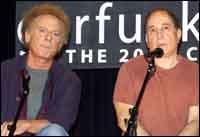 Like old friends who once 'sat on the park bench like bookends', Paul Simon and Art Garfunkel put the sounds of silence of the last two decades behind them.
The 1960s folk-rock duo seemed to forget the bruises of the past as they relived the popular songs of their youth in a comeback concert in Wilkes-Barre, Pennsylvania, on October 16. Simon and Garfunkel began the concert with Old friends (Bookends).
Before the concert began, the audience was treated to a video montage of images, which showed both performers with full heads of hair, a shot of the first moon landing and a peace sign made of airplane contrails.
As the singers began the opening bars of The sound of silence the 9,000-strong crowd, mostly with balding heads and grey hair, cheered so loud that it drowned them out. Smiling, Simon continued to improvise on his guitar until the jubilation settled. 
Simon and Garfunkel, who have sold more than 40 million albums in the United States, played crowd favourites such as Scarborough Fair, America and Mrs Robinson, from the soundtrack of the Dustin Hoffman starrer The Graduate. The duo had no trouble launching into the high notes of Bridge over troubled waters and The boxer.
| | |
| --- | --- |
| | More on rediff.com! |
| | |
The concert at Wilkes-Barre opened the 40-date tour, the pair's first since 1982-83. Until a performance in New York at the Grammy Awards in February, they had not played together since 1993. Their turbulent friendship was widely publicised.

'We met when we were 11, we started to sing when we were 13, and we started to argue when we were 14,' Simon reportedly joked to the audience. Garfunkel said they met in 1953 when they were both sixth graders. 'It occurs to me that it's been 50 years of this thing we do,' he said.

Simon turned 62 on October 13, while Garfunkel will follow suit on November 5.

A line from Old friends goes: 'Can you imagine us years from today, sharing a park bench quietly? How terribly strange to be 70.' 

Only Simon and Garfunkel can tell.

Lennon comes to Broadway

John Lennon was not the only one dreaming.

After three years of negotiations, Lennon's widow Yoko Ono has approved a new stage musical that will use songs such as Imagine, Give peace a chance, Instant karma and Whatever gets you through the night.

'Our project is the story of Lennon as a lightning rod and how he defined the times and how the times defined him,' Don Scardino, co-producer, director and co-writer of the musical, told Variety. Eric Overmeyer is the other writer on the project, which will be co-produced by Edgar Lansbury.

The producers said the show would not be on the lines of the ABBA-based Mamma Mia! or Billy Joel's Movin' Out, both of which created plots around their composers' hit songs.

The musical, now known only by the working title The Lennon Project, will draw from a catalogue of about 200 songs from the artiste's post-Beatles years, about 30 of which will be showcased onstage.

Twelve actors will portray Lennon's moods and personalities. None of Lennon's alter egos has been cast yet.

'Lennon's changes corresponded to our generation: there was the rocker, the hippie, the meditation guru, the transcendentalist, the political revolutionary, the househusband and all the while there was the evolving artiste,' Scardino told Variety.

The project is slated to hit Broadway during the 2004-2005 season.

Kissed by a bullet

Big guns are welcome in big bad Hollywood. Until they go off.

Former Kiss lead guitarist Bruce Kulick took a bullet in the leg when a trigger-happy clubber started firing into a crowd of about 300 people at Rainbow Room, an infamous West Hollywood nightclub. The 49-year-old guitarist, who played with the band between 1984 and 1996, was lucky to escape with his life when another bullet grazed his head.

The Rainbow Room is where Marilyn Monroe met her future husband baseball star Joe DiMaggio in the 1950s.

Bass player Gene Simmons, singer-guitarist Paul Stanley and Ace Frehley formed Kiss, one of America's biggest rock bands, in New York in 1973. Their spectacular live shows were complemented with the performers' elaborate facial makeup and outrageous costumes. Kulick replaced Frehley, who left the band in 1984 but later rejoined for their 1998 album Psycho Circus.

Kulick was treated at the Cedars-Sinai Medical Centre and released. The gunman was arrested after being tackled to the ground.

Click here for More Sound Check